Tomato, Garlic & Rosemary Focaccia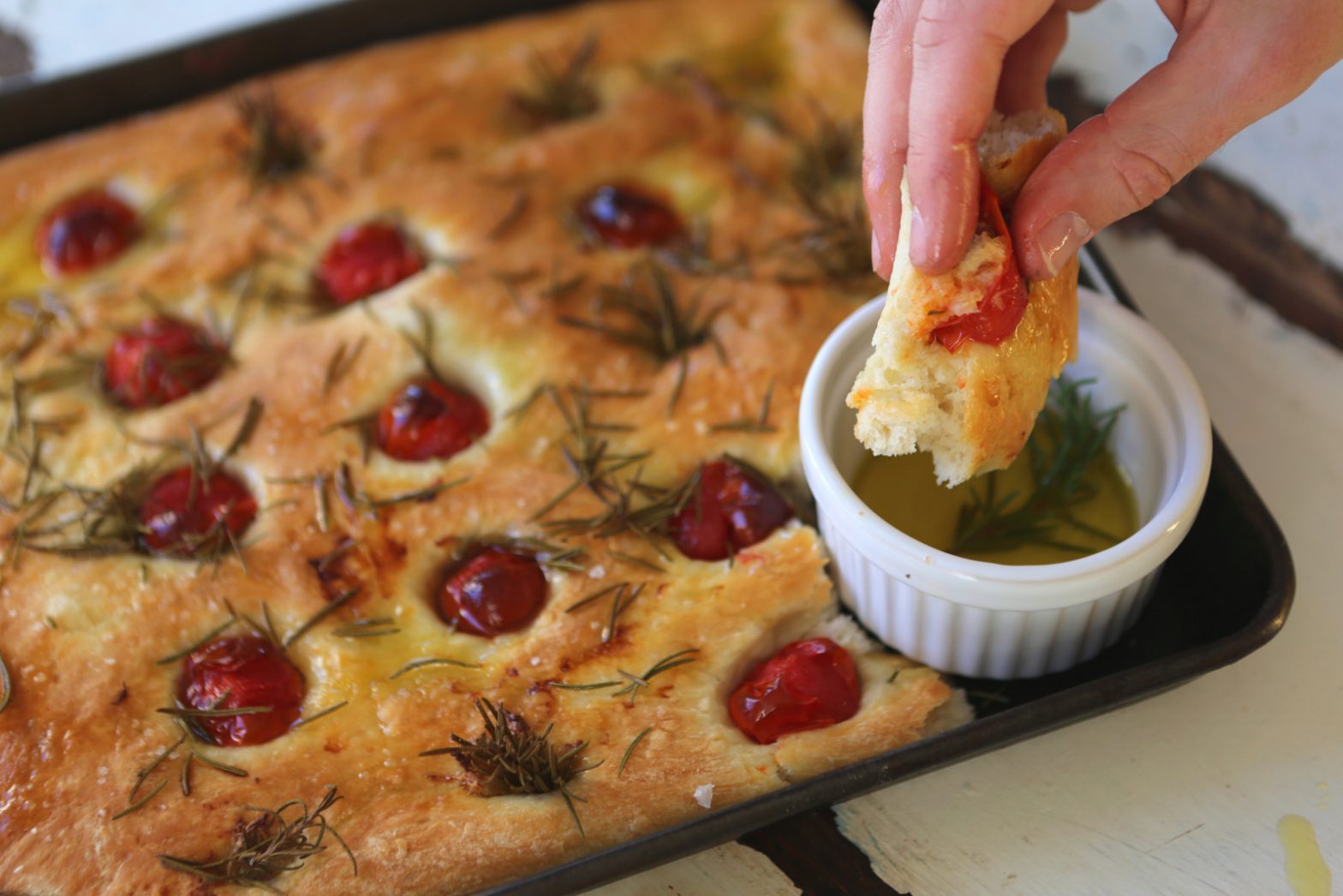 This is a fun recipe and adds an extra special something to that summer evening. Tear, share and enjoy with friends and family.

Not too tricky

Ingredients
500g/4 cups strong bread flour
7g fast action dried yeast
1 tbsp sugar
350-400ml warm water
2 tsp salt
Olive oil
1 tsp flaky sea salt
Bunch rosemary sprigs
200g cherry tomatoes
1 bulb garlic
Instructions
Pop the flour and salt into a large mixing bowl, combine and make a well in the middle.
In a jug, mix the yeast, sugar and water and leave for a couple of minutes.
Pour the liquids onto the flour and combine until you have a dough.
On a floured surface, knead the dough for 5-10 minutes until soft and smooth then cover and leave for an hour.
Preheat the oven to 180ºC/350ºF/Gas Mark 4.
Wrap the garlic in kitchen foil and pop on the middle shelf to cook for 40 minutes. Remove from the oven and once cool, squeeze out the cloves and set them aside.
Put the cherry tomatoes in a bowl, drizzle with a little oil and a pinch of salt and set aside.
Oil a baking tin (approx. 25cm x 35cm) and then place your dough into the tin. Stretch it so that it fills the bottom of the tin and leave it to prove for another 30 minutes.
Increase the oven temperature to 200ºC/390ºF/Gas Mark 6.
Make uniform dimples in your dough using your thumb. Press a clove of roasted garlic in each and have fun placing cherry tomatoes and rosemary in each dimple as you wish. Or scatter the rosemary on top… get creative. Drizzle over some more olive oil, a tablespoon of water and 1 tsp flaky sea salt.
Bake in the oven for 20 minutes or until golden. While the bread is hot, drizzle over some more olive oil. Share and enjoy.
Did you know that Vegan Recipe Club is run by a charity?
We create vital resources to help educate everyone – vegan veterans, novices and the v-curious alike – about vegan food, health and nutrition; as well as the plight of farmed animals and the devastating environmental impact of farming.
Through this work we have helped thousands of people discover veganism; but we want to reach millions more! We rely entirely on donations as we don't get any government funding. If you already support us, thank you from the bottom of our hearts, you are really making a difference! Please share our details with your friends and loved ones too, as every donation enables us to keep fighting for change.