Tofu Burger with Wedges & Salad, Convenience-style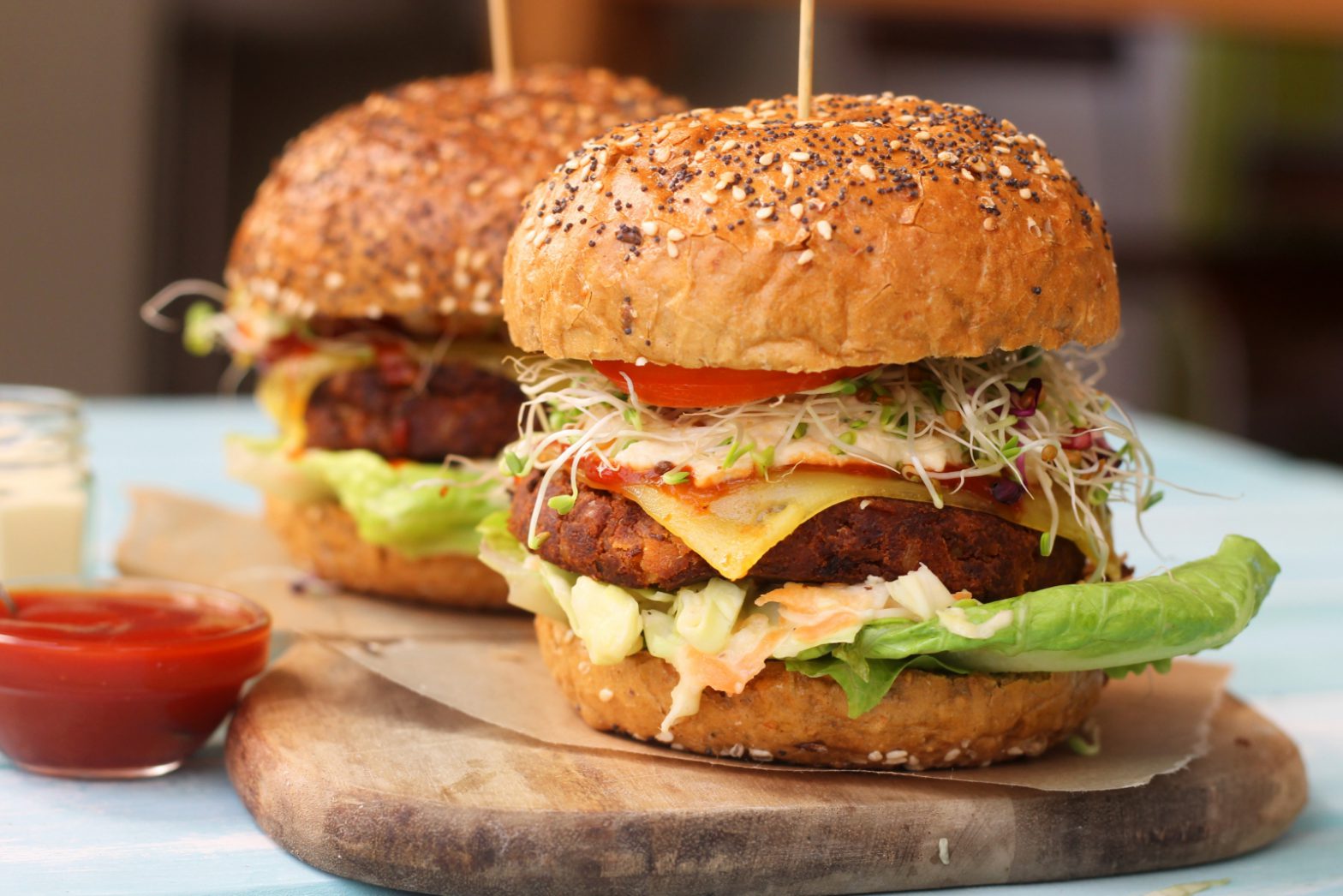 Another ready-meal that's actually very healthy! Dragonfly Beany Burgers have been around for years and make a great standby for those busy evenings. They're a nice ethical company too. Find them in Holland & Barrett, Ocado and other online stores and other independent high street shops. Click here for details
If you can't get hold of them or fancy something else, never fear! Linda McCartney Quarter Pounders, Fry's burgers and Vegetarian choice are some of the best known vegan burgers. Most of the supermarkets also now offer a vegan beanburger… just check the label.
Ready to bake potato wedges are also widely available – either white, eg McCain's or the healthier sweet potato, eg Aunt Bessie's Sweet Potato Wedges. There are other brands around, including supermarket own-brands – most of these are vegan, just check the packet ingredients as ever!.
Ready-made vegan coleslaw is available at M &S, Ocado and some health food shops. If you have time, grate a bit of white cabbage, carrot and mix in with thinned down vegan mayo – soya or other unsweetened plant milk works well plus a bit of salt and black pepper. Coleslaw is also good with a bit of chopped mild onion, eg spring or red. Or try our lovely Carrot & Beetroot Slaw

Easy





Meal
mains
lunches
sides-light-meals-and-salads
Ingredients
1-2 bean burgers (of your choice) per person of your choice (they come in packets of two, in several flavours)
White or sweet potato wedges for as many servings as you need – frozen
Salad ingredients for burgers: leaves, tomato, avocado or anything else you fancy
Rolls, preferably wholemeal
Vegan mayo or sauce, eg bbq, tomato, brown
Instructions
1. Preheat the oven according to the instructions on the potato wedges packet.
2. Place the wedges on an oven tray or roasting tin and bake.
3. Heat the burgers in the oven on another oven tray. Alternatively, fry them in a little oil.
4. Prepare any salad and accompaniments.
5. When the wedges and burgers are ready, assemble the burger buns, salad, mayo or sauce and burgers. Serve on plates with a portion of wedges per person.
Optional extras / notes
Most of the time is to bake the ready-made wedges in the oven
Did you know that Vegan Recipe Club is run by a charity?
We create vital resources to help educate everyone – vegan veterans, novices and the v-curious alike – about vegan food, health and nutrition; as well as the plight of farmed animals and the devastating environmental impact of farming.
Through this work we have helped thousands of people discover veganism; but we want to reach millions more! We rely entirely on donations as we don't get any government funding. If you already support us, thank you from the bottom of our hearts, you are really making a difference! Please share our details with your friends and loved ones too, as every donation enables us to keep fighting for change.