Thai Sweet Potato Cakes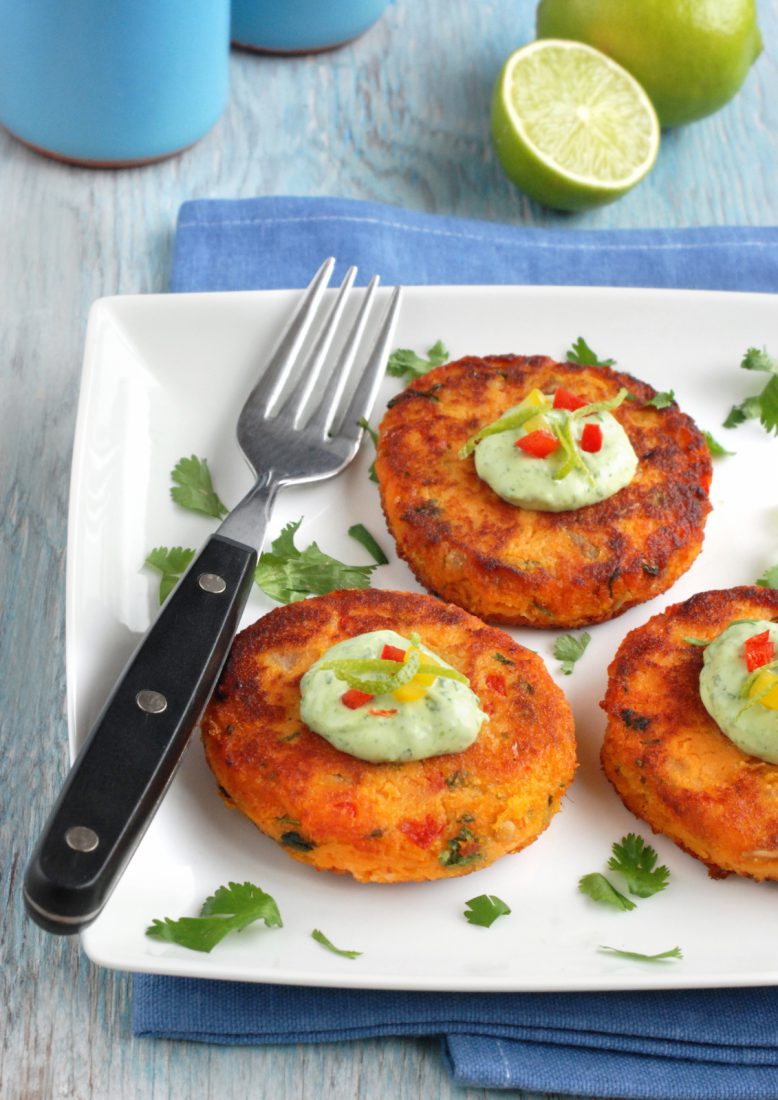 Aromatic spices transform the humble sweet potato into an attractive and mouth-watering meal! Easy for a midweek dinner and stunning as part of a special celebration meal or buffet.
Serving suggestion: this works well with new potatoes and a green salad but our Tropical Rice Salad might also work well
Photo courtesy of Chava Eichner, Flavourphotos

Not too tricky





Meal
mains
lunches
sides-light-meals-and-salads
vegetable-side-dishes
Ingredients
750g/1lb 10oz sweet potatoes
1 tbsp fingely grated ginger
2 cloves garlic
1 tbsp finely chopped lemongrass (or use paste)
½ a medium red chilli, finely chopped (you can also use chilli flakes or powder – and reduce it if you prefer less spicy food). Also, removing seeds from fresh chillis helps!
1 level tsp salt
1 large onion, chopped
½ a pepper, chopped – yellow, red or orange
1 tbsp oil, eg plain veg (not olive, basically!)
100g/3½ oz gram flour (chickpea or besan flour – same thing)
1 tsp cumin powder
10g fresh coriander, chopped (or a good handful of whole coriander chopped up!)
3 tbsp sunflower seeds
Coriander Mayo
ALL KITTED OUT
Chopping board and sharp knife; veg peeler; medium large saucepan to cook sweet potatoes; colander; potato masher; a few bowls/plastic boxes for veg prep etc; frying pan; fish slice or similar; teaspoon to peel ginger; grater; pestle and mortar or an electric spice mill or mini food processor (the type that come with a stick blender); small spatula; sieve for gram flour; baking tray lined with baking parchment/greaseproof; stick blender and jug/mini food processor or similar if making home-made mayo;
Instructions
1. Peel and cut sweet potatoes into chunks. Boil for 20 minutes or so or until tender. Drain and mash roughly with a fork.
2. Meanwhile, grind the lemongrass, garlic, grated ginger, chilli and salt until smooth – with a pestle and mortar or an electric spice grinder or mini food processor. Also, put the oven on to heat – 190ºC/375ºF/Gas Mark 5.
3. Heat up the tablespoon of oil in the frying pan and sauté onion and pepper pieces until softened. Add the spice mixture and stir for a couple of minutes.
4. Add mashed sweet potato, coriander, sunflower seeds and chickpea flour and combine well. Allow the mixture to cool.
5. Shape 10-12 round cakes with wet hands, as the mixture is sticky.
6. Line the baking tray with the parchment/greaseproof paper and brush with a little vegetable oil. Place the cakes on the tray, brush with more oil and bake in the pre-heated oven for 25 minutes. Alternatively, shallow fry in a non-stick pan.
7. Make the coriander mayo: add the chopped coriander to the mayo and give it a very quick blitz with a stick blender or mini food processor.
Did you know that Vegan Recipe Club is run by a charity?
We create vital resources to help educate everyone – vegan veterans, novices and the v-curious alike – about vegan food, health and nutrition; as well as the plight of farmed animals and the devastating environmental impact of farming.
Through this work we have helped thousands of people discover veganism; but we want to reach millions more! We rely entirely on donations as we don't get any government funding. If you already support us, thank you from the bottom of our hearts, you are really making a difference! Please share our details with your friends and loved ones too, as every donation enables us to keep fighting for change.