Sweetcorn and Courgette Fritters with Grilled Pineapple & Quinoa, Avocado & Tomato Salsa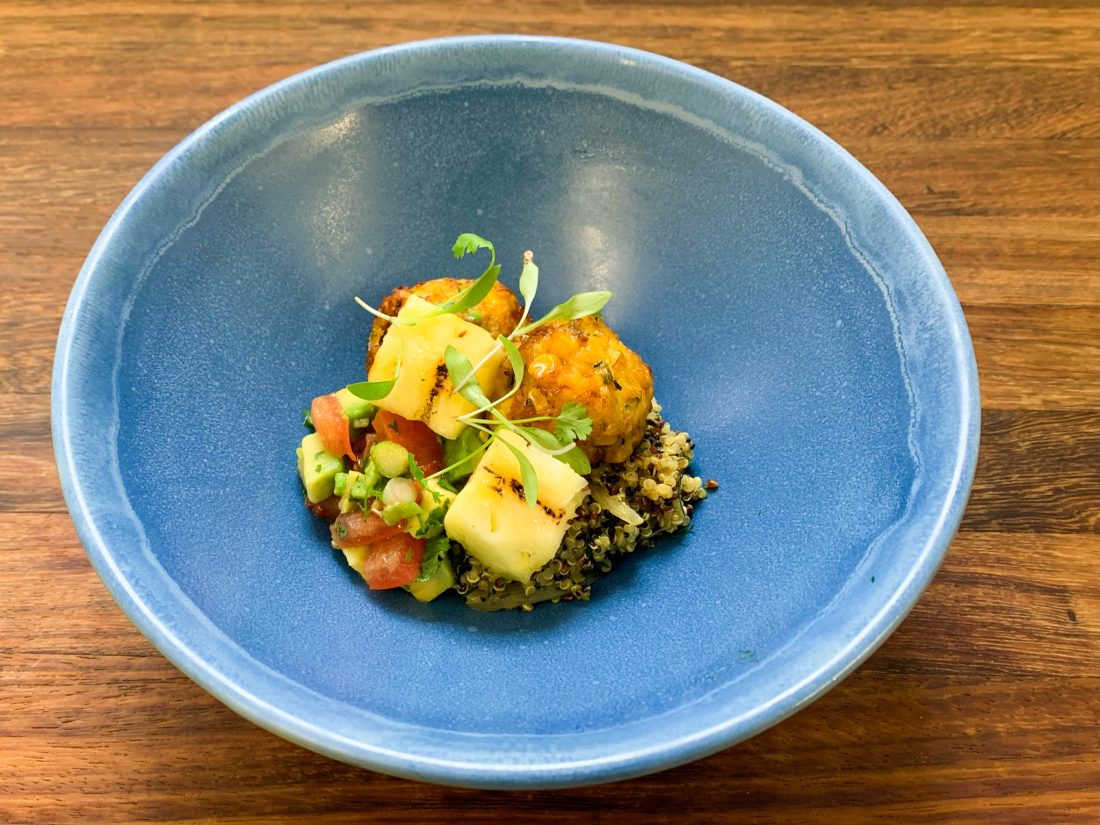 Fresh, zingy and beautifully presented – a very popular recipe from the University of Southampton!

Easy
Ingredients
500g tinned sweetcorn, drained and rinsed
1 medium courgette
1 fresh green chilli
10g cornflour
1 tbsp olive oil
1 fresh avocado
2 fresh tomatoes
1 fresh lime
1 sprig fresh coriander
120g quinoa
Pinch turmeric
1 lemon
1 red onion
1 tsp vegan stock
150g fresh pineapple
Instructions
Fritters
Blend half the sweetcorn into a smooth paste and then add to rest of the sweetcorn.
Finley chop the red chilli (keeping some back for the salsa), the courgette and half the coriander. Add to the sweetcorn mix along with the cornflour. Season with salt and pepper then form 8 round balls and chill in fridge for around an hour.
Salsa
Dice the avocado and tomato then mix with the olive oil and a squeeze of lime. Add the remaining chilli and chopped coriander then set aside.
Quinoa
Fry the red onion in a little olive oil until slightly coloured. Add the quinoa along with the turmeric and vegetable stock powder and around 1 pint of water. Cook for around 15 minutes or until the quinoa has absorbed the stock. Add the lemon zest and season with salt and pepper then set aside (can be served hot or cold).
Pineapple 
Grill the pineapple under a hot grill until slightly charred. Set aside.
Cooking and assembly
Deep fry the fritters in hot oil (180°C) for around 4 minutes or until golden brown. Drain on kitchen roll.
Place quinoa in a deep bowl and place the fritters and pineapple on top, dress generously with with salsa, finish with some torn coriander leaves and serve!
Did you know that Vegan Recipe Club is run by a charity?
We create vital resources to help educate everyone – vegan veterans, novices and the v-curious alike – about vegan food, health and nutrition; as well as the plight of farmed animals and the devastating environmental impact of farming.
Through this work we have helped thousands of people discover veganism; but we want to reach millions more! We rely entirely on donations as we don't get any government funding. If you already support us, thank you from the bottom of our hearts, you are really making a difference! Please share our details with your friends and loved ones too, as every donation enables us to keep fighting for change.