Sushi plate with Nori Rolls, Seared Tofu and Edamame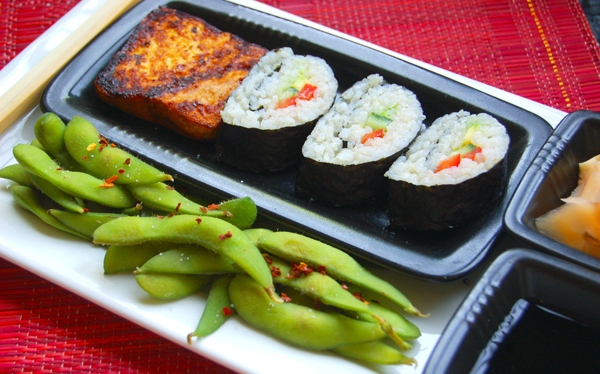 A lovely sushi plate to bring Japanese cuisine to your table.
Nori is a type of dried sea vegetable that is dried in sheets – it's what is used to wrap up sushi and similar.
Sea Vegetable Info
There are different types of sea veg, as there are land veg – and many varieties used to be eaten much more widely in the UK, especially in the coastal area. Each type is used for different purposes, tastes different and has a different texture. All are extremely nutritious, containing good amounts of calcium (way higher and healthier than dairy!) and iodine, amongst other things. They are also far more sustainable and safe to eat than fish – sea veg are lower down the food chain so not so polluted. Eat small quantities occasionally and check with your GP if you have thyroid issues.
For more information and recipe ideas, check out these links

Not too tricky





Meal
soups-starters
lunches
sides-light-meals-and-salads
vegetable-side-dishes
Ingredients
225-250g/8-9oz firm tofu, cut into slabs, pressed down with weights and drained to remove excess liquid
120g/4 oz sushi rice
1 cup frozen edamame beans or a bag of whole edamame pods
¼ red pepper, cut into thin strips
¼ small cucumber, cut into thin strips
½ avocado, cut into thin strips
Brown rice vinegar or sushi rice vinegar
4 sheets nori (check packet to see if it's ready-toasted or not)
To serve:
Sushi ginger
Shoyu soya sauce or tamari soya sauce (GF)
Chili flakes and sea salt to sprinkle over edamame
Instructions
Press the tofu – wrap it in a clean tea towel or kitchen paper and put in a colander or sieve. Place that over a bowl or sink. Then place a plate over the top and some weights on the top (eg tinned foods). This gets rid of excess moisture
Rinse the rice through, place in a small saucepan and cover with enough boiling water to sit about 1cm above the rice.
Bring the rice to the boil, then put the lid on the pan and reduce the heat down to a simmer for 7 mins. Do not stir it. When the rice is cooked it should be sticky and all the water absorbed.
Spread the rice out onto a dinner plate to allow it to cool, then sprinkle lightly with vinegar.
While the rice is cooking and cooling, chop up your vegetables (you can use any you like really, like carrot, raw courgette, beetroot…). Also, boil, steam or microwave the edamame beans until tender (this should only take about 5 minutes).
Lay out a sheet of nori on a sushi mat. Using a pallet knife, spread the rice out evenly across it, leaving about a cm gap at the bottom end. Brush this end of exposed nori with a little water. If you use your hands, wet them first to prevent the rice from sticking.
Lay your vegetable strips in a thin line near the top edge of the nori, topping with small pieces of sushi ginger.
Gently start rolling the sushi by tucking the top edge in over the filling, then continuing to roll it over with the mat, pressing down fairly firmly.
Cut the roll into pieces using a sharp, wet knife and set aside. Repeat for the other 3 rolls.
Meanwhile, prepare the tofu by removing weights and mopping off any excess moisture. Now heat a shallow frying pan until hot and splash with soya sauce. Put in the tofu and allow it to sizzle for a few minutes, before turning with a spatula. Cook until each side is lightly charred. Drizzle with a little soya or tamari sauce.
Serve on a large plate with extra soya sauce and sushi ginger on the side. Sprinkle sea salt and chilli flakes onto the edamame if you wish.
Optional extras / notes
It's a light meal so you may wish to factor in a big salad or similar.
It would serve 4 as a starter or side
Did you know that Vegan Recipe Club is run by a charity?
We create vital resources to help educate everyone – vegan veterans, novices and the v-curious alike – about vegan food, health and nutrition; as well as the plight of farmed animals and the devastating environmental impact of farming.
Through this work we have helped thousands of people discover veganism; but we want to reach millions more! We rely entirely on donations as we don't get any government funding. If you already support us, thank you from the bottom of our hearts, you are really making a difference! Please share our details with your friends and loved ones too, as every donation enables us to keep fighting for change.