Super Easy Soda Bread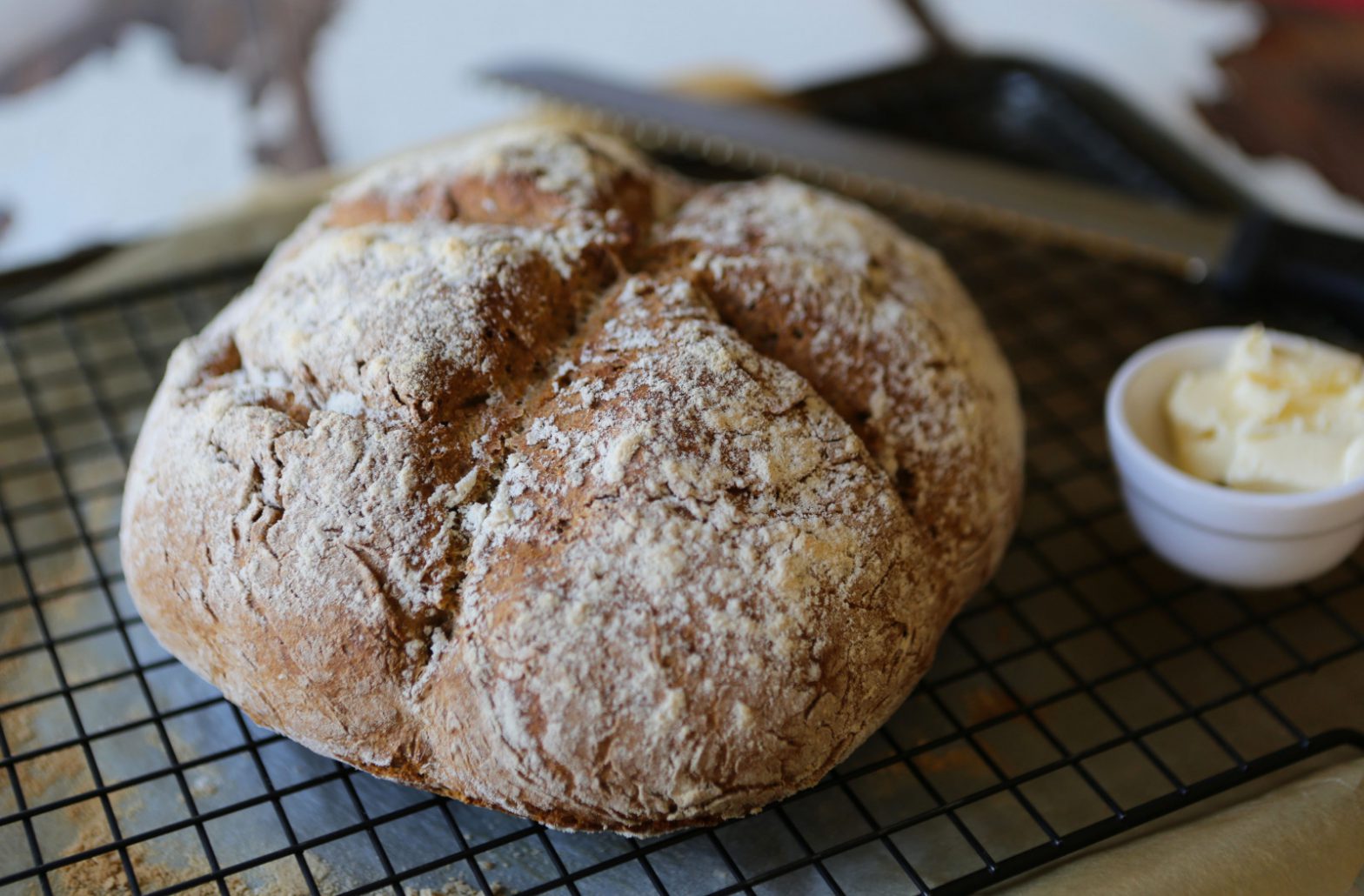 You cannot believe how easy this bread is to make (no proving, no yeast) AND it looks/tastes like it's come from an artisan bakery! Thanks so much to Viva! podcast presenter Helen Wilson for this incredible recipe. Check out her other recipes/news 🙂

Easy




Ingredients
250g/2 cups plain wholemeal flour
250g/2 cups plain white flour
1 tsp bicarbonate of soda
1 tsp salt
420ml/1¾ cups almond milk
Juice of one lime
Extra flour for dusting
Instructions
Preheat the oven to 200°C (fan)/400°F/Gas Mark 6.
In a large bowl, mix together the two types of flour, bicarbonate of soda and salt.
Add the milk and lime juice and mix until a sticky dough forms.
Lightly flour a work surface and tip the dough onto it.
Gently roll and fold the dough a couple of times to bring the mixture together. Do not knead. Sprinkle with a little more flour if necessary to make a smooth dough.
Shape the dough into a ball. Flatten the ball a little bit, gently with your hand. Score the dough with a deep cross dividing it into quarters. Dust the bread with flour.
Place onto a baking tray lined with baking parchment and bake for 30 minutes. The loaf should be golden-brown.
Leave to cool on a wire rack. Best eaten fresh but the loaf will last for a few days in a sealed container.
Did you know that Vegan Recipe Club is run by a charity?
We create vital resources to help educate everyone – vegan veterans, novices and the v-curious alike – about vegan food, health and nutrition; as well as the plight of farmed animals and the devastating environmental impact of farming.
Through this work we have helped thousands of people discover veganism; but we want to reach millions more! We rely entirely on donations as we don't get any government funding. If you already support us, thank you from the bottom of our hearts, you are really making a difference! Please share our details with your friends and loved ones too, as every donation enables us to keep fighting for change.