Strawberry Freakshake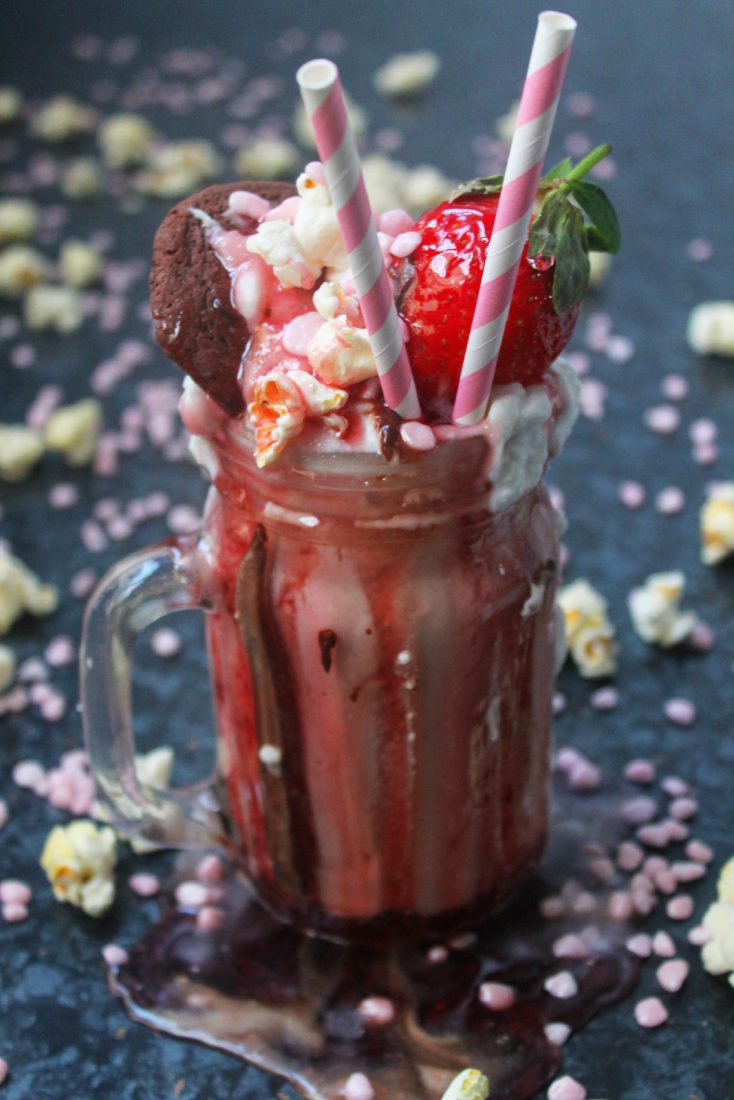 This gooey glass of vegan indulgence is scrummy. It's an easy to make vegan treat that helps you get in touch with your fun, creative side… popcorn and cookies at the ready!

Easy



Ingredients
Smoothie
1½ frozen bananas (make sure the banana is really ripe, then skin and cut in half before freezing)
Large handful of frozen strawberries (tops removed)
1 tsp vanilla paste, extract or fresh seeds
1 tbsp peanut butter
200ml plant milk (e.g. soya, almond, cashew, oat, coconut, hemp, rice etc)
Try our recipe for delicious homemade almond milk.
Optional extras: cinnamon, nutmeg, lucuma, cacao butter, buckwheat flakes, maca, almond essence, lemon
Coconut Cream Whip
1 tin of coconut milk (it must be the tinned, full fat coconut milk with a thick layer of coconut cream on the top)
½ tsp of vanilla extract, paste or fresh seeds
30g icing sugar (or a little more to taste)
Toppings (optional)
Choose from…
Askeys Treat Vegan Strawberry Flavoured Dessert Sauce or make your own strawberry sauce
Askeys Treat Chocolate Chunk Crackin' (make sure you get the Crackin' version as some of the regular ones don't have vegan chocolate)
Vegan popcorn e.g. one without butter or dairy
Vegan cookies (the ones pictured are Enjoy Life Chocolate Chip Cookies)
Sprinkles (see cake decorating section in supermarket) but check they are vegan because some aren't.
Vegan doughnuts (e.g. Coop own brand are vegan and so are the M &S mini doughnuts)
Strawberries
Barkat Pretzels
Dessicated coconut
Cherries
Banana
Dr Oetker hundreds and thousands
Instructions
Smoothie
1. Blend all ingredients in a high speed blender until smooth and keep in fridge.
Coconut Cream Whip
1. Place coconut milk tin in fridge over night as this hardens the thick layer, making it better for whipping.
2. Scoop the thick layer from the coconut milk tin and empty into a medium sized bowl.
3. Using a hand whisk, whip the hardened layer for approx 30 seconds until creamy.
4. Add the icing sugar and vanilla and whisk again for just under 60 seconds.
Assembling
1. Pour streaks of strawberry sauce on the inside edges of a mason jar (with a handle) or jam jar. You can also use chocolate sauce too.
2. Then pour the smoothie liquid into the glass but leave a couple centimeters at the top/free.
3. Spoon the coconut cream whip on top as piled high as you can.
4. Top with any of the toppings of your choice. (The freakshake featured includes vegan cookie, strawberry, popcorn and shimmer sprinkles).
5. Finish off with more strawberry and chocolate sauce…go as crazy as you like!
Did you know that Vegan Recipe Club is run by a charity?
We create vital resources to help educate everyone – vegan veterans, novices and the v-curious alike – about vegan food, health and nutrition; as well as the plight of farmed animals and the devastating environmental impact of farming.
Through this work we have helped thousands of people discover veganism; but we want to reach millions more! We rely entirely on donations as we don't get any government funding. If you already support us, thank you from the bottom of our hearts, you are really making a difference! Please share our details with your friends and loved ones too, as every donation enables us to keep fighting for change.