Sticky Barbecue Seitan Ribs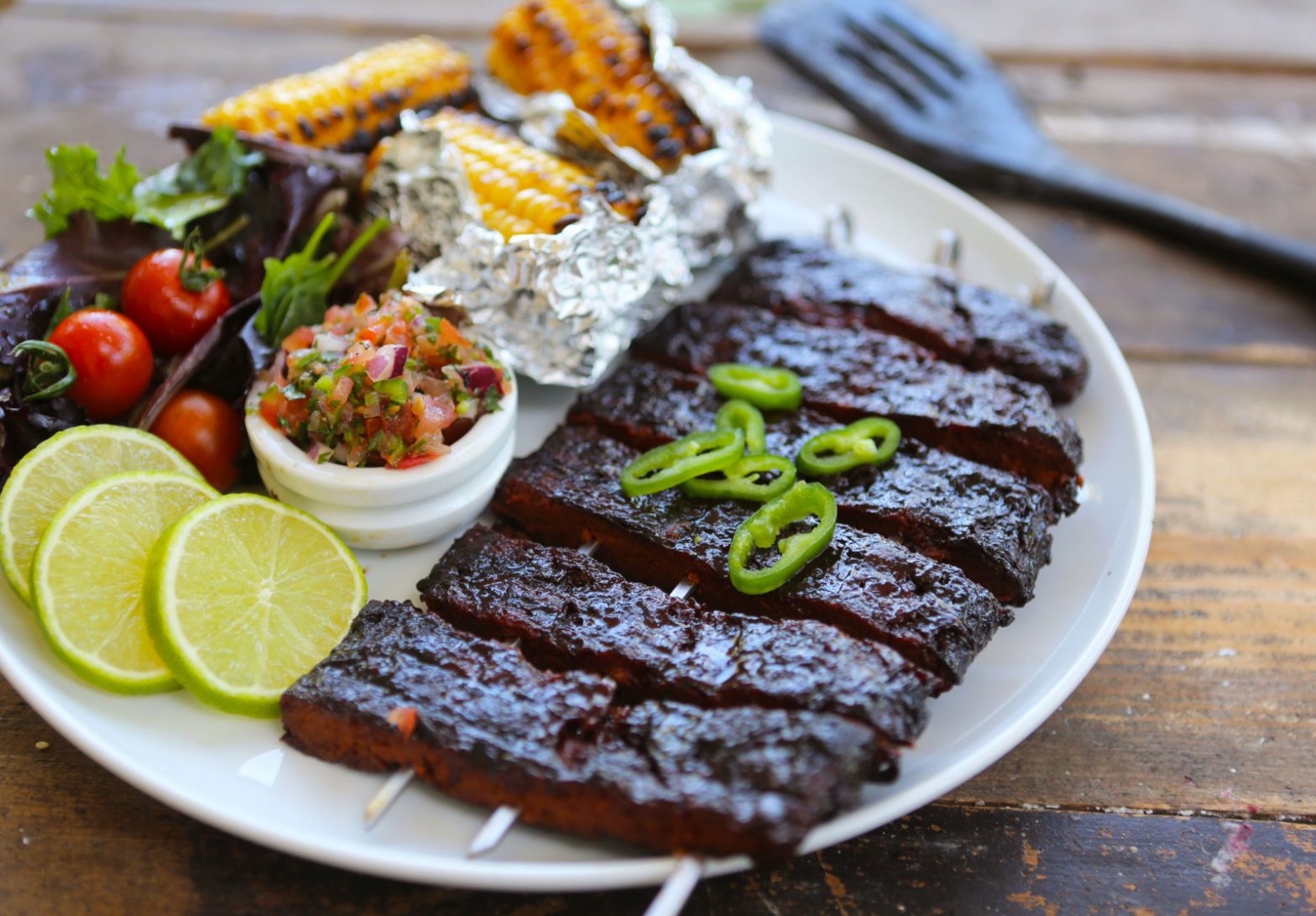 Deliciously sticky barbecue ribs which can also be cooked in the oven. Incredible taste and texture and this seitan dough can be used to create many different meat alternatives. Enjoy 🙂

Not too tricky

Cuisine
United States and Canada
Ingredients
Dry Ingredients
260g/2 cups vital gluten flour
25g/¼ cup nutritional yeast
65g/¼ cup plain flour or tapioca flour
1 tbsp onion powder
1 tbsp garlic powder
1 tbsp smoked paprika or paprika
Pinch of salt and pepper
Wet Ingredients
185ml/¾ cup cold vegan stock (strong)
125ml/½ cup soya sauce
1 tbsp vegan syrup eg agave or maple
2 tbsp tomato purée
1 tbsp red miso paste
1 tbsp liquid smoke (optional)
Coating
350g/1½ cups vegan barbecue sauce (all supermarkets sell bbq sauces but check the ingredients first)
Instructions
Preheat the oven to 180ºC/350ºF/Gas Mark 4.
Mix all of the dry ingredients together in a large mixing bowl and set aside.
Place all of the wet ingredients into a blender and blitz until smooth.
Pour the freshly blended wet ingredients into the bowl of the dry ingredients and combine until a dough ball begins to form.
Knead the dough (like you would bread dough) for around 10 minutes (as this creates the best consistency).
Divide the freshly needed dough in half and shape each piece into a long rectangle/rack shapes, around an inch thick.
There is the option to place each portion onto a griddle pan for a couple of minutes on each side but if not, move straight onto the next stage.
Score lines along the top to resmeble ribs and then wrap each portion into a piece of foil (well sealed).
Place them into a large, deep baking tray and fill this with water about half an inch deep.
Cook them in the oven for 40 minutes and check the water now and again to make sure it hasn't dried out.
Remove them from the oven, open the foil and cover them in the barbecue sauce.
Keep the foil cover open but don't use any water this time.
Return them to the oven for a further 25 minutes until nicely browned and sticky.
If barbecuing: skip out stages 11-13. Take them out of the oven and remove foil completely. Cover them in the barbecue sauce and place them straight onto the hot barbecue.
Cook on either side, charred to taste.
Did you know that Vegan Recipe Club is run by a charity?
We create vital resources to help educate everyone – vegan veterans, novices and the v-curious alike – about vegan food, health and nutrition; as well as the plight of farmed animals and the devastating environmental impact of farming.
Through this work we have helped thousands of people discover veganism; but we want to reach millions more! We rely entirely on donations as we don't get any government funding. If you already support us, thank you from the bottom of our hearts, you are really making a difference! Please share our details with your friends and loved ones too, as every donation enables us to keep fighting for change.