Spinach & 'Feta' Filo Triangles
These little triangles of crunchy deliciousness never disappoint and they are a lot easier to make than they look. The flavour of the lemon and dill really take them to the next level. Absolute must try and they look very impressive on a lunch time buffet! (From the world's first vegan football club)

Not too tricky

Courtesy of 100% vegan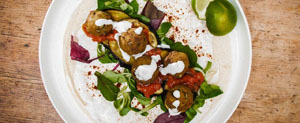 See other recipes by 100% vegan
Meal
lunches
sides-light-meals-and-salads
Ingredients
1 pack filo pastry
1 kg frozen spinach
2 brown onions, finely diced
5 cloves garlic, finely diced
1 lemon (zest and juice)
Handful of dill
1 pack vegan 'feta' (we use Bute Island Sheese)
Black sesame seeds for sprinkling
Extra virgin coconut oil or rapeseed
Olive oil
Instructions
Filing
Pre-heat the oven to 180ºC (fan)/350ºF/Gas Mark 4.
Fry the onions with some oil, on a low heat, until they start to go translucent.
Add the garlic and fry for a further minute.
Add the frozen spinach and stir through so it is well incorporated with the onions and garlic.
Transfer the mix from the frying pan into a mixing bowl. Let it cool.
Once cool, add a handful of chopped dill, sea salt, and lemon zest and juice and mix thoroughly.
Finally, add the vegan 'feta' and mix. Your filling is now ready.
Filo Roll
Tip: When not being used, cover the filo pastry sheets with a clean, damp tea towel so that it doesn't dry out.
Tip: The parcels can be frozen when raw and cooked from frozen at a later date.
Layer 4 sheets of filo pastry directly on top of each other.
Brush

olive oil between the layers to help the layers stick and to brown the pastry when cooked.

Slice the pastry into three, even, vertical strips.
Spoon about 3 teaspoons of filling onto the bottom right hand side of one of the strips (one strip contains four layers of pastry).
Fold the bottom corner over the pile of filling to create a triangle shape.
Continue to fold the pastry over into triangles until the strip is completely used.
Stick down the end and glaze the rest of the triangle with olive oil.
Sprinkle black sesame seeds on top.
Repeat this process 6 times (to make 6 parcels in total). You will need to repeat the filo pastry layering process again as you will get three parcels out of each three layers.
Put on a lined baking tray and cook for 15-20 minutes or until golden brown and crispy.
Did you know that Vegan Recipe Club is run by a charity?
We create vital resources to help educate everyone – vegan veterans, novices and the v-curious alike – about vegan food, health and nutrition; as well as the plight of farmed animals and the devastating environmental impact of farming.
Through this work we have helped thousands of people discover veganism; but we want to reach millions more! We rely entirely on donations as we don't get any government funding. If you already support us, thank you from the bottom of our hearts, you are really making a difference! Please share our details with your friends and loved ones too, as every donation enables us to keep fighting for change.