Spanish olives with vegan cheese marinated in olive oil, black peppercorns, bay leaves, rosemary and garlic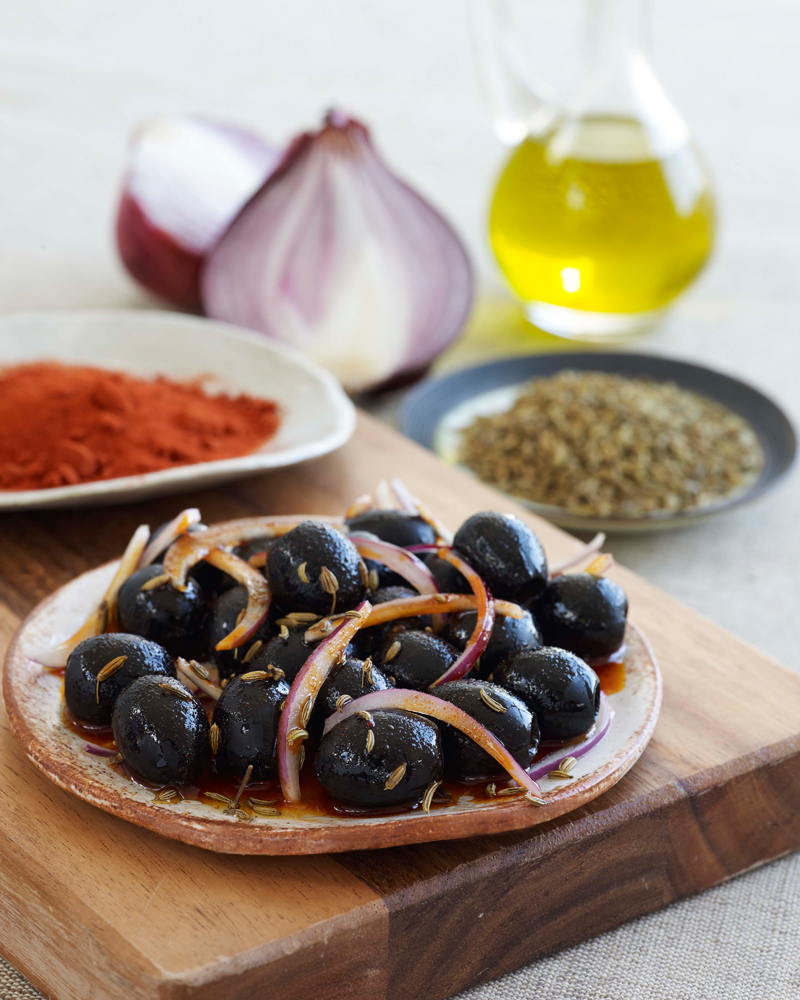 The original recipe called for Manchego cheese so we've veganised it! Try vegan smoked cheese, caramelised red onion cheddar, mature cheddar style or Vegusto Piquant, for example.

Easy

Meal
sides-light-meals-and-salads
vegetable-side-dishes
Ingredients
1 jar or tin of 'turning colour' or black Spanish olives
100ml of mild Spanish olive oil
50g of vegan cheese, eg Vegusto piquant or Golden; Redwood mature cheddar or mozzarella; Sheese smoked – or firm smoked tofu like Taifun's
5 black peppercorns
2 fresh bay leaves
1 sprig of rosemary
4 garlic cloves
Instructions
1. Drain the olives from the brine and place them in a bowl with the chopped vegan cheese. With the back of a knife, crush the garlic cloves and black peppercorns, before mixing them with the olives and the Spanish olive oil. Rub the herbs between your hands, before adding them to the bowl.
2. Give all ingredients a good stir so the flavours develop inside the oil. Leave to stand for 20 minutes then enjoy the freshly marinated olives. For a change, try this recipe with roasted instead of fresh garlic.
Did you know that Vegan Recipe Club is run by a charity?
We create vital resources to help educate everyone – vegan veterans, novices and the v-curious alike – about vegan food, health and nutrition; as well as the plight of farmed animals and the devastating environmental impact of farming.
Through this work we have helped thousands of people discover veganism; but we want to reach millions more! We rely entirely on donations as we don't get any government funding. If you already support us, thank you from the bottom of our hearts, you are really making a difference! Please share our details with your friends and loved ones too, as every donation enables us to keep fighting for change.