Spanakopita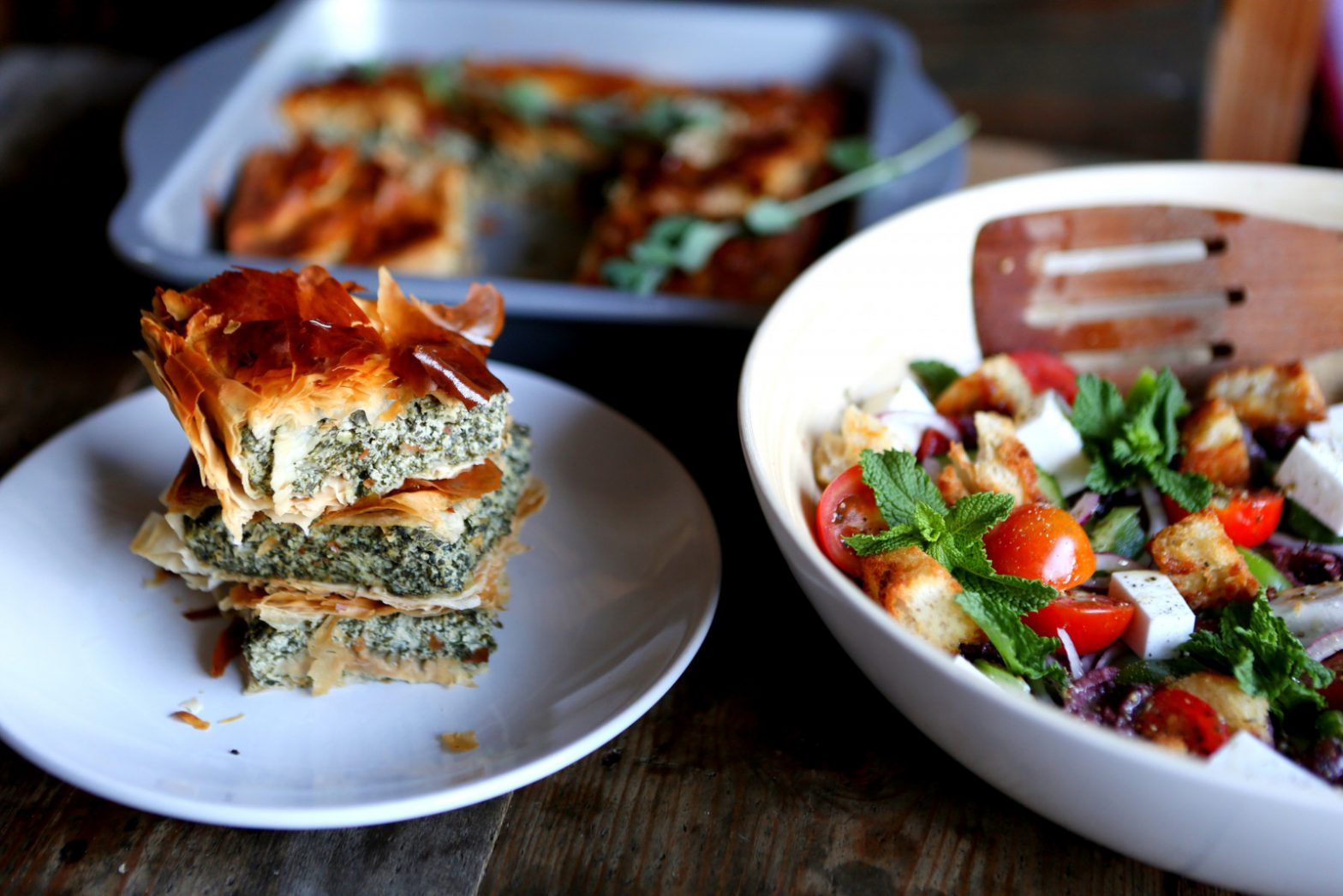 This classic Greek dish is perfect any time of the year! Enjoy with a picnic or barbecue in the summer or as the ultimate comfort food in winter.
It goes particularly well with our tzatziki and Greek salad 🙂

Easy

Ingredients
500g fresh spinach or use frozen, fully thawed
1 large onion, finely diced
2 cloves garlic, finely chopped
6 spring onions, ends removed and finely chopped
Zest of 1 lemon, finely chopped
1 large handful flat leaf parsley, stalks removed and finely chopped
2 tbsp dill, stalks removed and finely chopped (optional)
2 tbsp chives, finely chopped (optional)
2 tsp mint, finely chopped (optional)
150g/1 cup raisins (optional)
135g/1 cup toasted pine nuts (optional)
5 sheets filo pastry
Olive oil
Salt and pepper
'Ricotta'
35g/¼ cup sunflower seeds
425g/15 oz firm tofu, drained and patted dry
2 tbsp lemon juice
1 tbsp olive oil
¾ tsp salt
½ tsp nutmeg
Pinch black pepper
1 clove garlic, crushed
20g/⅓ cup nutritional yeast
Instructions
Preheat the oven to 170ºC (fan)/340ºF/Gas Mark 3-4.
Place the spinach in a really large pan, add a little water, pop the lid on and let it wilt down on a low-med heat (If you're using frozen spinach you don't need to do this step).
Once it's wilted, squeeze out all the water thoroughly then let it cool before chopping into small pieces. Set aside.
Fry the onion and spring onion in a large frying pan, with a little olive oil, until golden.
Add the garlic and then fry for a further minute.
Add the fresh herbs, chopped spinach, raisins, pine nuts (if using), pinch of salt and pepper then mix all together. Leave to cool and set aside.
Ricotta
Blend the sunflower seeds in a food processor or using the milling blade on your blender.
Add the tofu and blend with the sunflower seeds until smooth.
In a medium sized bowl, combine the tofu/sunflower seed mix with all other ingredients and stir thoroughly.
Mix the ricotta with the cooled vegetable mix. Taste and add extra salt and pepper if necessary.
Assembly
Brush a 20cm square x 4cm deep tin with a fine layer of olive oil.
Lightly brush all sheets of filo pastry with olive oil.
Place 3 sheets in the bottom of the tin and up the sides, leaving an overhang if there's any remaining pastry.
Pour the filling into the middle of the tin and spread evenly out to the edges.
Place the 2 remaining pasty sheets on top of the filling so that the filling is now completely covered in pastry. Fold the edges of the bottom layers of pastry over the top and seal around the edge with a little olive oil. This creates a little crust.
Brush with a little olive oil and then place in the oven for 25 to 30 minutes or until golden. Check after 15 minutes and if it is browning too quickly, cover the top with some tin foil.
Did you know that Vegan Recipe Club is run by a charity?
We create vital resources to help educate everyone – vegan veterans, novices and the v-curious alike – about vegan food, health and nutrition; as well as the plight of farmed animals and the devastating environmental impact of farming.
Through this work we have helped thousands of people discover veganism; but we want to reach millions more! We rely entirely on donations as we don't get any government funding. If you already support us, thank you from the bottom of our hearts, you are really making a difference! Please share our details with your friends and loved ones too, as every donation enables us to keep fighting for change.