Smoked Tofu with Udon Noodles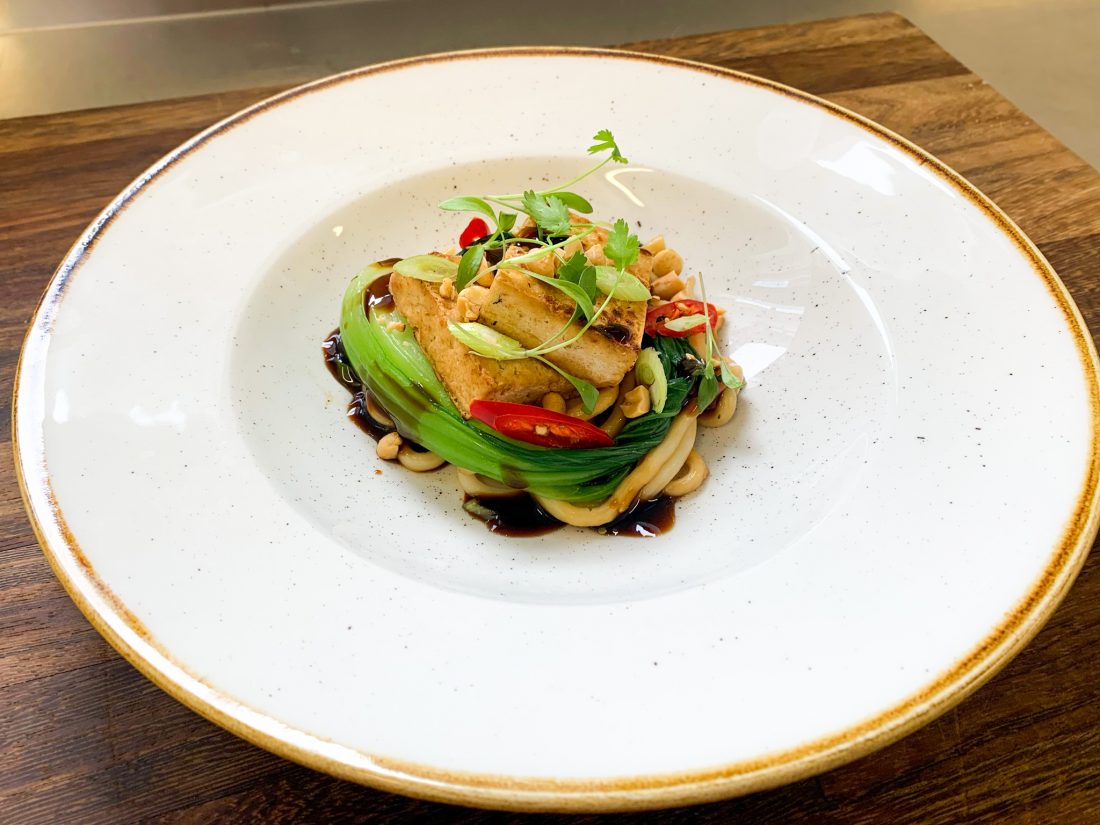 This simple but beautifully presented dish is a winner at the University of Southampton!

Easy
Ingredients
400g smoked tofu, drained, patted dry and cut into 8 squares
1 tbsp sesame oil
2 tbsp vegetable oil
400g udon noodles
30g peanuts
1 red chilli
2 cloves garlic
1 bunch spring onions
6 tbsp dark soy sauce
Micro coriander for decoration
Instructions
For the dressing – heat the sesame oil in a small frying pan, finely chop one clove of garlic and pan fry on low heat for 1 minute. Add half of the red chilli and continue to fry for 30 seconds. Remove from heat and add the dark soy sauce, mix well and set aside.
Toast the peanuts in a dry pan until a light golden colour then set aside.
Heat the vegetable oil in a shallow frying pan and fry the tofu squares for a minute each side or until golden brown. Drain on some kitchen roll and keep warm.
In a medium saucepan of simmering water, submerge the udon noodles and bok choi and cook for around a minute – drain off water well.
Dress the noodles and bok choi using half the dressing and place in a deep serving bowl. Place the crispy smoked tofu on top and drizzle the remaining dressing. Garnish with the toasted peanuts, sliced red chilli and micro coriander.
Did you know that Vegan Recipe Club is run by a charity?
We create vital resources to help educate everyone – vegan veterans, novices and the v-curious alike – about vegan food, health and nutrition; as well as the plight of farmed animals and the devastating environmental impact of farming.
Through this work we have helped thousands of people discover veganism; but we want to reach millions more! We rely entirely on donations as we don't get any government funding. If you already support us, thank you from the bottom of our hearts, you are really making a difference! Please share our details with your friends and loved ones too, as every donation enables us to keep fighting for change.