Shepherdess Pie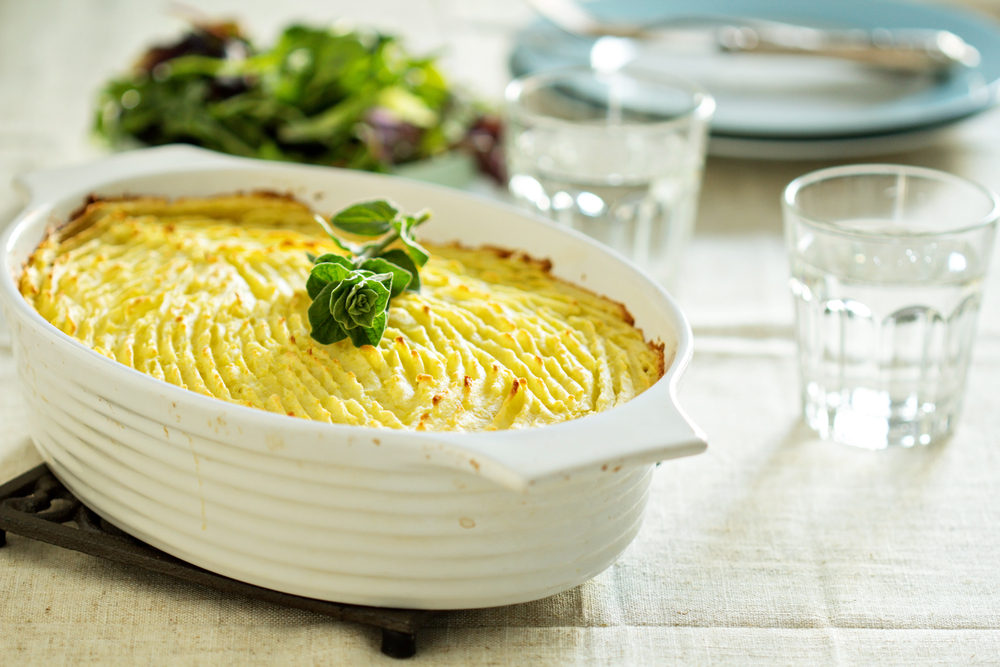 A hearty classic from the University of Cambridge!

Easy
Ingredients
1 onion, chopped
2 cloves garlic, minced
200g mixed root vegetables (carrots, swede, turnips)
200g veggie mince
30g tomato paste
50g green peas
200ml vegan gravy
500g potatoes, peeled and prepped
50g vegan butter
Pinch nutmeg
Parsley, chopped
Instructions
Prepare your root vegetables, peel and cut them all into equal sizes of 1cm dice.
Sweat off your onions, garlic, add the mixed vegetables, cook for 5 minutes. Add the tomato paste, veggie mince.
Make up 200mls of vegan gravy mix then add to the mix and cook for 15 minutes. Add green peas, cook for 2 minutes, season with salt and pepper.
Spread the mixture into a suitable tray, chill for 30 minutes.
Bring the potatoes to the boil and simmer for around 20 mins or until cooked, drain and mash potato with the vegan butter, nutmeg, salt, pepper & fresh chopped parsley.
Cover the dish with the mash potato, and then cook in a preheated oven for 30 minutes.
Did you know that Vegan Recipe Club is run by a charity?
We create vital resources to help educate everyone – vegan veterans, novices and the v-curious alike – about vegan food, health and nutrition; as well as the plight of farmed animals and the devastating environmental impact of farming.
Through this work we have helped thousands of people discover veganism; but we want to reach millions more! We rely entirely on donations as we don't get any government funding. If you already support us, thank you from the bottom of our hearts, you are really making a difference! Please share our details with your friends and loved ones too, as every donation enables us to keep fighting for change.