Roasted Red Pepper & Tomato Sauce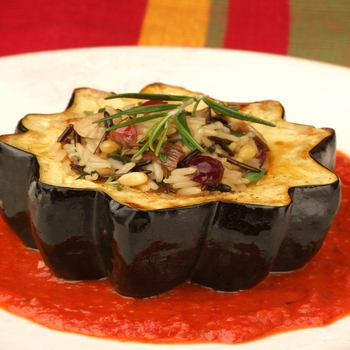 This sauce is very good with Golden Stuffed Squash – or with any simple grain dish. You could roast the peppers the day before – especially if you happen to be using the oven anyway – or just cheat and use ready-roasted peppers in a jar!
Recipe and photgraph courtesy of http://flavourphotos.com

Easy





Ingredients
1 onion, chopped
2 squirts low-cal oil spray
2 roasted red peppers (very good sold in jars – those in brine taste different from those in oil however. You choose)
1 clove garlic, crushed
Small dash of date, maple or agave syrup
½ tin of chopped tomatoes
1 tsp mixed dried herbs
1-2 tsp Aminos or 1 tsp soya sauce
100ml/4fl oz vegan stock
– homemade or from a cube/bouillon, eg Marigold red tub, Green Oxo etc
1 tsp balsamic vinegar
Pinch of chilli powder (optional)
Instructions
1. If roasting peppers yourself: roast for one hour at 200°C/400° F/Gas Mark 6.
2. Turn them a couple of times until the skins are blackened all over.
3. Place the peppers in a sealed bag or covered saucepan while they cool down – the released steam loosens the skin and makes it easier to peel.
4. Remove the skins, cut the peppers in half and discard the seeds. Chop roughly and set aside OR remove pre-roasted pepper pieces from jar, chop roughly and set aside.
5. Sauté the onion in the low-cal oil spray until softened – add a little juice from the tomatoes if it starts to stick.
6. Add the chopped tomatoes and red peppers, then stir in the syrup, herbs, Aminos/soy sauce, chilli powder (if used), balsamic vinegar and vegetable stock.
7. Simmer over a medium heat for 20-25 minutes.
8. Use a hand blender or food processor to whizz the mixture until the sauce is smooth.
Did you know that Vegan Recipe Club is run by a charity?
We create vital resources to help educate everyone – vegan veterans, novices and the v-curious alike – about vegan food, health and nutrition; as well as the plight of farmed animals and the devastating environmental impact of farming.
Through this work we have helped thousands of people discover veganism; but we want to reach millions more! We rely entirely on donations as we don't get any government funding. If you already support us, thank you from the bottom of our hearts, you are really making a difference! Please share our details with your friends and loved ones too, as every donation enables us to keep fighting for change.