Quick Tomato & Lentil Dhal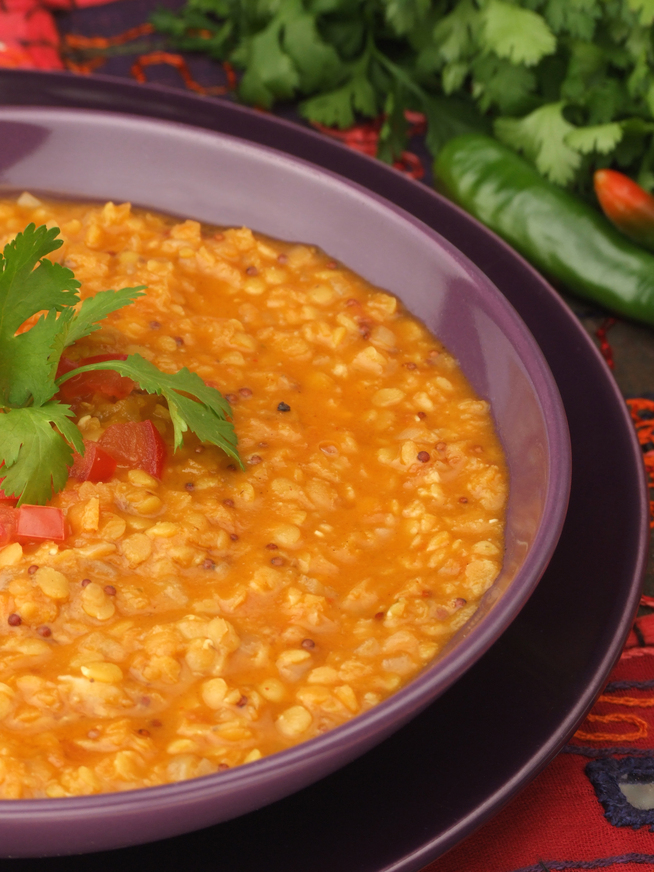 This is a low-fat, budget yet aromatic treat. It's a boon for busy days as it can be made well in advance – and it is great if you want to eat well but are trying to lose weight. Serve with brown rice or quinoa, add lots of shredded dark green veg – and serve with a dollop of plain vegan yoghurt for a healthy but feel-good meal. It also freezes well.
PIcture courtesy of www.flavourphotos.com

Not too tricky




Ingredients
Stage I
300g red lentils, washed thoroughly
570ml/1 pint water
1 medium red onion, chopped
3 large cloves of garlic, crushed
1½-2 tsp vegan bouillon (eg Marigold red or purple tub) or a vegan stock cube
Stage II
1 tin of tomatoes, whole or chopped. If using whole, chop up in the pan with a knife
1½-2 tsp medium curry powder
1-2 tsp fresh grated ginger, according to taste
Juice of ½ – 1 lemon, depending on how juicy
Salt to taste if necessary
Options
Chopped fresh coriander or parsley
Three good handfuls of finely chopped curly kale or shredded dark green cabbage added a couple of minutes before the end and cooked in – this is a particularly bone-friendly option.
Plain vegan yoghurt – even better with a little grated cucumber and a sprinkle of ground cumin mixed in
Instructions
1. Put all the ingredients from Stage I into a large saucepan. Bring to the boil then reduce to a simmer. Cook for 12 minutes.
2. Add the tomatoes, curry powder and ginger from Stage II ingredients to the pan. Stir in well, bring to the boil again and simmer for another 10-15 minutes. Add the greens a few minutes before the end. When the lentils are completely soft, add the lemon juice and stir well. Taste and adjust seasoning if necessary. Serve hot, with the vegan yoghurt and coriander/parsley if using.
Did you know that Vegan Recipe Club is run by a charity?
We create vital resources to help educate everyone – vegan veterans, novices and the v-curious alike – about vegan food, health and nutrition; as well as the plight of farmed animals and the devastating environmental impact of farming.
Through this work we have helped thousands of people discover veganism; but we want to reach millions more! We rely entirely on donations as we don't get any government funding. If you already support us, thank you from the bottom of our hearts, you are really making a difference! Please share our details with your friends and loved ones too, as every donation enables us to keep fighting for change.