Quick Macaroni Cheese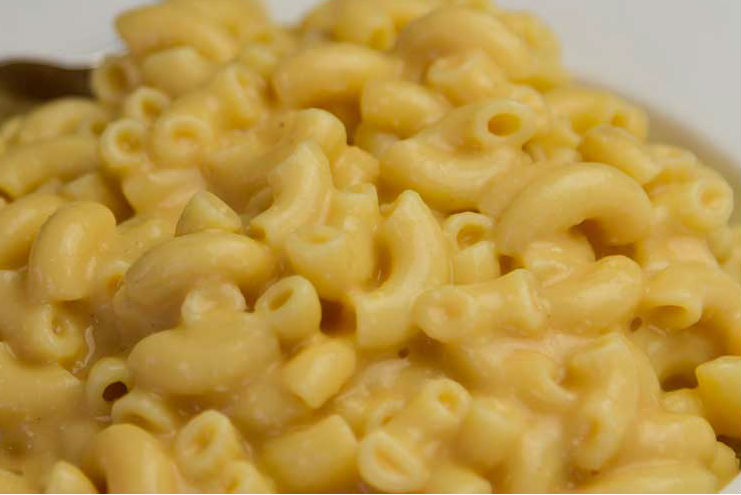 This is a simple vegan version of the classic dish. Enjoy!

Not too tricky



Meal
mains
sides-light-meals-and-salads
Ingredients
330g macaroni, penne or small rigatoni – small tubular pasta, basically!
Cheeze Sauce
180ml unsweetened nondairy milk – soya, coconut, rice etc + a little more if sauce is too thick
1 cup nutritional yeast flakes (Engevita, sold in health food shops)
3tbsp plain vegetable oil
120ml water
2 tbsp + 2 tsp good soya sauce: shoyu or tamari
120g plain tofu, any kind (reduce the water to 90ml if using silken)
1 tbsp cornflour or arrowroot
1½ tsp garlic powder
1½ tsp paprika + more to sprinkle
Salt to taste
Black pepper
1 tbsp Dijon mustard
Instructions
1. Boil a kettle. Pour the hot water into a medium-large saucepan and add salt. Bring to the boil and add the pasta. Cook it according to the packet instructions.
2. Meanwhile, pre-heat the grill or oven to hot. If using the oven, set at 220C/440F/Gas Mark 7.
3. Blend all the sauce ingredients. Heat in the microwave or on the stove – add a little more non-dairy milk if it's too thick. Drain the pasta.
4. Place the pasta and hot sauce in a metal pan with quite deep sides -eg a small roasting tin or cake tin. Sprinkle with a little paprika and grill or bake for 5-10 minutes or until the top is golden and a little crispy. Watch it doesn't catch under the grill. Serve hot.
Did you know that Vegan Recipe Club is run by a charity?
We create vital resources to help educate everyone – vegan veterans, novices and the v-curious alike – about vegan food, health and nutrition; as well as the plight of farmed animals and the devastating environmental impact of farming.
Through this work we have helped thousands of people discover veganism; but we want to reach millions more! We rely entirely on donations as we don't get any government funding. If you already support us, thank you from the bottom of our hearts, you are really making a difference! Please share our details with your friends and loved ones too, as every donation enables us to keep fighting for change.