Pea & Mint Soup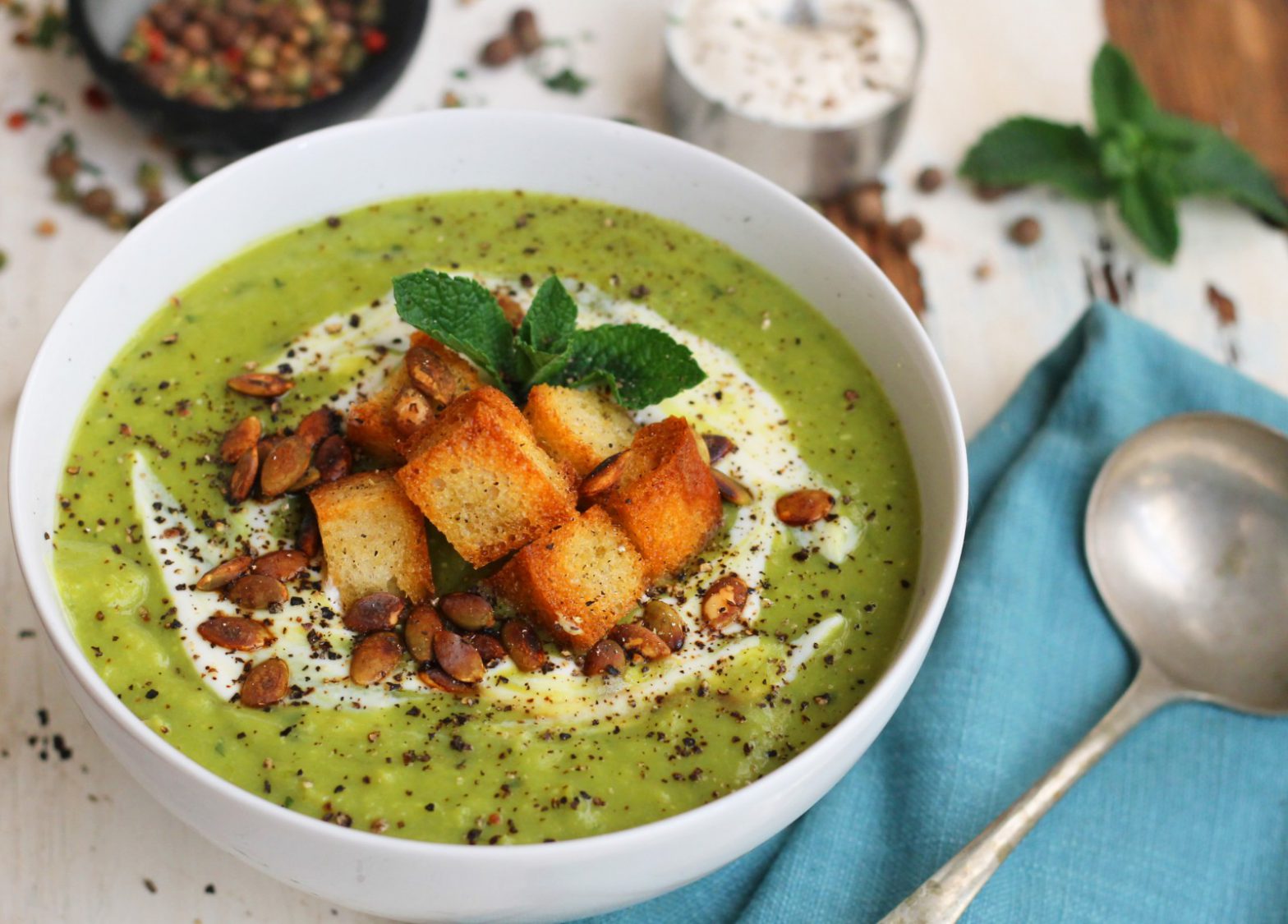 Super healthy, amazing colours and a real crowd pleaser. The vegan buttermilk gives a lovely, creamy quality and depth of flavour. Enjoy 🙂
Taken straight from our Summer Guide, if you like this dish there are over 25 deliciously sun-drenched recipes to choose from, only £3!

Not too tricky


Ingredients
1 bunch spring onions, trimmed and roughly chopped
1 medium potato, peeled and diced
1 garlic clove, crushed
850ml/3½ cups vegetable stock
900g/2lbs young peas in the pod OR 250g/1⅓ cups frozen peas – remove 3 tbsp and set aside
4 tbsp chopped fresh mint
Large pinch caster sugar
1 tbsp fresh lemon or lime juice
Vegan buttermilk. In a jug, mix:
150ml/½ cup + 2 tbsp unsweetened soya or other plant milk
2 tsp of ONE of these: lemon juice, apple cider vinegar, or white vinegar
Stir with a fork or whisk
Instructions
Make the buttermilk and set aside.
Put the spring onions into a large pan with the potato, garlic and stock. Bring to the boil, turn down the heat and simmer for 15 minutes or until the potato is very soft.
For the garnish, cook 3 tbsp of the peas for 2-3 minutes. Drain, put in a bowl of cold water and set aside.
Add the remaining peas to the soup base and simmer for about 3-4 minutes. Don't overcook.
Stir in the mint, sugar and lemon or lime juice, cool slightly then blend to the consistency you prefer. Stir in half the buttermilk mixture and season with salt and pepper.
To serve the soup cold, cool quickly, and then chill. If you want it warm, reheat without boiling (the buttermilk will curdle otherwise).
Serve the soup in bowls, garnished with the remaining buttermilk and the drained peas.
Did you know that Vegan Recipe Club is run by a charity?
We create vital resources to help educate everyone – vegan veterans, novices and the v-curious alike – about vegan food, health and nutrition; as well as the plight of farmed animals and the devastating environmental impact of farming.
Through this work we have helped thousands of people discover veganism; but we want to reach millions more! We rely entirely on donations as we don't get any government funding. If you already support us, thank you from the bottom of our hearts, you are really making a difference! Please share our details with your friends and loved ones too, as every donation enables us to keep fighting for change.