Oaty Orange & Date Cookies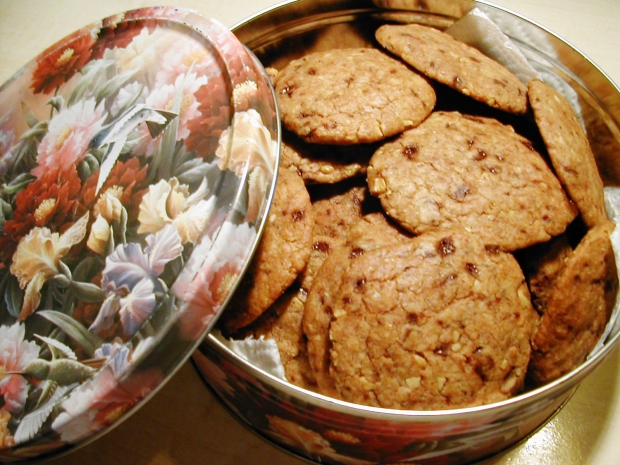 These are cheap, cheerful and really good!
Recipe adapted from Vegan Recipes by Nicola Graimes with thanks

Not too tricky

Ingredients
150g/5oz soft dark brown sugar
150g/5oz vegan margarine, eg Pure, Vitalite, Suma, Biona
Zest of 1 large orange
150g/5oz self-raising wholemeal flour OR use fine plain wholemeal and add an extra ½ tsp baking powder
1 tsp baking powder (plus more if using plain w/m flour, as above)
75g/scant 3oz porridge oats
75g/scant 3 oz chopped dates
Instructions
1. Pre-heat the oven to 180˚C/350˚F/Gas Mark 4. Use two good non-stick flat baking trays – otherwise, line baking trays with greaseproof paper.
2. Cream the margarine and sugar in a bowl until light and fluffy. Stir in the orange rind.
3. Add the flour, baking powder, oats and chopped dates. Mix in thoroughly.
4. Place heaped tablespoons of the mixture onto the baking sheets. Space them well apart. Bake in the oven for 15-20 minutes or until golden. The top rack may cook faster than the bottom rack so switch them around as necessary. Let the cookies cool then place carefully on a wire rack to cool completely before placing in an air-tight container. (A clean rack from a grill pan will do fine).
Optional extras / notes
40-45 minutes including 15-20 minutes baking time
Did you know that Vegan Recipe Club is run by a charity?
We create vital resources to help educate everyone – vegan veterans, novices and the v-curious alike – about vegan food, health and nutrition; as well as the plight of farmed animals and the devastating environmental impact of farming.
Through this work we have helped thousands of people discover veganism; but we want to reach millions more! We rely entirely on donations as we don't get any government funding. If you already support us, thank you from the bottom of our hearts, you are really making a difference! Please share our details with your friends and loved ones too, as every donation enables us to keep fighting for change.