North African Squash & Bean Stew CATERING VERSION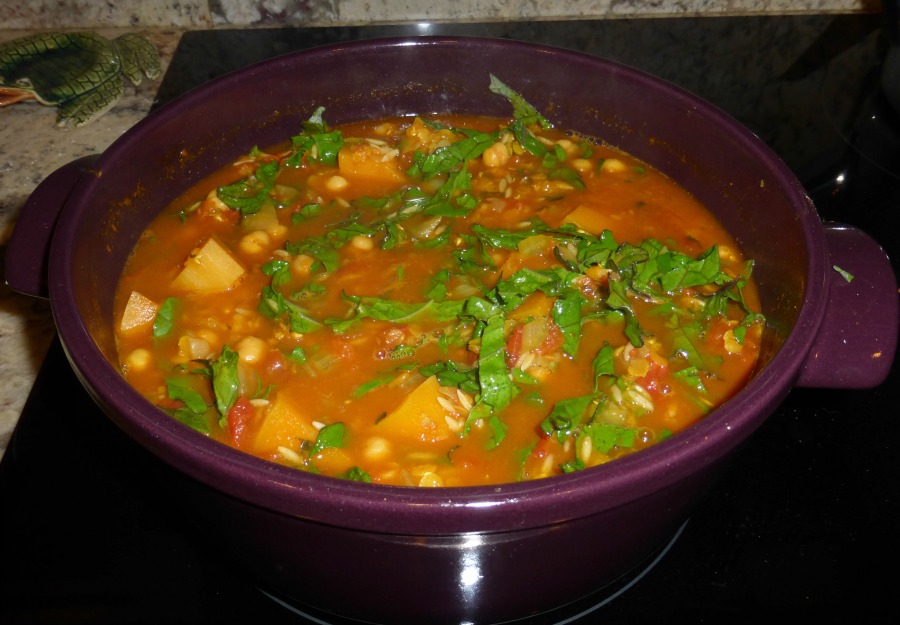 This is an absolutely delicious one-pot recipe that has become a big favourite at my house and in everyone else we know who has tried it. See the ingredients list for our suggested variations. It can be thinned down to make a soup or reduced to make a thicker stew. Although it lends itself to mighty quantities, we've also included a domestic version of the recipe elsewhere! And other than the saffron it is a budget dish.
It is adapted from Hugh Fearnley-Whittingstall's River Cottage Veg Every Day book – his eco and health call to arms for a more plant-based diet. Please note, his book is not vegan – unlike Viva! he still believes we have the right to eat animal products, albeit free range/organic – and the book uses a fair amount of eggs and dairy, sadly. Nonetheless, a big proportion of the recipes are either inherently vegan or can easily be veganised using alternative products. As the author himself states in the foreword 'vegans will know what to do'! I know from personal experience that a lot of people who would have shied away from a 'vegetarian' or 'vegan' labelled cookbook have embraced this book because they like his ethos and use it a lot. So it's made a big impression in such quarters. We all get on the bus in different places, after all!
Please note, Viva! no longer purchases non-vegan books to sell – we are selling off vegetarian books such as this and will be replacing them with a wealth of titles based on the vibrant world of new vegan cuisine.
Photo courtesy of Sweetwater Organic

Not too tricky





Cuisine
Middle Eastern and Moroccan
Ingredients
220ml oil, preferably olive. Or use oil spray if low-fat option desired
16 large onions diced, any colour
2 bulbes garlic, crushed or finely chopped
1 head of celery, finely diced
8 tsp/40g black pepper
8 tsp/40g turmeric powder
4 tsp/20g cinnamon
4 tsp/20g ground ginger
800g red lentils
8 x 400g tins chickpeas or butterbeans or equivalent in catering sizes, drained (keep the liquid – aquafaba – for baking or other vegan 'eggy' dishes)
60 strands of saffron
4L passata (alternatively, blended tinned tomatoes)
8 large handfuls of parsley, any type, chopped
4 large bunches of coriander, chopped
2.5K squash, butternut or another type. Pumpkin works too as do sweet potatoes}
8-9L strong vegan stock
8 bay leaf
400g orzo pasta or other tiny pasta OR a gluten-free pasta equivalent. Alternatively, use 200-300g white rice as a GF equivalent
Optional:
1K frozen peas – these add colour, taste and extra protein etc
Chopped peppers or carrots also work well
Serving suggestions
Vegan yogurt, eg Sojade, Tesco or any other non-sweet type
Flatbread or bulghur or couscous. GF options: brown rice or quinoa or millet
Instructions
1. Heat the oil in a large pan. Sauté the onions until just starting to turn golden.
2. Reduce the heat and add all the spices (EXCEPT the saffron) plus the celery and garlic. Cook gently for another two minutes or so.
3. Add the lentils, chickpeas or butterbeans, the saffron, passata, parsley and half the coriander. Add the stock, bring to the boil then reduce to a simmer and cook over a low heat for 15 minutes.
4. Peel and deseed the squash or pumpkin and cut into large cubes. Cover and simmer for about 30 minutes or until the squash is tender. Add the pasta or rice and simmer until cooked. Add more stock/water if necessary.
5. Season with salt and pepper if necessary. Serve with the rest of the chopped coriander.
Did you know that Vegan Recipe Club is run by a charity?
We create vital resources to help educate everyone – vegan veterans, novices and the v-curious alike – about vegan food, health and nutrition; as well as the plight of farmed animals and the devastating environmental impact of farming.
Through this work we have helped thousands of people discover veganism; but we want to reach millions more! We rely entirely on donations as we don't get any government funding. If you already support us, thank you from the bottom of our hearts, you are really making a difference! Please share our details with your friends and loved ones too, as every donation enables us to keep fighting for change.