No-bake Millionaire's Shortbread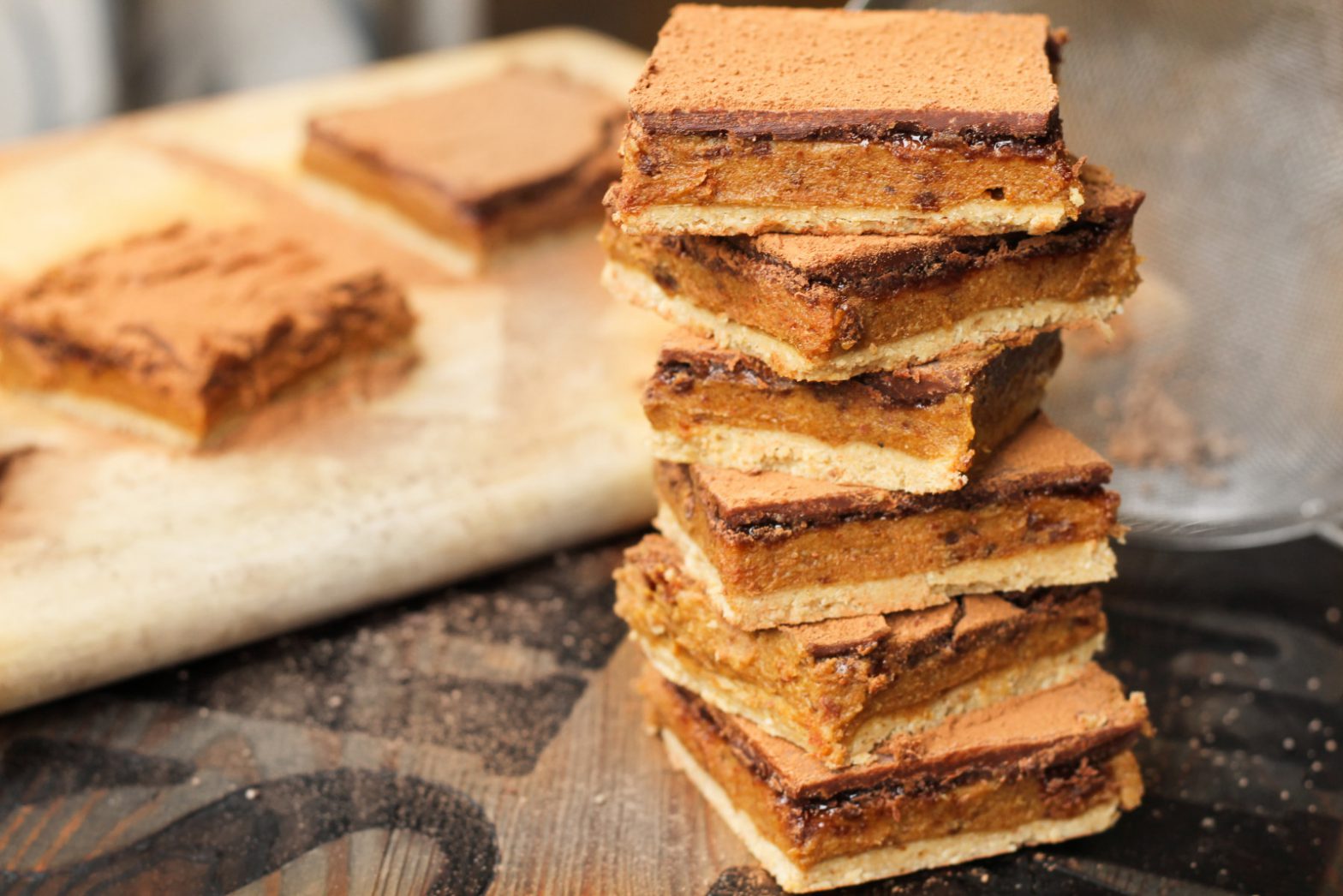 Despite being so decadent and delicious, this is partly raw and contains no refined sugar. Tasty and (almost) guilt-free 🙂

Easy




Ingredients
Base
150g/1¼ cups raw cashew nuts – cashew pieces work fine and are cheaper than whole nuts
50g/½ cup porridge (rolled) oats
4 medjool dates, pitted
50g/¼ cup coconut oil, melted
Filling
350g/2¼ cups Medjool dates, pitted
125ml/½ cup unsweetened plant milk
150ml/¾ cup coconut oil
2 tbsp syrup (eg maple, agave etc)
1 tsp vanilla extract
½-1 tsp salt. Start with ½ tsp, taste and add more if necessary
Topping
300g/10 oz vegan dark chocolate (use raw chocolate if you want to keep it completely refined sugar-free)
2 tbsp coconut oil
Instructions
Grease and line a 20cm/8-inch square cake tin.
Base
Blitz the nuts and oats to crumbs. Add the dates and melted coconut oil and blend again. Spoon into the tin and use the spatula or back of the spoon to flatten down the mixture evenly and cover the entire base. Chill in the freezer while you make the filling.
Filling
Add the pitted dates, plant milk, syrup and coconut oil to a saucepan and bring to a simmer. Cook for 2-3 minutes until the dates are very soft then add the salt and vanilla extract.
Blend the mixture until smooth. Taste and add more salt if necessary.
Spoon this mixture over the base, making sure that the entire tin is covered. Use the spatula or spoon to create as smooth a layer as possible. Place in the freezer while you prepare the topping.
Topping
Melt the coconut oil and chocolate together using a double broiler (a glass or ceramic bowl that fits on a saucepan of simmering water but doesn't touch the bottom) and then pour over the filling.
Return it to the fridge or freezer to set. Using the freezer speeds up the setting time but only leave it in there for 20 minutes and then transfer to the fridge. If using fridge only, it will take 2-3 hours to set.
Cut into squares. It will keep in the fridge for about a week.
Did you know that Vegan Recipe Club is run by a charity?
We create vital resources to help educate everyone – vegan veterans, novices and the v-curious alike – about vegan food, health and nutrition; as well as the plight of farmed animals and the devastating environmental impact of farming.
Through this work we have helped thousands of people discover veganism; but we want to reach millions more! We rely entirely on donations as we don't get any government funding. If you already support us, thank you from the bottom of our hearts, you are really making a difference! Please share our details with your friends and loved ones too, as every donation enables us to keep fighting for change.