Muffaletta Stuffed Loaf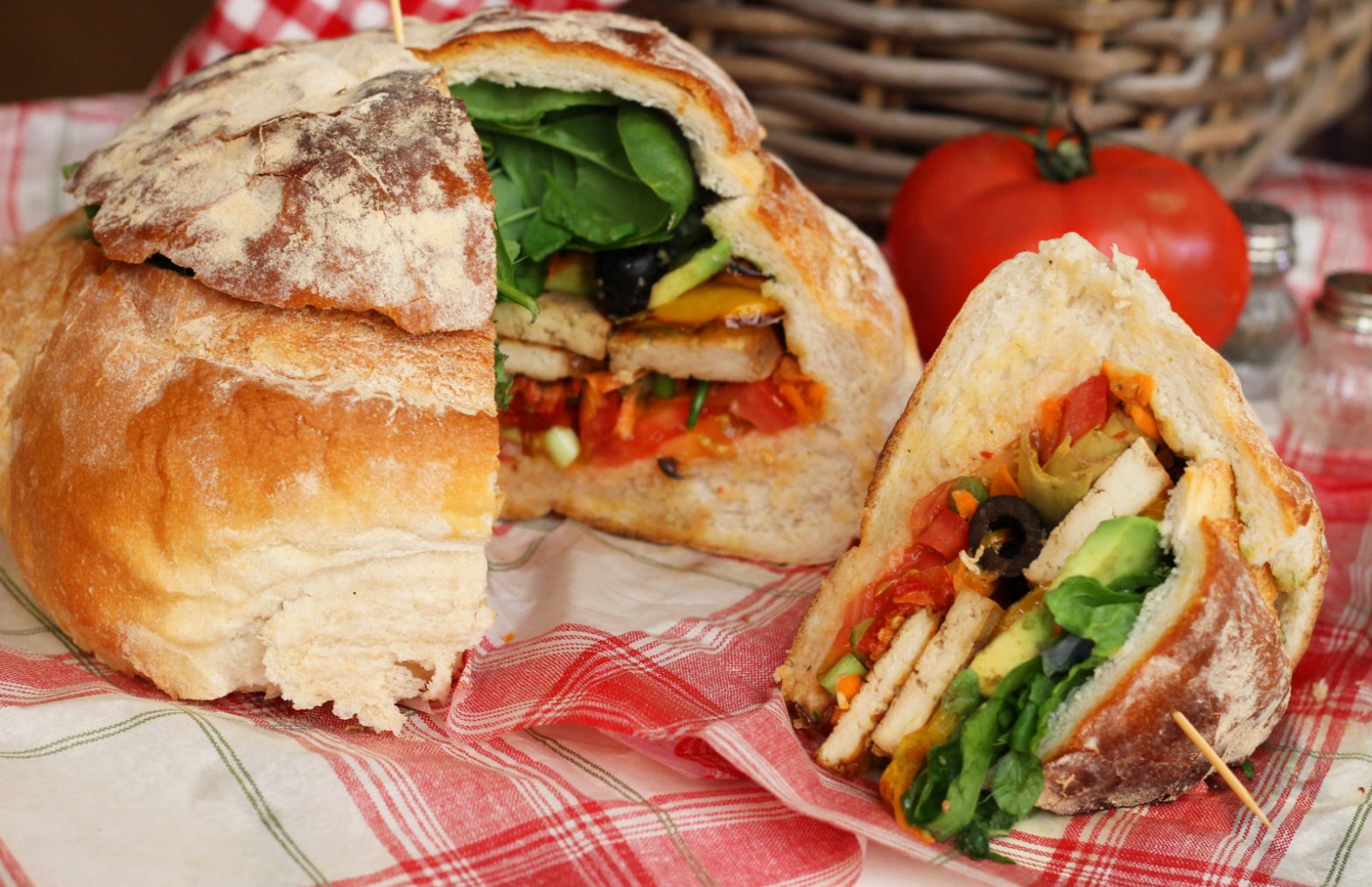 This Muffaletta Stuffed Loaf is quite simply the best sandwich ever. Basically, you stuff a large round loaf with lots of goodies then cut into wedges. It makes a great centerpiece at a picnic or a garden lunch – or just as a treat at home.

Not too tricky
Meal
sides-light-meals-and-salads
Ingredients
Stage I
Mix together in a bowl and set aside:
1 avocado, chopped into chunks
1 large tomato, thinly sliced
1 large handful of green leaves – eg rocket or any other salad leaves of your choice
Plus ONE of these
1 pack of smoked tofu, cubed small
OR 1 pack of tempeh, cubed small
OR 1 pack of Cauldron marinated tofu pieces
Now choose between Filling A or Filling B
Filling A
1 large carrot, grated
1 large red, orange or yellow pepper, diced
Half a tin of artichoke hearts, drained and chopped into quarters
6 sun-dried tomatoes, chopped into small pieces with scissors
1 tbsp capers, rinsed and drained
4 tbsp finely chopped fresh herbs, eg basil and/or parsley
6 pitted green or black olives
Half a bunch spring onions, chopped fine
2 tbsp vinaigrette dressing – use low fat if possible
OR
Filling B
A portion of Italian Olive Salad or make a tapenade (blend together a jar of black olives, a few green olives, with a tbsp of capers, a clove of garlic, a few pickled onions).
Instructions
1. If using the smoked tofu or tempeh, lightly fry whichever one you are using in a frying pan until golden brown. If using ready-cooked tofu pieces go to step 2.
2. Now make Filling A or B. Place ingredients in a bowl and mix well. If using Filling I, mix with a little vinaigrette.
3. Remove tempeh/tofu from heat and let it cool. Add it to the Stage I mixture.
4. Make a single horizontal slice through the loaf, about two thirds from the bottom with one third for a lid. Scrape out some of the bread from the bottom half and a little from the lid to make a hollow.
5. Spoon your chosen Filling into the bottom half then top with the Stage I mixture. Place bread 'lid' on top.
6. Eat – or even better, wrap with foil and chill for an hour or so before eating.
7. Just before serving, cut into wedges.
Did you know that Vegan Recipe Club is run by a charity?
We create vital resources to help educate everyone – vegan veterans, novices and the v-curious alike – about vegan food, health and nutrition; as well as the plight of farmed animals and the devastating environmental impact of farming.
Through this work we have helped thousands of people discover veganism; but we want to reach millions more! We rely entirely on donations as we don't get any government funding. If you already support us, thank you from the bottom of our hearts, you are really making a difference! Please share our details with your friends and loved ones too, as every donation enables us to keep fighting for change.