Moroccan Tomato Sauce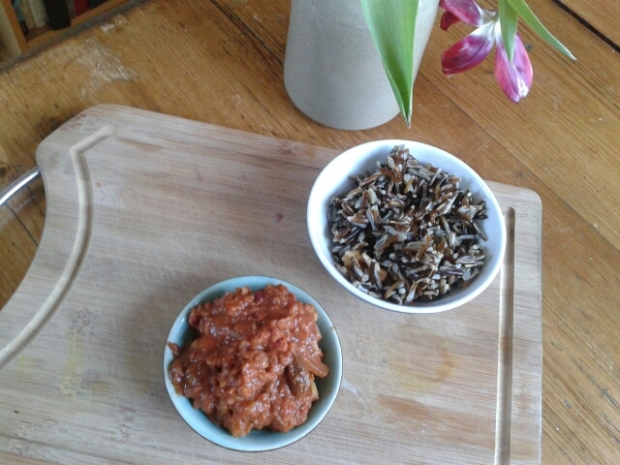 A lovely – yet quick and easy – twist on the usual tomato/onion/garlic sauce.
The cinnamon and raisin give a lovely North African twist yet the smoky flavours and tiny hint of chilli off-set the sweetness.
I added some chopped seitan to the sauce and served it with with wild rice and baked butternut squash – but it works well with other cooked veg and grain combos, eg wholemeal couscous and baked aubergines or peppers. Delicious!

Not too tricky




Cuisine
Middle Eastern and Moroccan
Ingredients
1 tbsp oil, plain or olive – or use oil spray and a little water to make even lower fat
1/2 medium red onion
2-3 fat cloves of garlic
1 tin tomatoes, chopped or whole
¼ cup raisins
½ tin beans – butterbeans, haricot, cannellini or mixed salad
1½ tsp cinnamon
½ tsp smoked paprika
Large pinch of cayenne or chilli powder
1 tsp bouillon or ½ vegan stock cube
Salt to taste
Black pepper
Instructions
1. Sauté (lightly fry) the onion and garlic, stirring regularly to prevent sticking. Add the spices and cook in for about a minute.
2. Add the rest of the ingredients and blend until smooth. Add a little water/stock if too thick and stir in well. Season to taste.
Did you know that Vegan Recipe Club is run by a charity?
We create vital resources to help educate everyone – vegan veterans, novices and the v-curious alike – about vegan food, health and nutrition; as well as the plight of farmed animals and the devastating environmental impact of farming.
Through this work we have helped thousands of people discover veganism; but we want to reach millions more! We rely entirely on donations as we don't get any government funding. If you already support us, thank you from the bottom of our hearts, you are really making a difference! Please share our details with your friends and loved ones too, as every donation enables us to keep fighting for change.