Mock Duck à L'Orange with Steamed Broccoli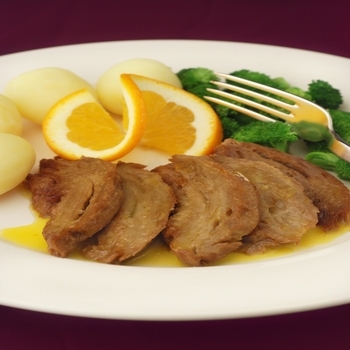 An easy recipe which has a fraction of the fat content of the original – and is much kinder! (Nearly all duck bought in the UK is factory-farmed in terrible conditions)
Serving suggestions: boiled new potatoes OR pre-cooked potatoes lightly fried in a non-stick frying pan with 2-3 squirts of low-cal oil spray.
Mock duck can be bought in tins, eg Granovita or in Oriental supermarkets, eg Companion or Mong Lee Shang brands.

Easy



Ingredients
Orange Sauce:
Juice of 2 oranges
Zest of 1 orange
100ml/4fl oz vegetable stock
½ tsp arrowroot, dissolved in a little cold orange juice
Rest of meal
1 medium head of broccoli, chopped into florets and the outside stalks peeled thinly to get rid of the woody outer layer
1 tin mock duck OR 1 jar seitan
1 tsp olive oil
Salt and freshly ground black pepper
Instructions
If serving with new potatoes, put them on to cook now – or else fry pre-cooked potatoes and keep warm in the oven while you get everything else ready.
In a frying pan or a wide-bottomed saucepan heat the orange juice, zest and stock.
Add the arrowroot and whisk in, stirring well. Bring to the boil and simmer until sauce is reduced by half.
Meanwhile, put the broccoli on to steam. Cook for just a few minutes – check it isn't overcooking. It should have a little bite to it. If necessary, place in a covered dish in the oven and keep warm until you're ready to eat.
While sauce and broccoli are cooking, drain the liquid from the seitan/mock duck and press with the back of a wooden spatula to get rid of any more liquid (as much as possible).
Season the seitan/mock duck with salt and freshly ground black pepper. Depending on the brand, you may have a few 'bitty' pieces rather than all large chunks/steaks. This doesn't matter.
Heat the olive oil in a non-stick or heavy frying pan. Fry mock meat until each piece is lightly browned on both sides.
Serve with broccoli and orange sauce – and potatoes if you've cooked them.20-25 minutes
Did you know that Vegan Recipe Club is run by a charity?
We create vital resources to help educate everyone – vegan veterans, novices and the v-curious alike – about vegan food, health and nutrition; as well as the plight of farmed animals and the devastating environmental impact of farming.
Through this work we have helped thousands of people discover veganism; but we want to reach millions more! We rely entirely on donations as we don't get any government funding. If you already support us, thank you from the bottom of our hearts, you are really making a difference! Please share our details with your friends and loved ones too, as every donation enables us to keep fighting for change.