Mocha Cake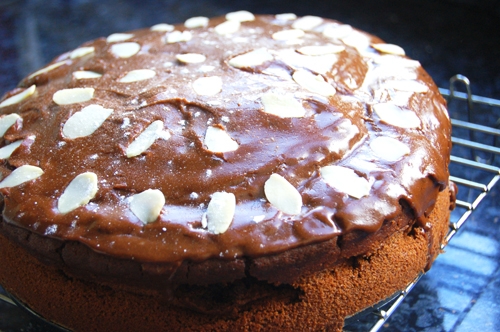 A rich, soft Mocha Cake, combining two wonderful flavours.

Easy
Ingredients
300g self-raising flour
200g brown sugar
4 tbsp cocoa powder
2 tsp baking powder
4 tsp instant coffee dissolved in a little boiling water in a jug. Top up with cold to make a total of 300ml/11fl oz
170ml oil (use plain vegetable oil)
Flax egg (1 tbsp flaxmeal – ground linseed – mixed with 3 tbsp warm water
Icing
150g icing sugar
75g vegan margarine, eg Pure, Vitalite, Suma OR mild coconut oil
2 tbsp cocoa powder
2½ tsp instant coffee (regular or decaf)
1 tbsp hot water and 1 tbsp cold
Handful of flaked almonds to decorate
NB Most UK sugar is vegan, but check.
Instructions
1. Preheat oven to 190º/375º/Gas Mark 5.
2. Oil a 21cm/8 inch non-stick cake tin (round or square) and line the base with greaseproof paper.
3. Sift the dry ingredients and mix in well.
4. Pour in wet ingredients and mix well – do this by hand to avoid the cake becoming too tough and solid. Add the flax egg. If the mixture seems very stiff, add 1 tbsp water and mix again
5. Pour batter into tin and bake for 35-40 minutes. If using a fan-assisted oven, check cake after 30 minutes. Either way, test centre of cake with a cocktail stick or sharp knife – if it comes out clean, the cake is cooked.
6. Allow to cool then carefully remove cake from the tin. Place base side upwards on a wire rack to finish cooling process. Finally, peel off the paper. Turn cake over on to a large plate or the lid of a cake tin before icing it.
7. While the cake is baking, make the icing. Cream the margarine with a fork then mix in the icing sugar until completely smooth and creamy. Mix the coffee and hot water, add the cold water then mix into the buttercream mixture. If the icing is too stiff, add a little more cold water. If too thin, add more icing sugar. Chill before using.
8. Use a table or palette knife to put a thin layer of icing on the cake – don't worry if you get a few crumbs in with the icing. Decorate with flaked almonds.
9. Refrigerate for a while then use rest of icing to cover cake. Decorate with walnut halves and serve. Lovely on its own, or with dairy-free cream or ice-cream.
Optional extras / notes
1 hour including baking time
Did you know that Vegan Recipe Club is run by a charity?
We create vital resources to help educate everyone – vegan veterans, novices and the v-curious alike – about vegan food, health and nutrition; as well as the plight of farmed animals and the devastating environmental impact of farming.
Through this work we have helped thousands of people discover veganism; but we want to reach millions more! We rely entirely on donations as we don't get any government funding. If you already support us, thank you from the bottom of our hearts, you are really making a difference! Please share our details with your friends and loved ones too, as every donation enables us to keep fighting for change.