Middle-Eastern Nutty Millet Pilaf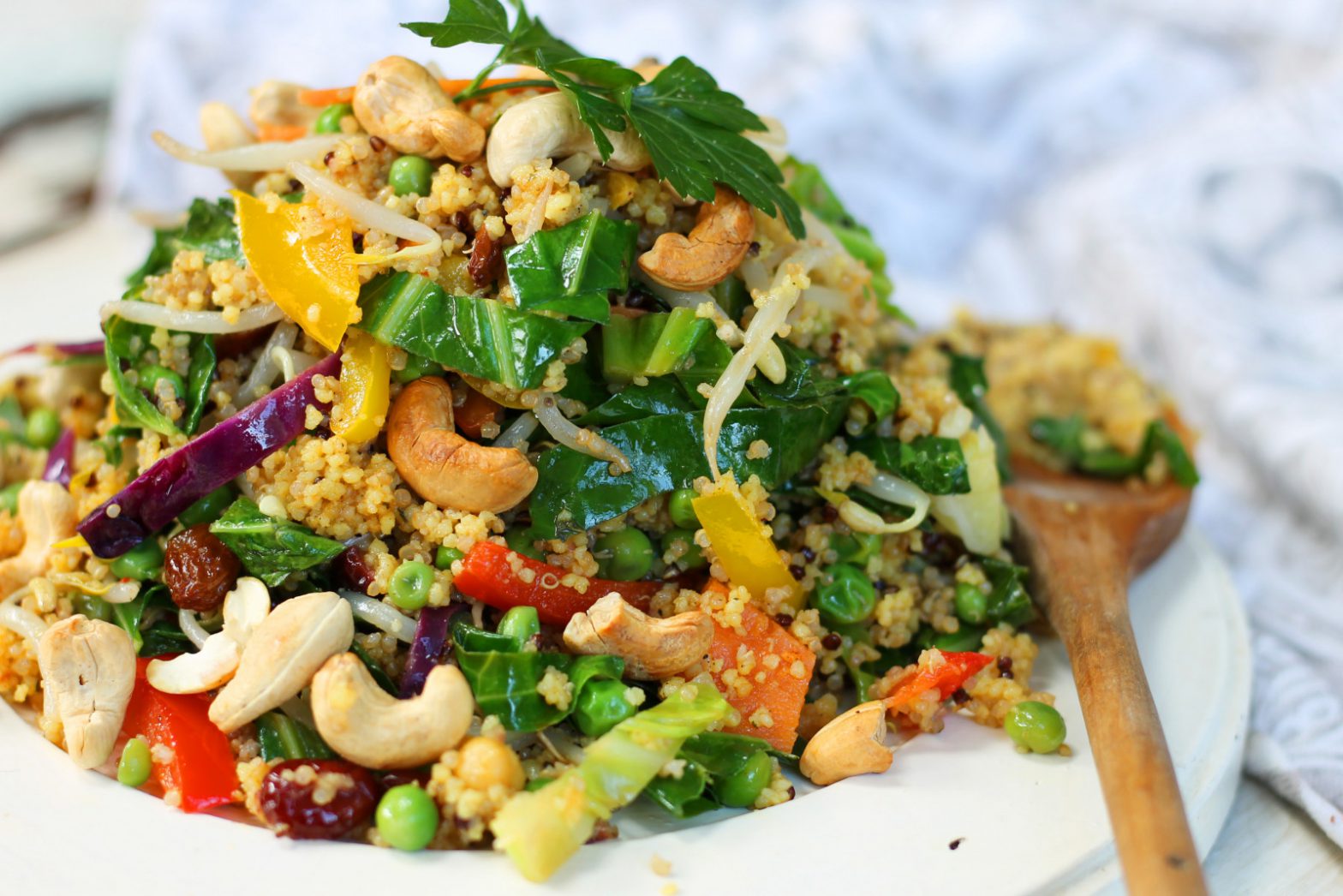 A fresh, light alternative to traditional risotto.
This simple tasty dish is a nice way to use millet, a much underrated, nutritious and gluten-free wholegrain. Find it in Ocado or a health food shop. Both millet and peas provide useful sources of protein and iron.
Top tips
Soak the millet overnight or for a few hours if possible. This helps it fluff up nicely as well as making it cook more quickly.
Nut-free? Omit the nuts if you're allergic – replace with toasted seeds, eg sunflower or pumpkin if these are safe for you.

Not too tricky







Cuisine
Middle Eastern and Moroccan
Meal
mains
lunches
sides-light-meals-and-salads
vegetable-side-dishes
* Nutritional information per serving.
Ingredients
225g/8oz millet, preferably soaked overnight or for a few hours
1 tbsp olive oil OR two squirts of oil spray
1 medium onion, chopped fine
1 red pepper, deseeded and chopped into bite-sized pieces
1 tsp cumin
1 tsp turmeric
600ml/21 fl oz vegetable stock
225g/8oz frozen peas
85g/3oz chopped hazelnuts or slivered almonds – or seeds if preferred
Juice of 1 lemon
1 tbsp chopped fresh mint
To serve: dairy-free plain yoghurt such as Alpro, Provamel or Tesco. For a soya-free alternative, use Co-yo or other vegan coconut yoghurt
Suggested additions: 1 tbsp sultanas;1 tsp cinnamon; drizzle of agave syrup; 2 handfuls of baby spinach added 2 minutes before the end and cooked in.
Instructions
1. Heat oil or spray in large, heavy based pan and sauté the onion and red pepper for 5 minutes over moderate heat (add a little water/stock if it starts to stick). Add spices and fry for 1 minute, stirring continually.
2. Add the soaked millet and vegetable stock.
3. Bring to boil, cover and simmer for 20-25 minutes or until tender, stirring occasionally – don't overdo it so that the millet turns fluffy rather than mushy.
4. Meanwhile, place nuts in a frying pan over a medium-high heat and toast till golden brown for 2 minutes or so – keep turning gently with a wooden spatula so they don't stick or burn. Add peas during last 5 minutes of cooking time.
5. When all liquid has been absorbed and millet is light and fluffy, it's cooked!
6. Stir in nuts, lemon juice and mint.
7. Serve on warm plates – place a dollop of yoghurt on top if using.
Did you know that Vegan Recipe Club is run by a charity?
We create vital resources to help educate everyone – vegan veterans, novices and the v-curious alike – about vegan food, health and nutrition; as well as the plight of farmed animals and the devastating environmental impact of farming.
Through this work we have helped thousands of people discover veganism; but we want to reach millions more! We rely entirely on donations as we don't get any government funding. If you already support us, thank you from the bottom of our hearts, you are really making a difference! Please share our details with your friends and loved ones too, as every donation enables us to keep fighting for change.