Luxury Festive Roasts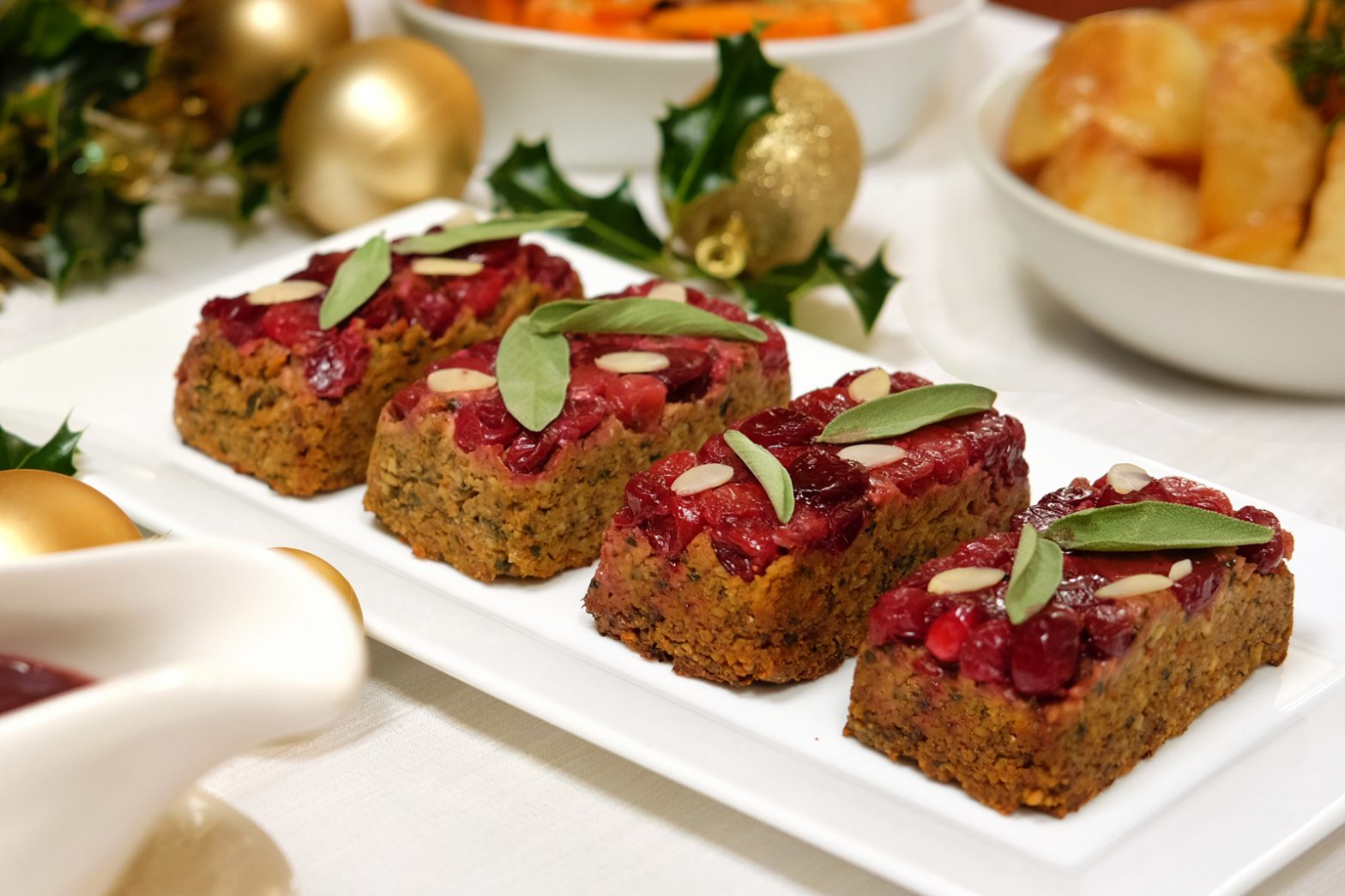 Probably the tastiest Christmas roast you will ever eat! Teeming with juicy nuts, pulses, porcini mushrooms and other surprises.

Intricate


Ingredients
225g/8oz mixed nuts, chopped
110g/4oz red lentils
l large carrot
2 celery sticks
1 large onion
½ large courgette OR 1 small sweet potato
1 aubergine
100g/3 1/2 oz mushrooms
25g/1oz porcini mushrooms
4 tbsp vegan margarine, eg Pure, Biona, Suma OR 4 tbsp mild coconut oil.
2 tbsp mild curry powder
2 tbsp tomato ketchup or puree
2 tbsp Vegan Worcestershire sauce OR soya sauce
4 tbsp chopped parsley
10g/2 tsp chopped dried apricots
2 tbsp flax meal mixed with 6 tbsp warm water (this makes 2 flax 'eggs' to bind the roast)
100ml/ scant ¼ pint water
Vegan pesto, eg Meridian, Mr Organic, Sacla Free From or Zest
2 tbsp toasted pine nuts OR flaked almonds
ALL KITTED OUT
Chopping board, sharp knife, jug, kettle, food processor, sieve to wash lentils, colander, small pan, wok or frying pan, spatula/fish slice, garlic crusher, cooking spoon, measuring spoons, scales, mini non-stick loaf tins OR ramekins, other small containers or large muffin cases, baking parchment/greaseproof paper, small bowl for flax 'egg'.
Instructions
Assemble all the ingredients and kit.
Gently boil the lentils for around 20 mins in the small pan.
Meanwhile, soak the porcini mushrooms in a jug, just covered with boiled water
About halfway through the lentils' cooking time, pre-heat the oven to 190C/375F/Gas Mark 5.
Meanwhile, cut the aubergine in half, then chop into small chunks, along with the courgette/sweet potato.
Chop the carrot, celery, onion and mushrooms roughly then blend or food process until they are quite finely chopped.
Melt the margarine/coconut oil in a wok and fry the vegetables for 5-10 minutes, stirring in the curry powder.(If using the sweet potato option, this may take a little longer).
Drain the porcini mushrooms and chop with scissors. Add them to a bowl along with the mixed nuts, cooked lentils, ketchup, Worcesteshire sauce, parsley, apricots, flax eggs and water. Mix well.
Add in the mixture from the wok and combine well together. This works best cooked in smaller, well-greased containers, as the roasts keeps their shape better and are less likely to fall apart. We used 4 small, oiled mini roast tins but smaller ones will work too, eg ramekins – or even muffin cases. If using 4 containers, place a strip of baking parchment in each one, with long enough tabs to let you lift out each roast.
Distribute the mixture evenly between your containers then spread a layer of pesto over the top of each one. Spoon in the rests of the mixture and smooth over. Place in the oven and bake for about 20-30 minutes until just firm, covering the tops with a piece of greaseproof paper if they start to catch.
Let the roasts cool for at least 15-20 minutes before turning out then, holding the sides of the baking parchment, gently pull out onto an oven-proof plate or serving tray. Sprinkle with pinenuts/flaked almonds to finish, slice if necessary then serve with Roses' Gravy or other gravy of your choice.
Did you know that Vegan Recipe Club is run by a charity?
We create vital resources to help educate everyone – vegan veterans, novices and the v-curious alike – about vegan food, health and nutrition; as well as the plight of farmed animals and the devastating environmental impact of farming.
Through this work we have helped thousands of people discover veganism; but we want to reach millions more! We rely entirely on donations as we don't get any government funding. If you already support us, thank you from the bottom of our hearts, you are really making a difference! Please share our details with your friends and loved ones too, as every donation enables us to keep fighting for change.