Luxury Chocolate Mousse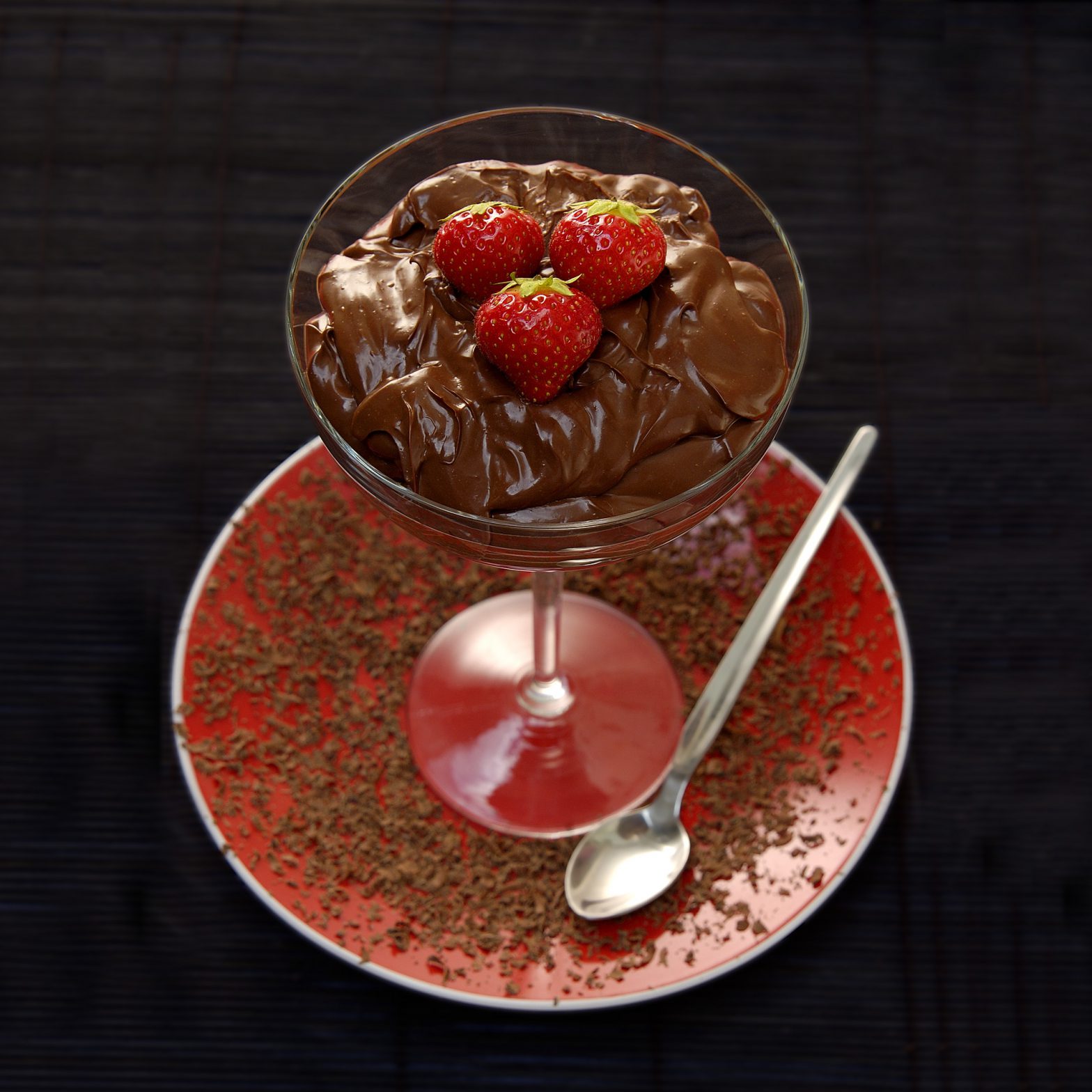 The Big Mama of all mousses! This is a rich, sophisticated dessert. Depending on your tastebuds and what is available, it can be made with all dark chocolate OR half and half vegan milk chocolate with dark, eg Moo-free 'milk' chocolate from large free-from shelves such as Waitrose's.
Try this on any of your friends who believe that being vegan is about 'giving up' and being a martyr… and watch the smiles of pleasure on their chocolate-smeared chops! A little goes a long way, though so serve in tiny little pots. It's good served with berry fruits as a garnish – the colour and tartness gives a lovely contrast.

Not too tricky




Ingredients
1 pack silken tofu (approximately 350g) available in good supermarkets or health stores.
150g vegan chocolate: use all dark OR 75g each of vegan 'milk' and dark chocolate
3-4 tbsp maple or agave syrup (agave is available in large supermarkets. It's a bit like vegan honey) OR just use a bit of fine brown sugar or caster sugar to taste
100ml vegan single cream (eg Alpro, Provamel or Oatly) OR use Oatly Oat Fraiche (this works very well!)
½ tsp vanilla extract
Pinch salt
Vegan milk chocolate: Moo-free; Organica; Plamil; supermarket free-from dairy-free 'milk' versions
Instructions
Blend tofu and salt until completely smooth and creamy, scraping the sides of the bowl to ensure everything is blended properly.
Melt the chocolate in a double boiler. That means that you heat a couple of inches of water to boiling point in a saucepan. Turn the heat down and place a heat-proof bowl over the pan of water, making sure that the bottom of the bowl doesn't touch the base of the pan. Now break the chocolate into chunks and place it in the bowl with the syrup and vanilla extract.
Stir gently with a rubber or plastic spatula until the chocolate has completely melted.
Add the chocolate mixture and vegan cream to the tofu and blend again, using the spatula to scrape down the sides of the bowl, as before. Taste and add more syrup or sugar if necessary and blend again.
Refrigerate in individual serving dishes of your choice for an hour or so – little expresso cups look lovely, or nice glasses.
Optional extras / notes
25 minutes, plus chilling time
Did you know that Vegan Recipe Club is run by a charity?
We create vital resources to help educate everyone – vegan veterans, novices and the v-curious alike – about vegan food, health and nutrition; as well as the plight of farmed animals and the devastating environmental impact of farming.
Through this work we have helped thousands of people discover veganism; but we want to reach millions more! We rely entirely on donations as we don't get any government funding. If you already support us, thank you from the bottom of our hearts, you are really making a difference! Please share our details with your friends and loved ones too, as every donation enables us to keep fighting for change.