Luscious Vegan Sponge Cake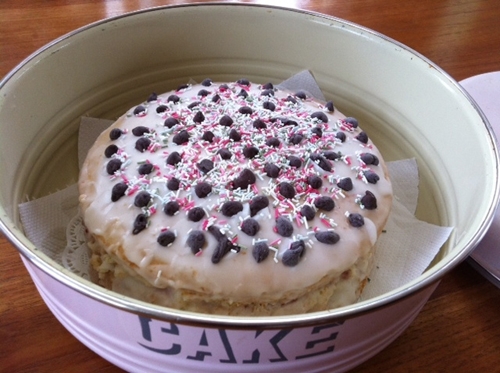 The sponge makes a wonderful birthday or Easter cake! The recipe makes 2 cakes which can then be filled in the middle – and iced on the top if wished. As you will see below, this cake lends itself to various flavourings/fillings. Feel free to decorate with appropriate and vegan items, eg vegan mini eggs, flowers and the like!
For a gluten-free version, just replace the flour and baking powder with g-f equivalents.
For a lemon cake, omit the vanilla essence and
Use lemon essence in both the cake and the buttercream icing
OR add the zest of 2 lemons and juice of 1 to the batter. Add the zest of 1 lemon and 2 tbsp juice to the icing.
If you want to find out about other vegan baking alternatives, check out our handy Egg Replacer Guide here. It's awesome. Also, this link about Aquafaba (chickpea brine) will blow your mind! For a motherlode of trialled recipes and commentary on aquafaba click here https://www.facebook.com/groups/VeganMeringue/files/ It is taken from the lively Facebook group: Vegan Meringues – Hits and Misses which covers way more than meringues.

Not too tricky

Ingredients
Cake
250g/9oz vegan margarine (eg, Pure/Biona/Suma)
250g/9oz caster sugar
500g/1lb 2oz self-raising flour
6 tsp baking powder
Pinch salt
1 x 500ml tub plain or vanilla vegan yogurt (eg Alpro/Provamel/Sojade)
1 tsp vanilla extract
Filling
Strawberry, raspberry or apricot jam spread thinly on each cake
Then EITHER
450g/1lb strawberries, sliced
Orange flower water or orange liqueur (e.g Cointreau), to taste If icing:
OR
Buttercream icing made from icing sugar and margarine – follow the packet instructions. (Usually 75g vegan margarine to 150g sieved icing sugar. Add flavouring of choice (eg vanilla, lemon, orange etc). Cream with a fork until completely smooth. Chill before using then spread on the bottom cake layer and place the second cake on top.
For ordinary icing, follow the packet instructions and add colouring/flavouring as desired, as well as any decorations you like, eg vegan chocolate drops, fruit pieces….
Instructions
1. Preheat the oven to 180°C/350°F/Gas Mark 4 (NB. Reduce this if using a fan-assisted oven).
2. In a saucepan, melt the margarine and sugar until both have melted. Leave to cool.
3. Grease 2 x 20cm/8 inch loose bottomed cake tins and line the bases with greaseproof paper (or use cake liners).
4. Sieve the flour and baking powder into a bowl and add salt. Pour the margarine/sugar mixture, yoghurt and vanilla extract to the flour mix. Mix well until you get a soft dropping consistency. Add a little plant milk – eg almond or soya – if necessary.
5. Spoon cake mix into the tins and bake for 30-35 minutes or until risen and golden. Test by inserting a sharp knife or toothpick into the centre of each cake. If it comes out clean, the cake is cooked. If not, return to the oven for another 5-7 minutes.
6. Make fillings now. If using fresh strawberries, put the sliced fruit in a bowl and add orange flavouring and sugar. Leave to marinate. If using icing, make and place in fridge or freezer to chill.
7. Place the cakes in their tins on a cooling rack. Don't remove from tins until the cakes are cool – then allow to cool more before adding filling or icing.
Optional extras / notes
50-60 minutes total preparation and cooking time
Did you know that Vegan Recipe Club is run by a charity?
We create vital resources to help educate everyone – vegan veterans, novices and the v-curious alike – about vegan food, health and nutrition; as well as the plight of farmed animals and the devastating environmental impact of farming.
Through this work we have helped thousands of people discover veganism; but we want to reach millions more! We rely entirely on donations as we don't get any government funding. If you already support us, thank you from the bottom of our hearts, you are really making a difference! Please share our details with your friends and loved ones too, as every donation enables us to keep fighting for change.