Red Thai Sweet Potato, Kale, Tofu & Coconut Curry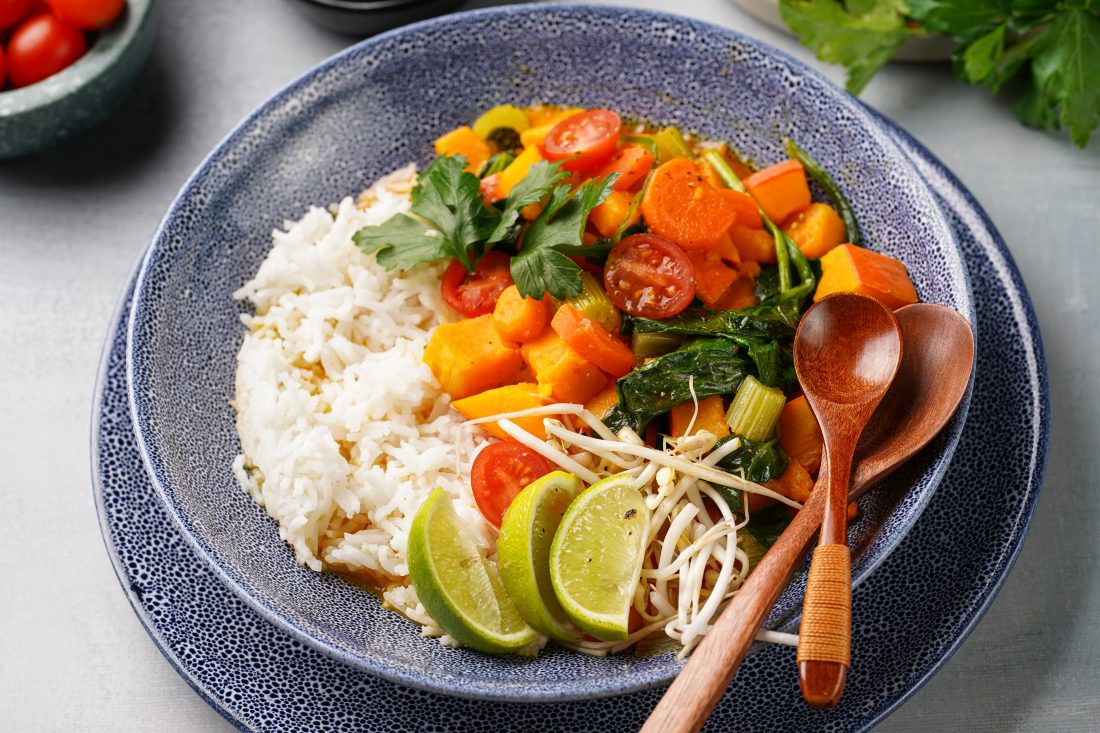 Fragrant, delicious and very popular – this Thai red curry is a favourite from the University of Cambridge.

Easy
Ingredients
1 sweet potato
20ml vegetable oil
1 onion
20g garlic
1 x 400g tin chopped tomatoes
15g red Thai paste
1 x 400ml tin coconut milk
20g cornflour
50g kale, washed
200g firm tofu
250ml vegan vegetable stock
2 mixed peppers
1 small bunch fresh coriander
Instructions
Peel and cut the sweet potatoes into 1.5 cm cubes, place on a roasting tray, and roast in a preheated oven (190c) for 30 minutes with a drizzle of olive oil, salt, and black pepper.
Add the vegetable oil to a medium sized pan and sweat the onions and garlic, then add diced peppers, chopped tomatoes, red Thai curry paste, and vegetable stock, cook for 5 minutes.
Cut the Tofu into 1.5cm cubes, add to the pan along with the washed kale and cook for 5 minutes. To thicken the curry, combine corn flour and coconut milk and then add to the curry, cook for a further 2 minutes.
Finally add the roasted sweet potatoes, cook for another minute. Garnish the curry with chopped fresh coriander and serve with rice.
Did you know that Vegan Recipe Club is run by a charity?
We create vital resources to help educate everyone – vegan veterans, novices and the v-curious alike – about vegan food, health and nutrition; as well as the plight of farmed animals and the devastating environmental impact of farming.
Through this work we have helped thousands of people discover veganism; but we want to reach millions more! We rely entirely on donations as we don't get any government funding. If you already support us, thank you from the bottom of our hearts, you are really making a difference! Please share our details with your friends and loved ones too, as every donation enables us to keep fighting for change.