Greek-style Aubergine Stew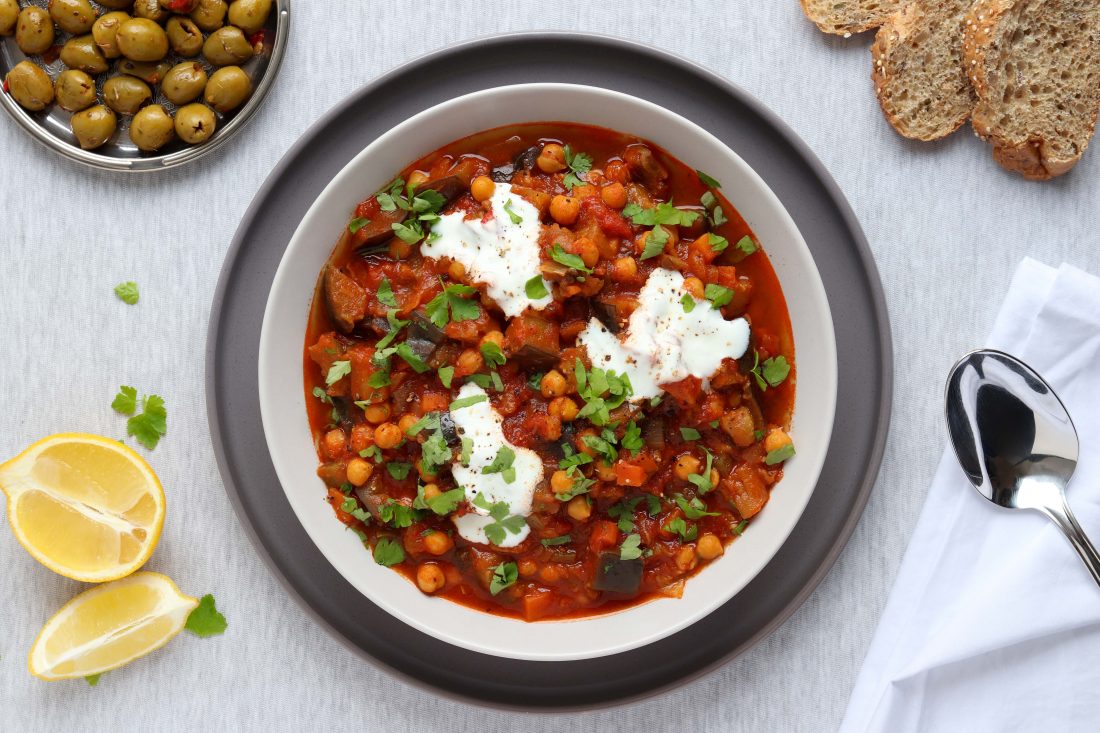 A tasty, hearty, healthy stew from the University of Kent!

Easy
Ingredients
1 large aubergine (roughly 350g), cut into 1.5cm cubes
Salt
2 tbsp olive oil
½ onion, finely chopped
½ green bell pepper, finely chopped
1 small carrot, finely chopped
3 large garlic cloves, minced
1 bay leaf (optional)
1 tsp paprika
½ tsp ground coriander
½ tsp dried oregano
½ tsp cinnamon
¼ tsp turmeric
¼ black pepper
2 x 400g cans chopped tomatoes
400g can chickpeas (reserve the canning liquid)
Flat leaf parsley, to serve (optional)
Vegan yoghurt, to serve (optional)
Crusty bread, to serve (optional)
Instructions
Prepare all the ingredients and have them ready in front of you.
Preheat the oven to 180°C.
Place the aubergine cubes in a colander (or large sieve) over a large bowl or directly over the sink, and sprinkle generously with salt. Set aside for 30 minutes and allow the aubergine to "sweat out" any bitterness. Rinse with water and pat dry.
In a large oven-proof casserole dish or stock pot, heat the olive oil over a medium-high heat until hot. Add the onions, peppers, and chopped carrot.
Cook for 5 minutes, stirring regularly.
Add the garlic, bay leaf (if using), spices, and a dash of salt. Cook for another minute, stirring until fragrant.
Now add the aubergine, chopped tomatoes, chickpeas, and reserved chickpea liquid. Stir to combine.
Bring to a rolling boil for 10 minutes. Stir often. Remove from the heat, cover with a lid (or some foil) and transfer to the oven.
Cook in the oven for 45 minutes until the aubergine is fully cooked through to very tender. (While the aubergine is cooking, be sure to check on it once or twice to see if it needs more liquid. If so, remove from the oven briefly and stir in about 100ml of water at a time.) If you feel the stew is too wet, leave it uncovered in the oven for a little longer.
When the aubergine is ready, remove it from the oven and garnish with some freshly chopped parsley (optional).
Serve it hot with a side of vegan yoghurt, or vegan tzatziki or hummus and some bread or rice or couscous (again, optional).
Did you know that Vegan Recipe Club is run by a charity?
We create vital resources to help educate everyone – vegan veterans, novices and the v-curious alike – about vegan food, health and nutrition; as well as the plight of farmed animals and the devastating environmental impact of farming.
Through this work we have helped thousands of people discover veganism; but we want to reach millions more! We rely entirely on donations as we don't get any government funding. If you already support us, thank you from the bottom of our hearts, you are really making a difference! Please share our details with your friends and loved ones too, as every donation enables us to keep fighting for change.