Fabulous Falafel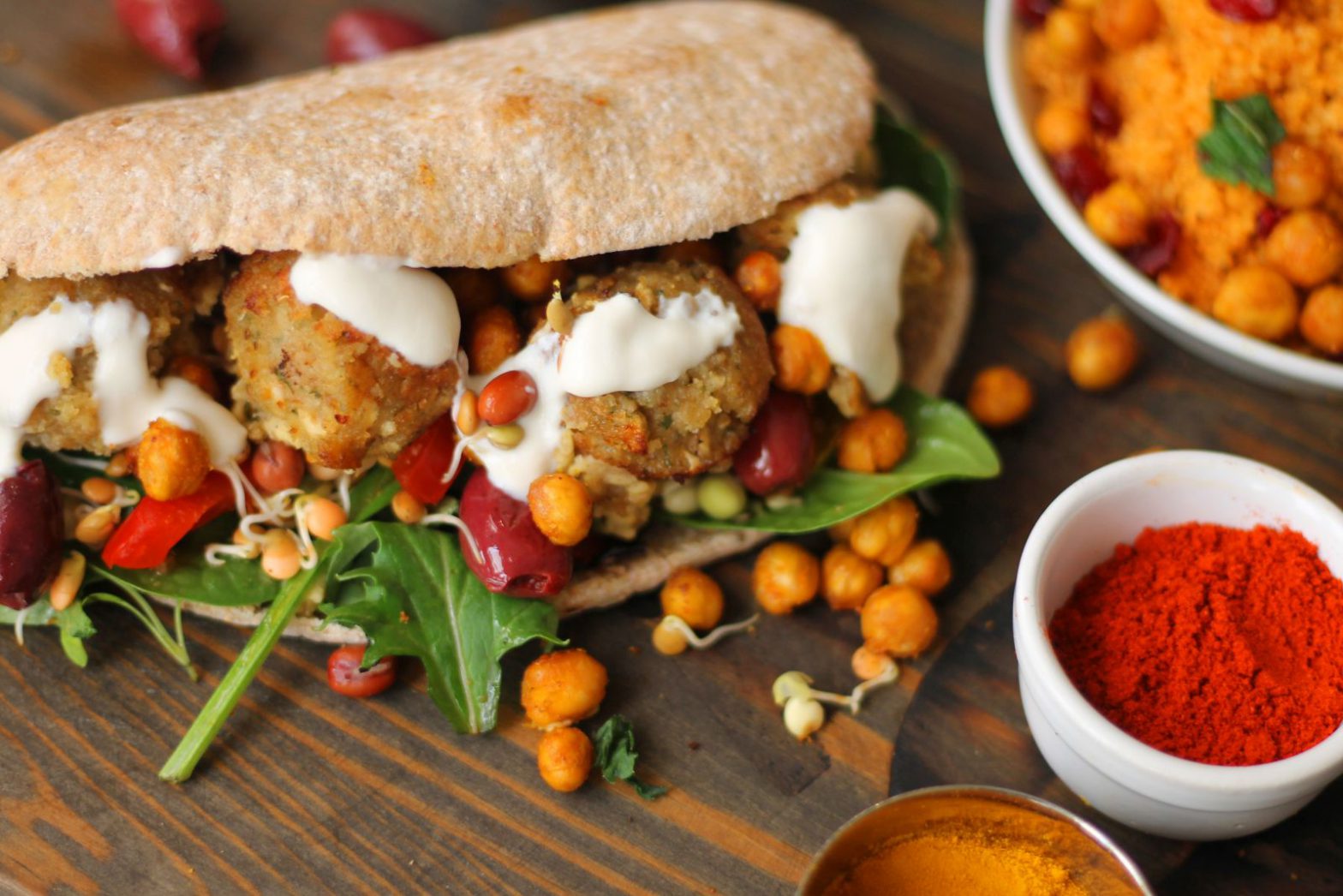 Falafel is a traditional Middle Eastern or Mediterranean snack, often sold as street food and increasingly found in the UK – either at takeaways or sold in shops. However, the home-made version is hard to beat – cheap too! It's particularly easy if you have a deep-fat fryer but an old saucepan or wok plus basket or slotted spoon will do the trick. Don't omit the chilling stage – it will help the mixture to firm up enough to fry.
Good served in pitta bread, with salad, hummus dip, sweet chilli or tahini sauce and olives (or whatever you like!) – see below!

Not too tricky





Cuisine
Middle Eastern and Moroccan
Meal
soups-starters
lunches
sides-light-meals-and-salads
vegetable-side-dishes
Ingredients
2 tbsp flaxmeal (ground flax seeds/linseeds) mixed with 3-4 tbsp warm water to make 2 flax 'eggs'. Set aside while you get the rest of the ingredients togety
400g tinned chick peas, rinsed and drained (don't throw the chickpea water – it can be used for baking and vegan meringues!)
1 onion, finely chopped
2 tbsp parsley, chopped (any type)
Juice of 1 lemon
4 garlic cloves, crushed
1 tsp ground coriander
1 tsp ground cumin
½ tsp salt
Freshly ground black pepper
½ tsp turmeric
¼ tsp chilli or cayenne powder
1 tsp baking powder
100g/generous 3oz plain flour – half and half wholemeal to white flour is the best plus a little extra if necessary. GF option: replace with GF flour but include 2 tbsp seived gram flour in it
Vegetable oil for frying – use a wok or shallow saucepan and pour enough oil to make it about 8-10 cm deep. Easier still, use a deep-fat fryer!
Instructions
1. Combine the chick peas, onion, parsley,lemon juice, garlic, coriander, cumin, salt, pepper, turmeric and chilli powder. Blend the mixture until it forms a smooth paste, scraping the sides of the bowl as needed – you want it to have some texture, not too pasty so use the pulsing button rather than continuous. That way you can control the texture. Stop the machine to scrape down the sides occasionally so everything gets mixed in. (You can use a stick blender if you don't have a processor, but it's a little more hard work).
2. Transfer mixture to a large bowl and mix in the baking powder, flour and flaxmeal mixture. Season to taste with salt and freshly ground pepper. Spoon a dollop of dough and pinch it onto a baking sheet or tray lined with baking parchment – it's too sloppy to form into balls at this point. Chill for 20 minutes+ until firm. If you intend to serve them immediately, preheat the oven to 180ºC/350ºF/Gas Mark 4. This will keep each batch of falafels warm while you cook the subsequent batches.
3. If you've got a deep-fat fryer, go for it. If not, heat the oil for frying in the wok or shallow saucepan. It should spit if you drop a teeny piece of batter in it.
4. Fry the falafels in separate batches until golden brown on all sides, about 3 minutes. Don't try to cram too many in the pan as this will cool down the oil and make them soggy. Remove with a slotted spoon and drain on kitchen paper before serving.
Did you know that Vegan Recipe Club is run by a charity?
We create vital resources to help educate everyone – vegan veterans, novices and the v-curious alike – about vegan food, health and nutrition; as well as the plight of farmed animals and the devastating environmental impact of farming.
Through this work we have helped thousands of people discover veganism; but we want to reach millions more! We rely entirely on donations as we don't get any government funding. If you already support us, thank you from the bottom of our hearts, you are really making a difference! Please share our details with your friends and loved ones too, as every donation enables us to keep fighting for change.