Eton Mess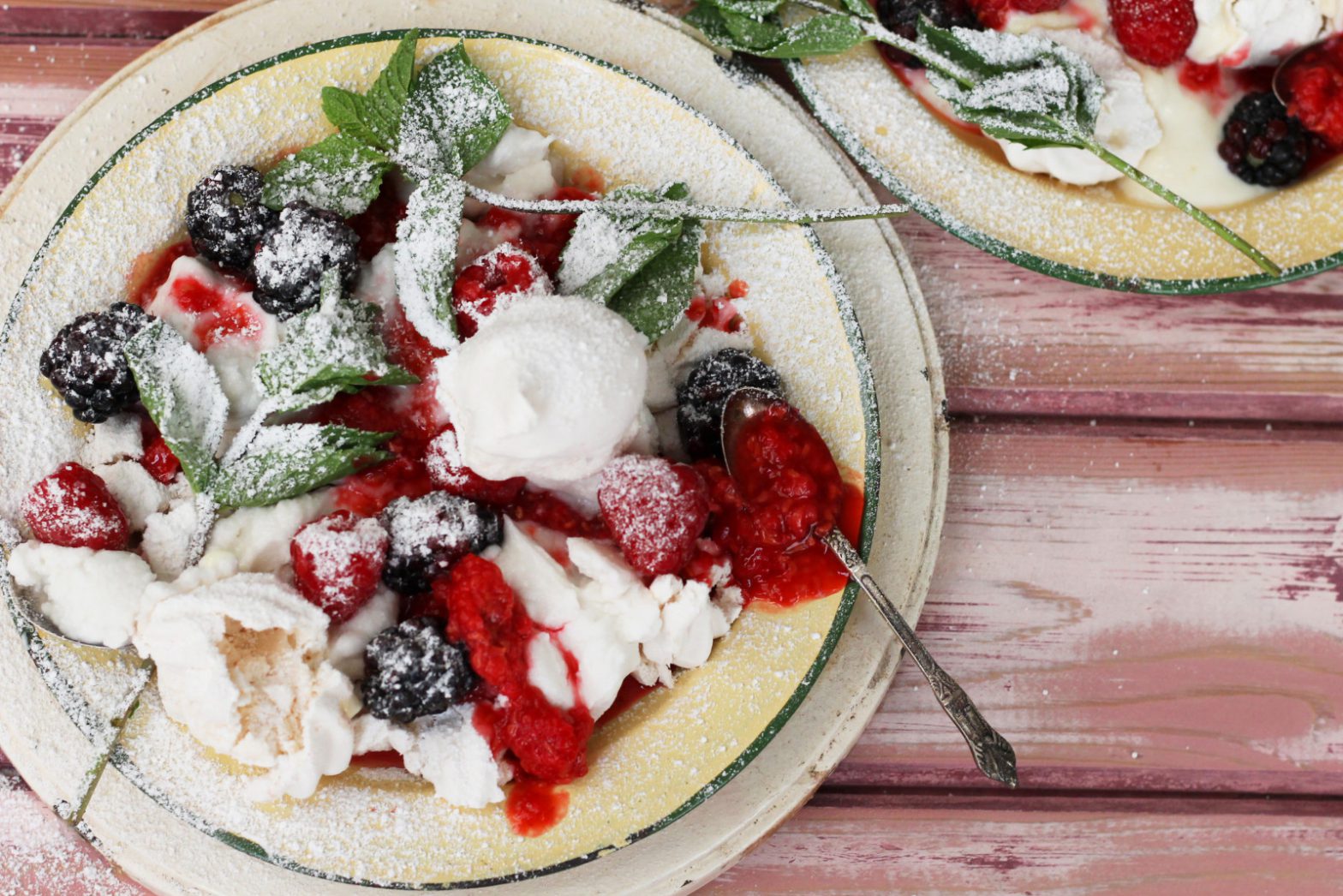 This is delicious. Vegan meringues really do work! They can be prepared ahead and stored in an airtight container until needed. Once you've done that, the rest is quick and simple.
This recipe comes straight from our Here Comes Summer guide – brimming with sun-drenched recipes to cook and share over the summer months – or just about any time of year!

Easy



Ingredients
Meringues
1 x 400g tin of chickpeas, drained – use the water (aquafaba) to make the meringues. Use the chickpeas for another recipe or freeze them for another time)
¼ tsp cream of tartar
100g/½ cup caster sugar, preferably golden
Whipped Cream
250ml/1 cup thick coconut cream, eg Blue Dragon
⅛ tsp cream of tartar
2 tbsp caster sugar
OR
Cheatin' Cream Alternative
1-2 tubs Oatly Creamy Oat Fraiche, a vegan crème fraiche. Keep chilled until just before it is needed
Syrup eg agave or maple, to taste
Raspberries
250-375g fresh raspberries (about 2-3 fresh punnets) OR a large box of defrosted frozen raspberries – or other berries/fruit of choice
Instructions
Meringues
Line 1-2 baking trays with baking paper – crumple the paper first as this makes it sit on the tray more firmly.
Using a glass or metal bowl, whisk the chickpea water with an electric whisk until it starts to turn white and frothy. Add the cream of tartar and whisk in.
Add the sugar, a tablespoon at a time and whisk until it is glossy and stiff. Depending how powerful your mixer is, this can take from 10-20 minutes. You should be able to turn the bowl upside down without the meringue fluff falling out.
Midway through the beating, pre-heat your oven to 100°C/200°F/just under Gas Mark ¼.
Transfer the stiff meringue mixture to a piping bag and pipe small dollops onto baking paper on a baking tray.
Bake at for two hours then turn off the oven. Unclick the door and leave to cool for an hour before taking out. Gently peel away from paper. Once they're cooled, store in an airtight container until the dessert is assembled.
Whipped Cream
Chill the coconut cream overnight – or in the freezer for half an hour but don't let it actually freeze!
When you're ready to serve, beat it in a glass with the electric whisk and add the cream of tartar. Add the sugar gradually. Chill again until needed.
Cheatin' Cream Alternative
Mix the well-chilled Oatly Crème Fraiche with the syrup until it is sweet enough for you.
To assemble the Eton Mess
Mix the raspberries into whichever cream you are using then fold in the meringues. Spoon into glasses and serve immediately.
Or see the photograph for serving ideas – we used a mixture of raspberries and blackberries as well as fresh mint leaves and a dusting of icing sugar! We also used a combination of whole and broken meringues for texture.
Did you know that Vegan Recipe Club is run by a charity?
We create vital resources to help educate everyone – vegan veterans, novices and the v-curious alike – about vegan food, health and nutrition; as well as the plight of farmed animals and the devastating environmental impact of farming.
Through this work we have helped thousands of people discover veganism; but we want to reach millions more! We rely entirely on donations as we don't get any government funding. If you already support us, thank you from the bottom of our hearts, you are really making a difference! Please share our details with your friends and loved ones too, as every donation enables us to keep fighting for change.