Easy Rocky Road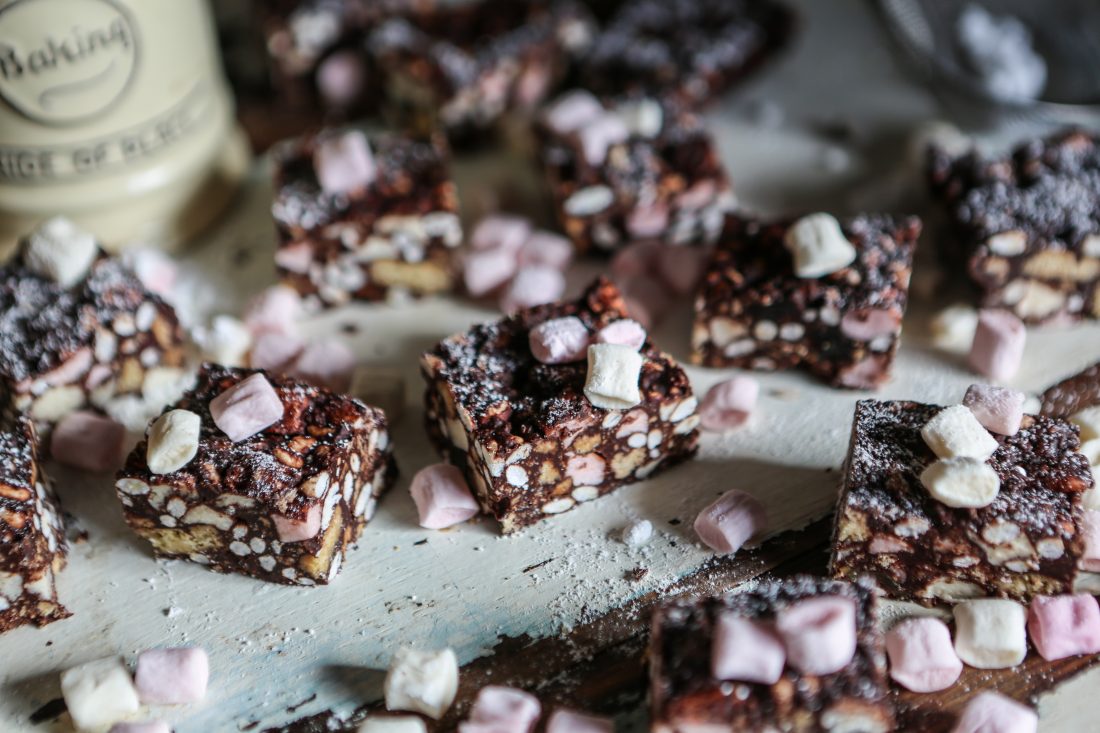 This is such a quick and easy version of the classic rocky road! With minimal prep time you can impress friends and family minus the fuss. Also great to make as a gift 🙂

Easy




Ingredients
200g/7 oz digestive or rich tea biscuits
300g/10½ oz chocolate (we used 70% cocoa solids – this is very rich so use a lighter chocolate or a mix of light and dark chocolate if you prefer)
125g/4½ oz vegan butter (we used Naturli Vegan Block)
3 tbsp golden syrup
100g/3½ oz vegan mini marshmallows
50g/2 cups puffed rice (optional)
50g/¼ cup raisins (optional)
¼ tsp salt
2 tbsp icing sugar, sieved or 30g/1 oz vegan white chocolate, melted
Instructions
Grease and line a 20cm square brownie tin.
In a large saucepan, melt the chocolate, golden syrup, butter and salt on a low heat.
Place the 200g biscuits in a freezer bag and bash them into pieces. It's good to have a mixture of biscuit dust, smaller and larger pieces.
Add the biscuits, marshmallows, raisins and puffed rice to the melted chocolate mixture and stir through until completely covered.
Empty the mixture into the lined baking tin, spreading evenly.
Pop it in the fridge and chill for 2 hours minimum.
To decorate, dust with icing sugar or drizzle with melted vegan white chocolate.
Did you know that Vegan Recipe Club is run by a charity?
We create vital resources to help educate everyone – vegan veterans, novices and the v-curious alike – about vegan food, health and nutrition; as well as the plight of farmed animals and the devastating environmental impact of farming.
Through this work we have helped thousands of people discover veganism; but we want to reach millions more! We rely entirely on donations as we don't get any government funding. If you already support us, thank you from the bottom of our hearts, you are really making a difference! Please share our details with your friends and loved ones too, as every donation enables us to keep fighting for change.