Conor's Focaccia (Winner of the Viva! Bake Off)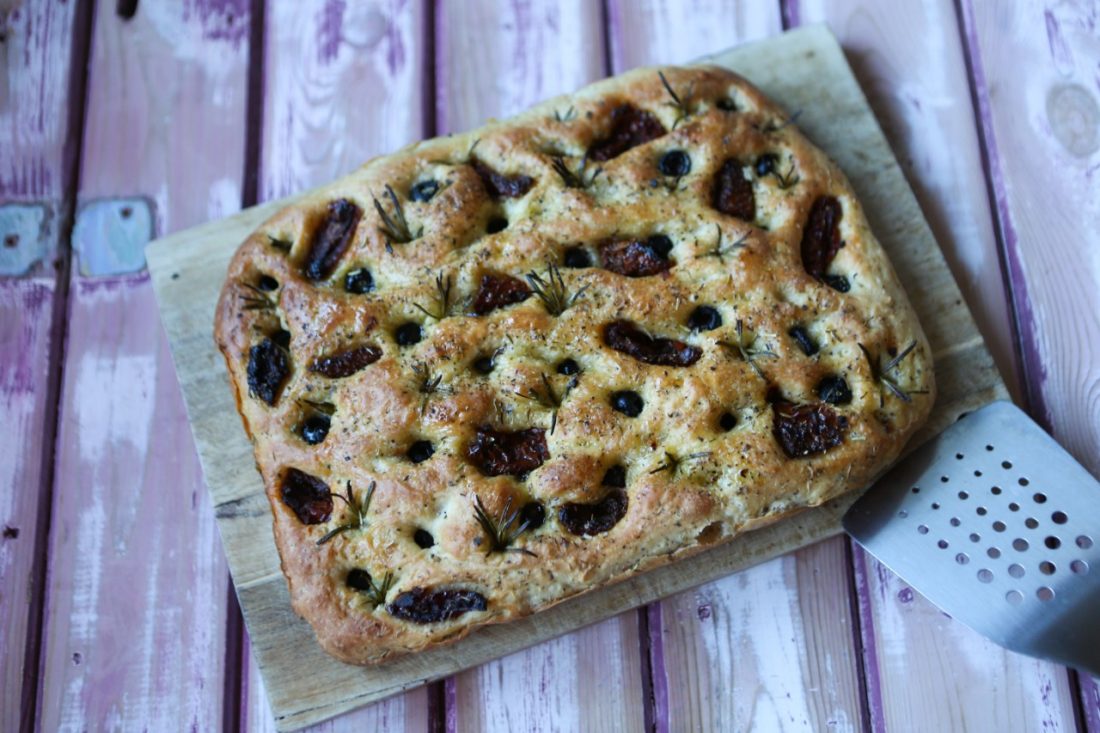 "Bread being my favourite food, baking this focaccia (several times) for the Viva! Bake Off was a no-brainer!" Lucky for Conor he did because it won him the competition!

Not too tricky

Courtesy of Conor Haines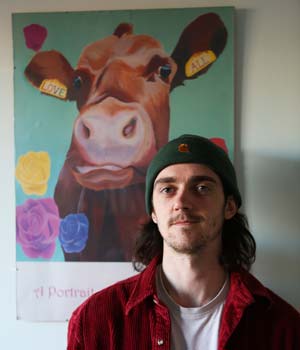 See other recipes by Conor Haines
Meal
breakfasts
lunches
sides-light-meals-and-salads
Ingredients
500g/4 cups strong bread flour
7g/¼ oz dried fast action yeast
2 tsp fine sea salt
5 tbsp olive oil, plus extra for the tin and to serve
1 tsp flaky sea salt
100g/3½ oz black olives (halved)
6-8 sundried tomatoes (halved or quartered)
Handful of rosemary, sprigs picked
Italian herbs (optional)
Instructions
Tip the flour into a large mixing bowl. Mix the yeast into one side of the flour and the fine salt into the other side. Then mix everything together. This initial separation prevents the salt from killing the yeast.
Make a well in the middle of the flour and add 2 tablespoons oil and 350-400ml lukewarm water, adding it gradually until you have a slightly sticky dough (you may not need all the water).
Sprinkle the work surface with flour and tip the dough onto it, scraping around the sides of the bowl. Knead for 5-10 minutes until your dough is soft and less sticky. Or, keep the mixture in the bowl and knead it with a wooden spoon, folding it over and pressing it until you reach a desired consistency. Put the dough into a clean bowl, cover with a tea towel and leave to prove for 1 hour until doubled in size.
Oil a rectangle, shallow tin (25 x 35cm). Tip the dough into the tin, then stretch it to fill. Cover with a tea towel and leave to prove for another 35-45 minutes.
Heat the oven to 200°C (fan)/390°/Gas Mark 7. Make dimples by gently pressing your fingers into the dough until your fingers touch the bottom of the tin. Mix together 1½ tablespoons olive oil, 1 tablespoon water and the flaky salt and drizzle over the bread. Push the olives, sundried tomatoes and sprigs of rosemary into the dimples in the dough.
Bake for 20-30 minutes until golden. Whilst the bread is still hot, drizzle over 1-2 tablespoons olive oil. Cut into squares and serve warm or cold with extra olive oil, if you like.
Did you know that Vegan Recipe Club is run by a charity?
We create vital resources to help educate everyone – vegan veterans, novices and the v-curious alike – about vegan food, health and nutrition; as well as the plight of farmed animals and the devastating environmental impact of farming.
Through this work we have helped thousands of people discover veganism; but we want to reach millions more! We rely entirely on donations as we don't get any government funding. If you already support us, thank you from the bottom of our hearts, you are really making a difference! Please share our details with your friends and loved ones too, as every donation enables us to keep fighting for change.