Colcannon Irish-style Mashed Potato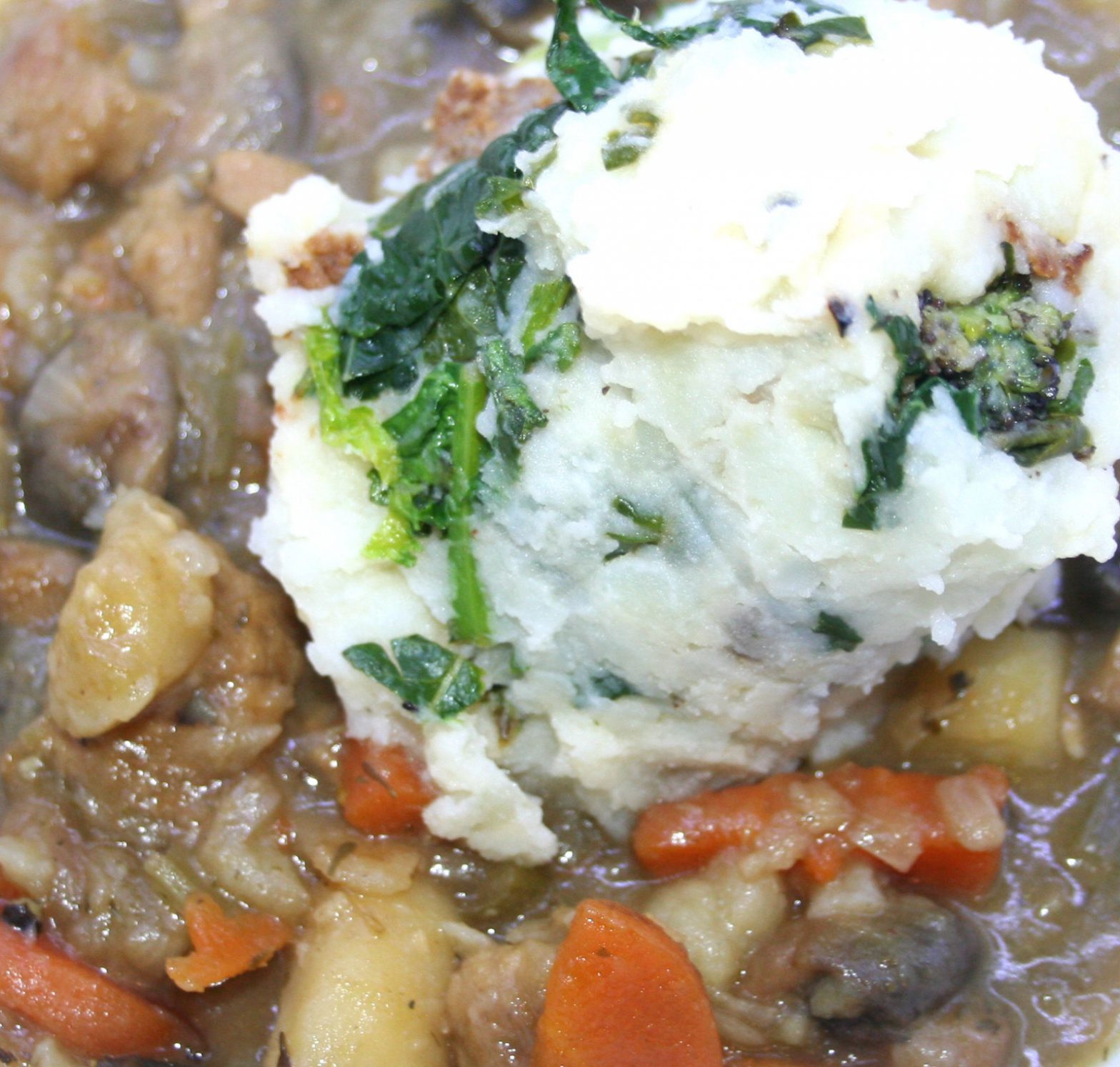 Traditionally made with butter and even bacon, we present you with a fantastic, creamy, veganised version of the Irish classic mash. Perfect on any occasion and particularly good with our vegan Irish Stew as part of a St Patrick's celebration dinner!

Easy


Ingredients
4 medium sized potatoes, peeled and cut into medium chunks
Unsweetened soya or other plant milk of choice
3 tbsp vegan margarine OR olive oil OR melted coconut oil (use a mild one, eg Biona Cuisine) OR a mixture of margarine and olive oil
Salt for cooking the potatoes and extra salt for the mash if necessary
Black pepper to taste, freshly ground
1 clove chopped or crushed garlic OR ½ tsp garlic powder
110g/3 cups washed kale OR dark green cabbage/spring greens- finely diced (and tightly packed if using cups)
Optional
Spring onions, diced small
Vegan bacon, small pieces fried up until crispy OR small cubes of smoked tofu fried up until crispy
Instructions
1. Place the potato pieces in a medium-large pan of salted water and bring it to the boil.
2. Turn heat down to a medium boil and cook potatoes until tender – test with a sharp knife.
3. Drain and return potatoes to the cooking pot.
4. While the potatoes are cooking, fry up the kale and vegan bacon in a frying pan to tenderise the greens and crisp up the bacon alternative.
5. Mash the potatoes until they are very smooth and creamy. Mix in the plant milk margarine or fat of choice. Stir in the kale and spring onion and vegan bacon option if using.
Did you know that Vegan Recipe Club is run by a charity?
We create vital resources to help educate everyone – vegan veterans, novices and the v-curious alike – about vegan food, health and nutrition; as well as the plight of farmed animals and the devastating environmental impact of farming.
Through this work we have helped thousands of people discover veganism; but we want to reach millions more! We rely entirely on donations as we don't get any government funding. If you already support us, thank you from the bottom of our hearts, you are really making a difference! Please share our details with your friends and loved ones too, as every donation enables us to keep fighting for change.