Coconut Bites with Lemon & Vanilla Icing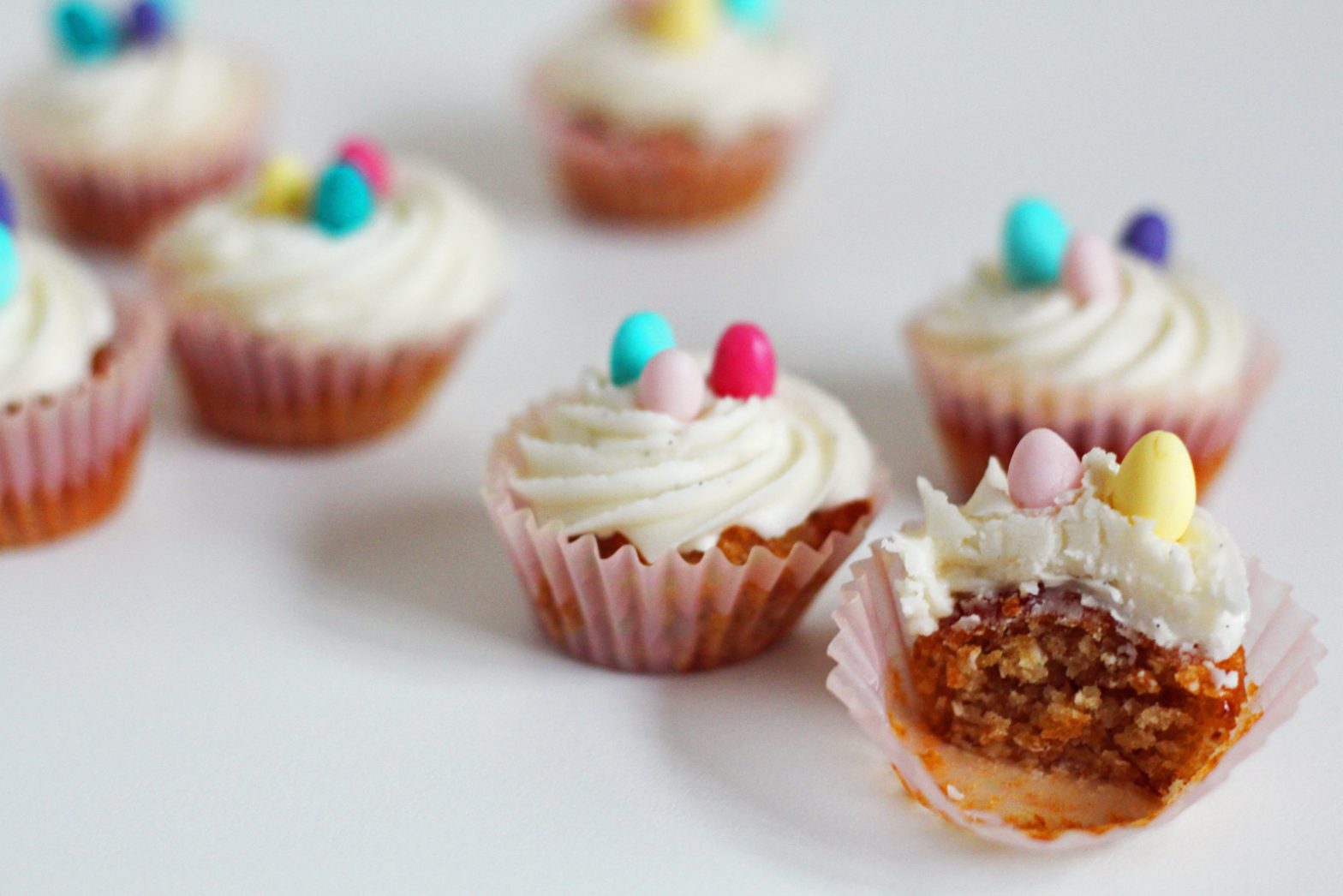 Spring also means fruits! This coconut bite recipe, topped with a lemon and vanilla icing, will prep you right off for summer.

Not too tricky
Ingredients
Cakes
70g coconut oil, melted
Seeds of one vanilla pod
160g golden caster sugar
120g plain white flour
80g desiccated coconut
20g cornflour
1 tsp baking powder
¼ tsp salt
3 flax eggs (3 tbsp ground flax seeds, 7.5 tbsp water)
1 cup almond milk
Buttercream
50g vegan shortening (eg Trex. This can be bought in most supermarkets)
50g vegan margarine
250g Icing sugar (plus up to 250g extra for thickening)
A splash of lemon juice
1 vanilla pod
Instructions
Cakes
Preheat oven to 170°C/340ºF/Gas Mark 3.
Mix the coconut oil, vanilla seeds, sugar, flour, desiccated coconut, cornstarch, baking powder and salt.
Add half the flax egg, stir and then add the other half.
Add half the milk, stir and then add the other half.
Stir the mixture thoroughly.
Spoon the mixture into individual cupcake cases.
Put in the oven and bake until golden – check with a cake tester or knife after 10 minutes. The smaller they are, the faster they'll be ready.
Buttercream
Mix the shortening and margarine.
Add the first 250g of icing sugar, and mix well until it becomes fluffy.
Add a splash of lemon juice and mix well.
Add the remaining icing sugar and the vanilla seeds.
You will need to check the consistency of your buttercream – you might need to add some liquid – lemon juice – or some icing sugar.
Decoration
Fill a piping bag (these can be bought online eg Lakeland, Tesco Direct or from a Kitchen shop, Wilko etc) with the buttercream. Tip: If you are using a disposable piping bag, cut a small snip at the end of the bag, then cut of more if necessary (it's easy to make it too big!).
Create a big swirl with the piping bag and then top with any vegan sweet of your choice (see the Viva! shop for lots of lovely options).
Did you know that Vegan Recipe Club is run by a charity?
We create vital resources to help educate everyone – vegan veterans, novices and the v-curious alike – about vegan food, health and nutrition; as well as the plight of farmed animals and the devastating environmental impact of farming.
Through this work we have helped thousands of people discover veganism; but we want to reach millions more! We rely entirely on donations as we don't get any government funding. If you already support us, thank you from the bottom of our hearts, you are really making a difference! Please share our details with your friends and loved ones too, as every donation enables us to keep fighting for change.