Christmas Brandy Truffles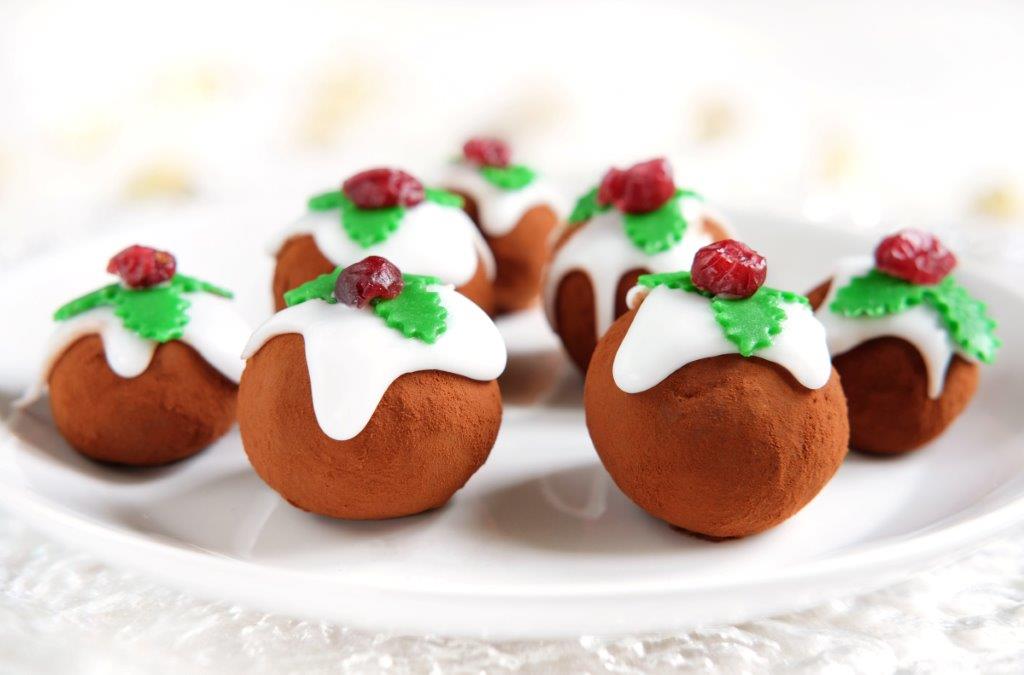 Chocolate, brandy and creamy richness. What more can we say? Just don't eat them all at once!
These indulgent vegan chocolate treats for the festive season make beautiful little gifts too!
Ingredients
1 tub vegan 'cream cheese' like Tofutti Original Creamy Smooth or make your own vegan cream cheese
450g/1lb icing sugar
345g/12oz dark chocolate
1½ tsp brandy
Dark cocoa powder
Topping 200g/7oz icing sugar (plus water according to packet instructions)
1 tbsp dried cranberries
1 tub green angelica, cut into leaf shapes
Instructions
1. Spoon vegan 'cream cheese' into a bowl, sieve in the icing sugar and beat well until smooth.
2. Break the chocolate into a bowl and then immerse the bowl into a saucepan of simmering water on the top of your oven. Stir with wooden spoon as it melts.
3. Add melted chocolate to 'vegan cheese' and icing mixture, along with the brandy.
4. Mix well, cover and refrigerate for 1 hour.
5. Now shape the mix into truffles (about ½ inch balls). Put the cocoa powder into a bowl, add the truffles and then gently shake the bowl so they become coated.
6. Mix the icing sugar and appropriate amount of water. Spoon onto truffles then decorate with angelica leaves and cranberries. Store in a cool place until ready to eat.
Optional extras / notes
Preparation/cooking time 2 hours – at least one hour of this is in the fridge!
Did you know that Vegan Recipe Club is run by a charity?
We create vital resources to help educate everyone – vegan veterans, novices and the v-curious alike – about vegan food, health and nutrition; as well as the plight of farmed animals and the devastating environmental impact of farming.
Through this work we have helped thousands of people discover veganism; but we want to reach millions more! We rely entirely on donations as we don't get any government funding. If you already support us, thank you from the bottom of our hearts, you are really making a difference! Please share our details with your friends and loved ones too, as every donation enables us to keep fighting for change.