Chocolate Banana Cake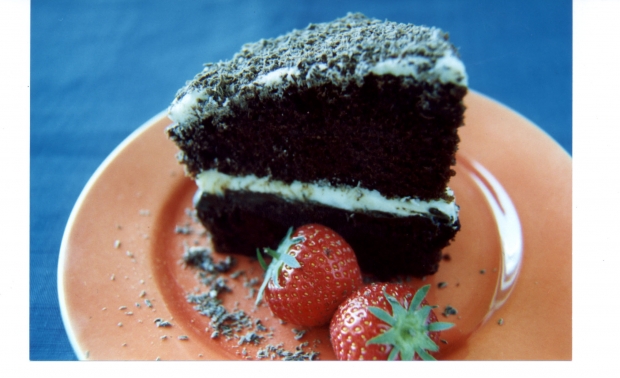 What a great combo! The bananas not only enhance the chocolate but also act as a binder- which also makes it good if you want to use gluten-free flour. If you are a bit scared of baking, just follow these easy vegan baking tips

Not too tricky



Ingredients
225g self-raising flour – use all white OR half each of white SR and fine wholemeal SR (NB GF option – use GF cake flour)
60g cocoa powder
2 tsp baking powder (use a GF version if appropriate)
3 bananas, medium ripe
100ml soya or other plant milk (eg almond, oat, rice etc)
200g caster sugar
1/2 tsp vanilla essence
120g vegan margarine OR 100ml plain vegetable oil
3 tbsp aquafaba (tinned chickpea or other white bean liquid), whipped until very frothy
Filling
175g vegan margarine, eg Pure, Suma, Biona, Tesco OR mild coconut oil (eg Biona)
120g icing sugar (most UK icing sugar is vegan except for Royal types – these contain egg white)
1 tbsp cocoa powder
Splash of soya or other plant milk to moisten
ALL KITTED OUT
Scales or measuring cups; measuring spoons; measuring jug; mixing bowls x 2; sieve; 2 x baking tins or silicone pans; 18cm/7inch; mixing spoon; jug for aquafaba; metal spoon, large; small bowl and fork for mashing OR blender; rubber or silicone spatula; oven/grill rack or cake rack for cooling; sharp knife, cocktail stick or cake testing stick to test if cakes are done in the middle.
Instructions
1. Preheat the oven to 180ºC/350ºF//Gas Mark 4. Grease two 18cm/7 inch cake tins. Use the base to trace out and cut two circles of baking parchment or greaseproof paper. Place one round on the bottom of each tin. Alternatively, use silicone pans which don't need lining – but place them on a firm baking tray and don't move them around when they come out of the oven or else the cakes will split! Wait until the cakes are completely cool before turning out.
2. Sift the flour, cocoa powder and baking powder together.
3. Mix together the bananas, plant milk, sugar and vanilla essence, either in a blender or by hand.
4. Pour the banana mixture and oil or melted margarine in to the dry ingredients and mix thoroughly by hand. Fold in the whipped aquafaba with the metal spoon carefully. Pour half of the cake mixture in to each cake tin.
5. Cook in the centre of the oven for about 20-25 minutes. Test with a sharp knife, cocktail stick or similar cake tester. If it comes out clean, the cake is done – if not, put back in the oven for another 5-10 minutes.
6. While the cake is baking, make the filling by creaming the ingredients together – a food processor or blender is best if you have one. Add the tiniest splash of plant milk or orange juice if the mixture is too stiff.
7. Place the completed and cooled cakes in their tins on a wire rack. When they are completely cool, turn them out and let them air a bit more.
8. Sandwich the two cakes together with two thirds of the filling and spread the rest over the top.
Optional extras / notes
Includes 20-30 minutes baking time
Did you know that Vegan Recipe Club is run by a charity?
We create vital resources to help educate everyone – vegan veterans, novices and the v-curious alike – about vegan food, health and nutrition; as well as the plight of farmed animals and the devastating environmental impact of farming.
Through this work we have helped thousands of people discover veganism; but we want to reach millions more! We rely entirely on donations as we don't get any government funding. If you already support us, thank you from the bottom of our hearts, you are really making a difference! Please share our details with your friends and loved ones too, as every donation enables us to keep fighting for change.