Chickpea & Mushroom Stroganoff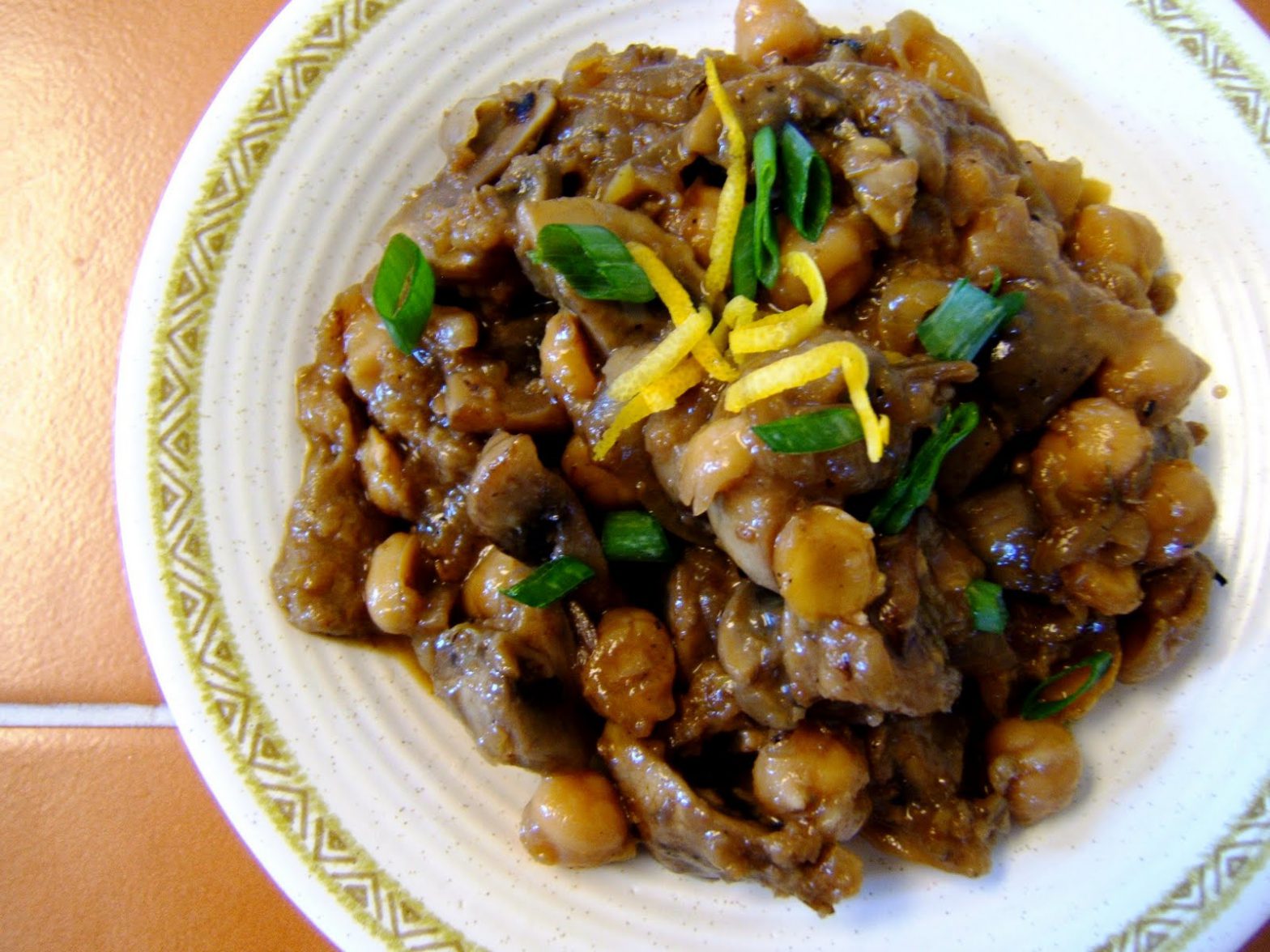 A nice easy dish, full of flavour. Like all stews, it's better made the day before – but don't add the lemon juice until the last minute.
We like it served with either steamed broccoli, French beans or a big spicy-leaved salad (watercress, rocket etc)
Gluten-free
Use GF spaghetti or rice noodles
Soya-free
Replace plain soya yoghurt with 200ml tinned coconut milk with a dash or lemon juice – OR use coconut vegan yoghurt, eg Coyo
Replace soya sauce with a tsp or two of yeast extract mixed with hot water – or half a green Oxo or equivalent crumbled in
Picture courtesy of Julia's Vegan Kitchen

Not too tricky







Meal
mains
sides-light-meals-and-salads
Ingredients
1 medium red onion, chopped
225g/8oz mushrooms – preferably chestnut – chopped into chunks (ie not too small)
30g/2 tbsp vegan margarine OR 2 tbsp mild olive oil
4 tbsp vegetable stock or water
¼ tsp nutmeg, freshly ground
1 tbsp soya sauce
¼ tsp mustard powder plus 1-2 tsp Dijon mustard to taste if liked
455g/1lb cooked chickpeas OR 2 tins, rinsed and drained
285g/10oz wholewheat noodles or spaghetti OR GF option (see above)
200ml/7fl oz plain dairy-free yoghurt
2 tbsp lemon juice, added just before serving (zest the lemon first and set aside for garnish)
Garnish: lemon zest and spring onions or chives
Instructions
1. Put pan of water on for noodles.
2. Melt margarine/oil and sauté vegetables until just soft. Add stock, seasonings and chickpeas. Cover and simmer on a low heat for about 10 minutes.
3. Meanwhile, cook noodles for 10-15 minutes until soft. Drain and rinse in cold water.
4. Add yoghurt to chickpeas mixture over lowest possible heat, stirring constantly without bringing to boil, until heated through. If you want to blend part of the sauce, remove it from the pan and do it now. Then return it to the pan and heat through. Add the lemon juice now also and stir through.
5. Warm through noodles and spoon the stroganoff over them, adding the lemon zest and herbs as garnish.
Optional extras / notes
10-15 minutes preparation, 10-15 minutes cooking
Did you know that Vegan Recipe Club is run by a charity?
We create vital resources to help educate everyone – vegan veterans, novices and the v-curious alike – about vegan food, health and nutrition; as well as the plight of farmed animals and the devastating environmental impact of farming.
Through this work we have helped thousands of people discover veganism; but we want to reach millions more! We rely entirely on donations as we don't get any government funding. If you already support us, thank you from the bottom of our hearts, you are really making a difference! Please share our details with your friends and loved ones too, as every donation enables us to keep fighting for change.