Cheesecake Brownies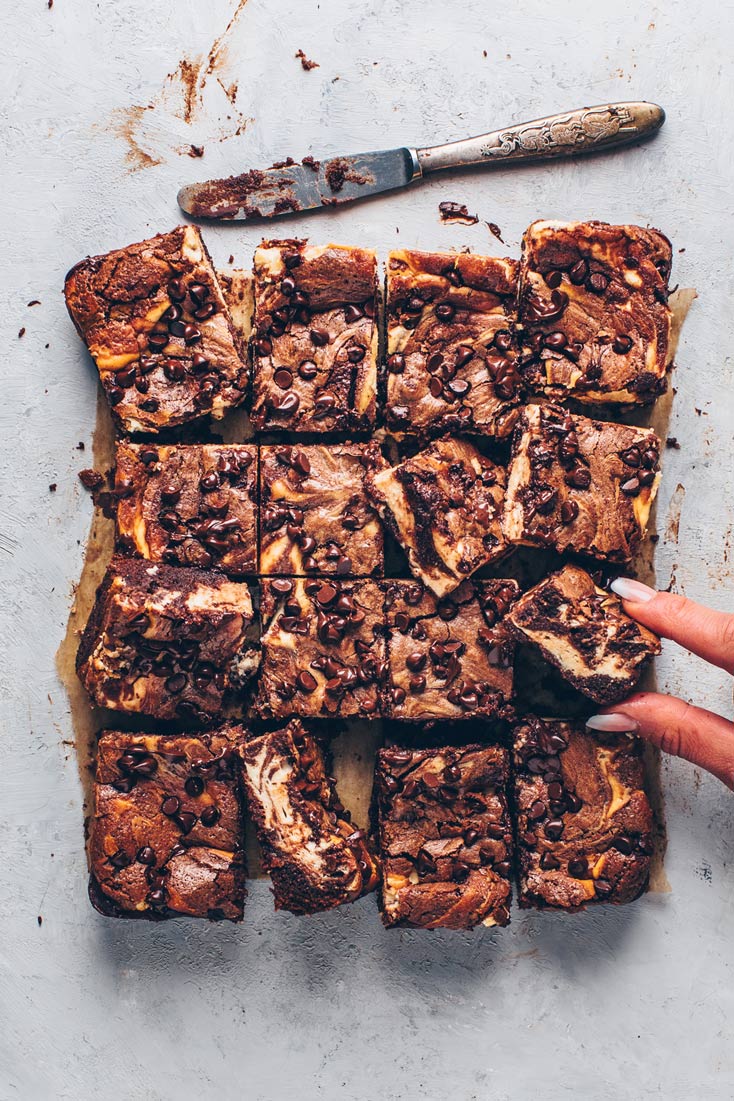 Take two of the best desserts ever, mix them together and what have you got… a decadent and outrageously delicious dish! Thanks very much to our guest chef Bianca Zapatka!

Easy




Courtesy of Bianca Zapatka



See other recipes by Bianca Zapatka
Ingredients
For the cheesecake mixture
225g/8 oz vegan cream cheese
125g/½ cup soya yoghurt
40g/¼ cup sugar
1 tbsp cornflour
½ tsp vanilla extract
For the brownie batter
2 flax eggs (or 100g (½ cup) unsweetened apple purée)
120g/½ cup vegan butter (or margarine/coconut oil)
120g/4 oz vegan dark chocolate
½ tsp vanilla extract
120g/1 cup plain flour (or gluten-free flour)
Pinch salt
½ tsp baking powder
¼ tsp bicarbonate of soda
150g/¾ cup brown sugar
60ml/5 tbsp plant milk (or hot coffee)
Toppings
85g/3 oz vegan chocolate chips
Instructions
Preheat the oven to 175°C/350°F/Gas Mark 4.
Lightly grease a square 21cm (8 inch) cake tin (or a similar sized tin) and line with baking paper, leaving a little extra paper to hang over the sides. (This will make it easier to lift the brownies out of the tin. Greasing the tin first helps the baking paper to stick.)
Prepare the flax eggs by mixing 2 tablespoons ground flax seeds with 6 tablespoons hot water. Then leave to stand for 5–10 minutes.
While you're waiting, place all the ingredients for the cheesecake mixture into a mixing bowl and mix to a creamy consistency using an electric hand mixer.
Melt the vegan butter along with the chocolate and vanilla extract in a saucepan.
In another bowl, combine the flour, salt, baking powder, bicarbonate of soda and sugar. Add the flax eggs, plant milk and melted butter and chocolate mixture, and mix well to form a smooth, creamy batter.
Pour a third of the brownie batter into the prepared cake tin, covering the base. Then add alternate heaped tablespoons of the cheesecake mixture and brownie batter to the tin, creating a sort of marbled effect, until both mixtures have been used up.
Bake the brownies for around 40 minutes or until they reach your preferred consistency. (The longer you bake the brownies for, the drier they will be. If you like a gooier brownie, don't bake them for too long.)
Once baked, leave the brownies to cool. Then carefully lift out of the tin using the excess paper.
To slice the brownies, dip a sharp knife into some hot water. Then quickly dry it with a piece of kitchen paper and use the warm knife to cut the brownies into squares.
For the best results, warm the brownies up for a few seconds in the microwave before serving. This will make them really gooey and creamy.
Tips and variations
Gluten-free: The brownies also work well with a gluten-free flour mix. Simply use exactly the same quantity as specified for the flour.
Egg substitutes: Rather than flax eggs, you could also use 100g (½ cup) apple purée or a mashed ripe banana. If you do use fruit, I would recommend adding a little less sugar to the batter as the fruit has a natural sweetness.
How to store: The brownies will keep in a sealed container for up to 5 days in the fridge. You can also freeze them as individual portions. Simply put a small piece of baking paper between each brownie and place them in a sealable freezer bag. This ensures that they don't freeze together, so you can easily take them out one at a time.
Did you know that Vegan Recipe Club is run by a charity?
We create vital resources to help educate everyone – vegan veterans, novices and the v-curious alike – about vegan food, health and nutrition; as well as the plight of farmed animals and the devastating environmental impact of farming.
Through this work we have helped thousands of people discover veganism; but we want to reach millions more! We rely entirely on donations as we don't get any government funding. If you already support us, thank you from the bottom of our hearts, you are really making a difference! Please share our details with your friends and loved ones too, as every donation enables us to keep fighting for change.