Cashew Cream: Plain, Sweet or Sour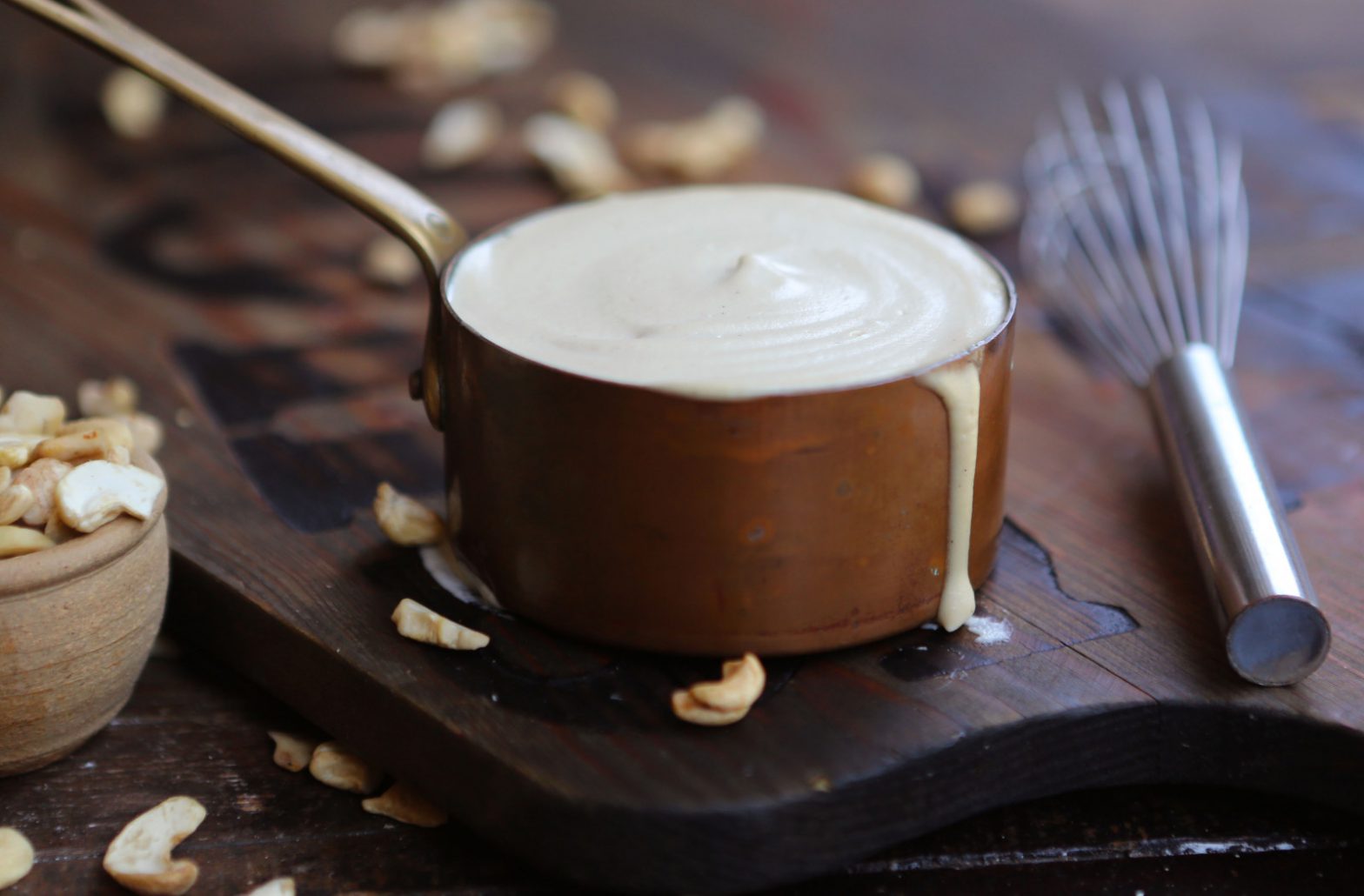 This is a fantastic recipe 'basic' and lends itself to lots of dishes – as well as being very natural and unprocessed. Cashews aren't cheap but when used as part of a balanced diet as opposed to a snacky extra, they are worth it for their nutritional benefits and taste. It can be added to a dish, eg a soup or stew; served on the side, eg sour cream with chilli or sweet cream with a dessert… get creative!
You do need a farily powerful blender, food processor or wet/dry blender (eg Revel or a mini processor like Nutribullet – all of these will create a smooth mixture that is not grainy. However, soaking the cashews makes them softer and easier to blend. We also recommend using whole 'raw' (unsalted and unroasted) cashews – using pieces is cheaper but they tend to be dryer. And buying a larger bag, particularly ethnic brands (see World Food shelves in supermarkets) or good health food shops works out cheaper than tiddly little packets – check out the price per 100g on each product to see what we mean!
Variations: replace cashews with macadamias – these are rich, buttery nuts that are absolutely delicious. Their high fat content makes for a lovely rich cream. Almonds would also work well – whole, skinned and unsalted.
If you're nut allergic, try our soya-based Sour Cream recipe.

Easy




Meal
vegan-desserts
sides-light-meals-and-salads
vegetable-side-dishes
Ingredients
Plain
130g/1 cup raw cashews (unsalted and unroasted and preferably whole, not pieces) – soaked in a bowl of cold water and covered – for at least 2 hours but up to 8. Doing it overnight is the easiest way!
120-180ml/½-¾ cup water
Fine salt to taste – just a pinch. Add gradually, mix in thoroughly after each addition and remember that sea salt is stronger than regular
Sour
As plain but add:
1 tsp cider vinegar
2-3 tsp lemon juice. Mix in well a little at a time and adjust to taste
Sweet
As plain but add:
4 tbsp vegan syrup (eg agave, maple etc)
1 tsp vanilla extract or paste
1 tsp lemon juice
Zest of half lemon (optional)
1 tbsp melted coconut oil (helps to set the cashew cream which is better on cakes but might not be necessary depending on usage)
For a really simple sweet version just add 4 tablespoons of vegan syrup to the plain recipe
All kitted out
Scales or measuring cups
Measuring spoons
Good food processor, blender or wet-dry blender (see Introduction notes above)
Spatula for scraping down sides of processor/blender
Air-tight container for storing in the fridge, preferably a clean glass jar
Instructions
Soak the cashews if you haven't already done so.
Blend thoroughly, adding water a little at a time. The more you add the thinner the cream will be – although the cream will thicken when left to stand in its container. Keep blending and scraping down the sides until the mixture is very smooth and creamy and has lost its grainy texture. Add flavourings depending on which variation you are making – a little at a time so you don't over salt, over sour or over sweeten. The cream will keep in an airtight container in the fridge for up to 5-6 days.
2-8 hours pre-soak; 5-10 minutes to make
Optional extras / notes
2-8 hours pre-soak; 5-10 minutes to make
Did you know that Vegan Recipe Club is run by a charity?
We create vital resources to help educate everyone – vegan veterans, novices and the v-curious alike – about vegan food, health and nutrition; as well as the plight of farmed animals and the devastating environmental impact of farming.
Through this work we have helped thousands of people discover veganism; but we want to reach millions more! We rely entirely on donations as we don't get any government funding. If you already support us, thank you from the bottom of our hearts, you are really making a difference! Please share our details with your friends and loved ones too, as every donation enables us to keep fighting for change.