Buckwheat Burgers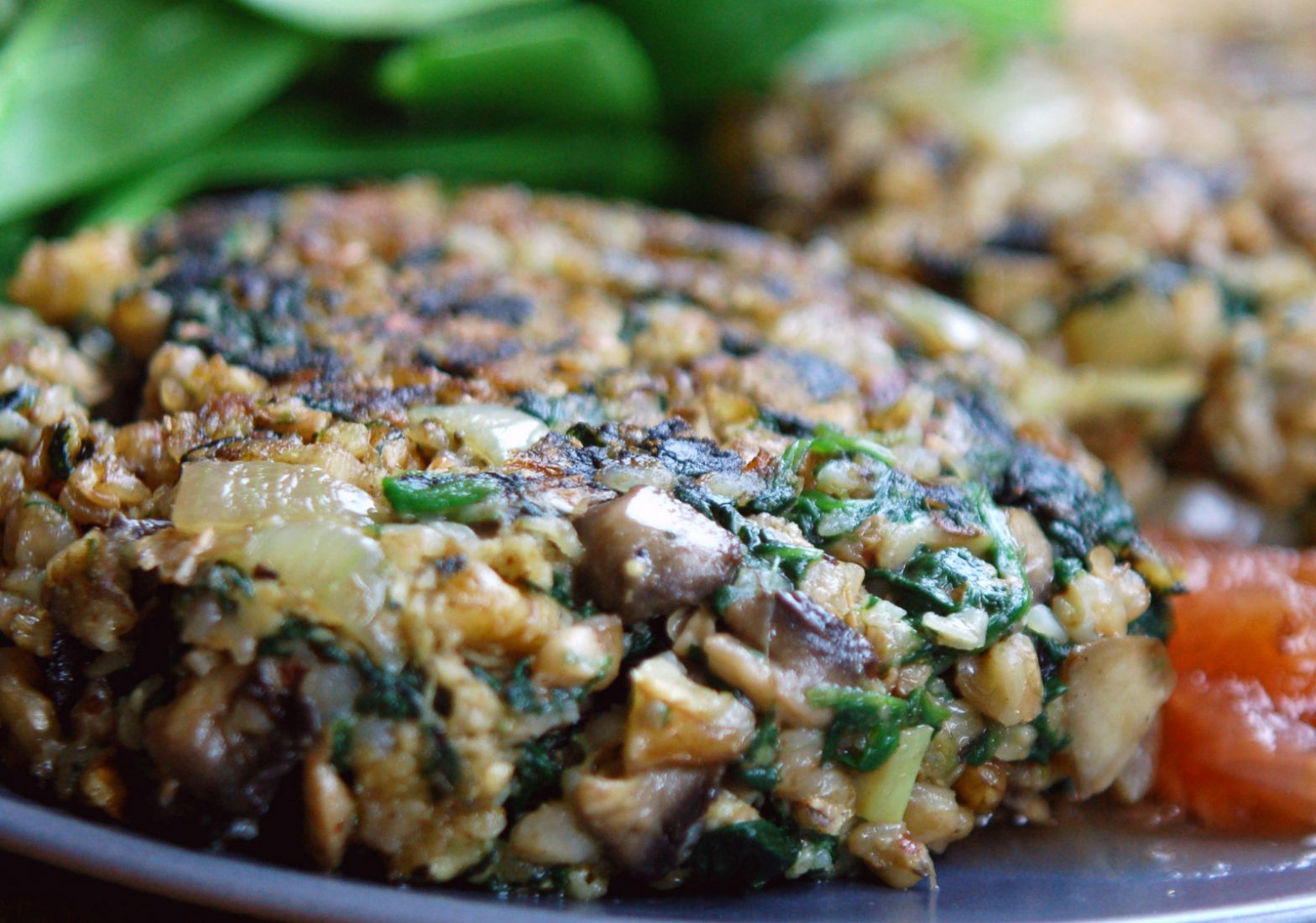 The buckwheat burgers are packed full of ingredients which will help boost your mood. They are one of the recipes which feature in our Mood Food Cookery Demonstrations. Other dishes include Scrambled Tofu and Indian Summer Salad.
Find roasted buckwheat in healthfood shops and some supermarkets – world food shelves or natural food shelves usually! Kupiec brand is sold in large Tescos at present and there are plenty of health food shop brands around. It is sometimes called buckwheat groats. (You can also buy the unroasted variety and toast it yourself in the oven, we believe… a quick websearch should help with timings.)

Easy



Ingredients
1 tsp oil
115g/4oz roasted buckwheat
115g/4oz onion, diced
225g/8oz mushrooms, chopped
140ml/5fl oz red wine
140ml/5fl oz vegetable stock
115g/4oz walnuts
225g/8oz spinach OR Swiss chard
1 tsp rosemary
1 tsp sage
1 tbsp soya flour mixed with 2 tbsp water (acts as a binding agent)
Salt and black pepper
Instructions
1. Preheat oven to 190°C/375°F/Gas Mark 5.
2. Heat oil in a frying pan and sauté the buckwheat for 2 to 3 minutes, stirring constantly to prevent sticking and burning.
3. Add onions and mushrooms and cook for a few more minutesm, then pour in the wine and stock and bring to a boil.
4. Reduce heat and simmer for 20 minutes, adding more stock if necessary.
5. Meanwhile, grind the walnuts finely and wash and cook spinach in its washing water (don''t add extra) for 6 minutes.
6. Drain off any excess liquid from spinach and chop thoroughly.
7. When buckwheat is cooked, remove pan from heat and let cool slightly. Stir in walnuts and spinach and mix in the herbs and mix well.
8. Add soya flour mixture and mix in well, seasoning to taste.
9. If baking, divide mixture into 6 burgers, grease a baking tray and place burgers on it carefully. Bake for 15-20 minutes or until the tops are dark brown. Turn over carefully and repeat.
10. Alternatively, use oil spray and fry gently in a non-stick frying pan for a minute or two each side.
Did you know that Vegan Recipe Club is run by a charity?
We create vital resources to help educate everyone – vegan veterans, novices and the v-curious alike – about vegan food, health and nutrition; as well as the plight of farmed animals and the devastating environmental impact of farming.
Through this work we have helped thousands of people discover veganism; but we want to reach millions more! We rely entirely on donations as we don't get any government funding. If you already support us, thank you from the bottom of our hearts, you are really making a difference! Please share our details with your friends and loved ones too, as every donation enables us to keep fighting for change.