Black Forest Cake (Gateau)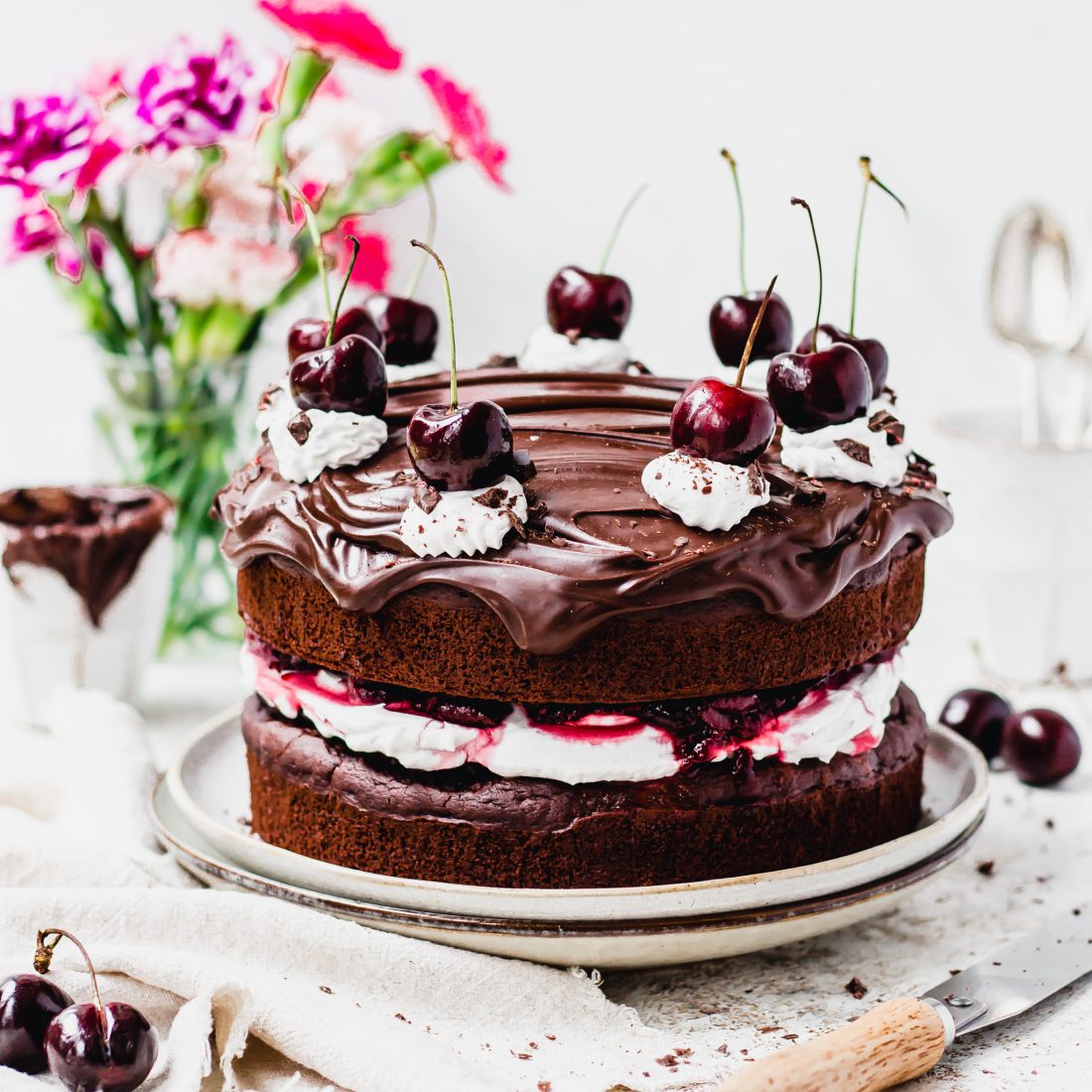 A rich and decadent chocolate cake filled with a creamy coconut whip (or luscious buttercream) and juicy cherry compote topped with a simple chocolate ganache and fresh cherries. This cake is easy to make and is great for special occasions.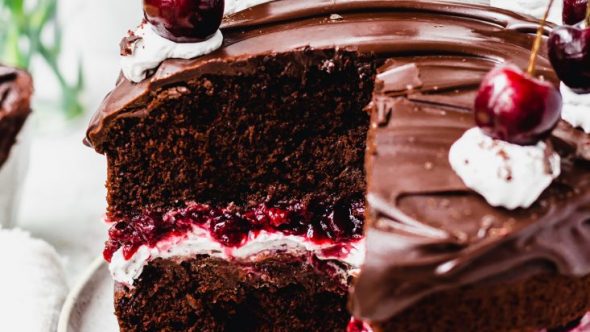 Not too tricky


Courtesy of Nourishing Amy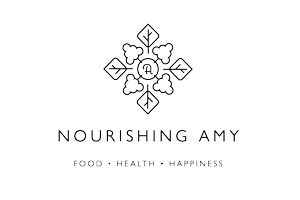 See other recipes by Nourishing Amy
Ingredients
Chocolate cake
240ml plant-based milk
2 tbsp lemon juice
240ml water (room temperature)
2 tsp coffee, optional
160ml sunflower oil
125g coconut sugar
2 tsp vanilla essence
350g plain or GF flour
100g cacao powder
1 tsp baking powder
1 tsp bicarbonate of soda
½ tsp salt
Filling
170g cherry jam or compote
400ml coconut whipping cream
OR
100g vegan butter
300g icing sugar
1 ½ tbsp plant-based milk
1 tsp vanilla
Ganache
150g dark chocolate, broken up
60g vegan butter
To serve
Fresh cherries
Chopped chocolate
Instructions
If making the coconut whip filling, refrigerate the coconut whipping cream overnight. Preheat the oven to 160Fan/180*C and grease and line two 20cm cake tins with parchment paper.
In a large mixing bowl, whisk together the milk and lemon juice and leave for 5 minutes to curdle. Now whisk in the water, coffee, sunflower oil, sugar and vanilla essence.
Now sift in the plain flour, cacao powder and baking powder. Pour in the salt and whisk to a thick batter.
Divide between the two tins and bake for 30-35 minutes or until an inserted skewer comes out clean. You may want to cover the cakes after 25 minutes with foil.
Allow the cakes to cool completely.
If you are making the coconut whip: add the contents of the coconut whipping cream to a mixing bowl and whisk on high speed with a handheld electric mixer for 2-3 minutes until fluffy.
If you are making the buttercream: using a food processor/standing mixer or hand-whisk, beat the butter until fluffy then gradually add in the icing sugar, vanilla and plant-based milk and continue to beat until really light and fluffy.
Add the dark chocolate to a heat-proof bowl and melt the butter. Pour the butter over the chocolate and whisk/stir to melt the chocolate fully (if needed, pop in the microwave for 10 second intervals to help this process).
Slice off the tops of the cakes to make the tops flat (save this to eat later). Take the bottom cake and spoon over most of the whipped coconut cream or buttercream (save some for the top) and spread over the cherry compote/jam. Now top with the second cake and pour over the chocolate ganache, spreading it to the edges and allowing it to drip down. Place in the fridge for 5 minutes.
Pipe on the leftover whipped coconut cream or buttercream and decorate with fresh cherries and chopped chocolate. Store the cake in an airtight container in the fridge for 3-5 days. Store un-iced and un-filled cakes in the freezer for 1 month.
Did you know that Vegan Recipe Club is run by a charity?
We create vital resources to help educate everyone – vegan veterans, novices and the v-curious alike – about vegan food, health and nutrition; as well as the plight of farmed animals and the devastating environmental impact of farming.
Through this work we have helped thousands of people discover veganism; but we want to reach millions more! We rely entirely on donations as we don't get any government funding. If you already support us, thank you from the bottom of our hearts, you are really making a difference! Please share our details with your friends and loved ones too, as every donation enables us to keep fighting for change.