Big Boozy Yule Cake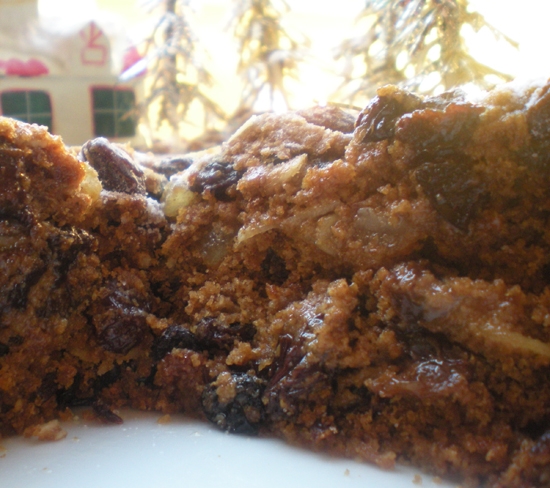 A lovely, easy fruit cake that is good at just about any time of the year, although especially nice during the festive season. It is lighter than the usual Yule offering. However, if you fancy a darker, more traditional cake – click here.
See how we made it by viewing our slideshow at the bottom of the page.
PS – never overmix vegan cakes and don't use an electric mixer – eggless cakes don't benefit from over-beating, quite the opposite.
Adapted with thanks from Vegan Feasts by Rose Elliot.

Not too tricky
Ingredients
1 tbsp flax meal (ground linseeds) mixed with 3 tbsp warm water. Set aside.
350g/12oz fine self-raising wholemeal flour OR 175/6oz each of fine self-raising wholemeal and half white self-raising
1 tsp mixed spice
175g/6oz vegan margarine OR 150ml/generous 5fl oz plain vegetable oil
150g dark brown sugar – if very lumpy, sieve or grind up before adding
500g/generous 1lb mixed dried fruit
110g/4oz glacé cherries, dried and halved
Grated zest of 1 large orange
50g/2oz flaked almonds
1 tbsp black treacle/molasses
2 tbsp ground almonds
125ml/4fl oz soya milk – if the mixture is too stiff, add more a little at a time, between 1-4 tbsp (15-60ml)
2 tbsp red wine OR cider vinegar
¾ tsp bicarbonate of soda
2 tbsp brandy
Instructions
1. Preheat oven to 150ºC/300ºF/Gas Mark 2. Grease a 20cm/8 inch cake tin top and bottom. Line the base with a round of greaseproof paper and line the sides with a double layer of greased baking paper. Finally, make a double layer to cover the top of the cake when baking. NB reduce temperature a little if using a fan-assisted oven – about 10-15 degrees.
2. Sift flour and mixed spice into a bowl.
3. Rub margarine/oil into the flour with your fingers until the mixture resembles fine breadcrumbs, then add sugar, dried fruit, cherries, orange zest, flaked almonds, black treacle/molasses and ground almonds. Add the flaxmeal goo and mix in well.
4. Warm half the soya milk in a small saucepan and add the vinegar.
5. Dissolve the bicarbonate of soda (baking soda) in the rest of the soya milk, then add this to the milk and vinegar mixture. It foams up very dramatically!
6. Quickly stir this into the flour and fruit, mixing well so that everything is combined. If the mixture is too dry add a little extra soya milk very quickly. Give the bowl a couple of quick firm taps on the work surface to get out any air bubbles but don't overmix.
7. Spoon the mixture into the prepared cake tin and smooth out the top. Tap the cake tin a couple of times. Cover top of cake with the prepared double layer of baking parchment and place in the oven immediately.
8. Bake in the preheated oven for 2-2½ hours, (check after 2 hours) until a skewer inserted into the centre of the cake comes out clean and the centre of the cake springs back a little when pressed. The secret is to make sure the cake is cooked in the middle but the fruit hasn't burned round the edges!
9. Leave cake in tin to cool then turn out and strip off the greaseproof paper. Place carefully on a cooling rack – a clean grill pan rack will do.
10. Prick cake all over with a cocktail stick and pour over 2 tbsp brandy.
11. Wrap in baking parchment and store in a tin until required. It will keep for 3-4 weeks, during which time you can 'feed' it with more brandy, as above! It may also be covered with vegan marzipan and fondant icing shortly before serving, if desired.
Created with flickr slideshow.
Optional extras / notes
3 hours – over 2 hours in the oven.
Did you know that Vegan Recipe Club is run by a charity?
We create vital resources to help educate everyone – vegan veterans, novices and the v-curious alike – about vegan food, health and nutrition; as well as the plight of farmed animals and the devastating environmental impact of farming.
Through this work we have helped thousands of people discover veganism; but we want to reach millions more! We rely entirely on donations as we don't get any government funding. If you already support us, thank you from the bottom of our hearts, you are really making a difference! Please share our details with your friends and loved ones too, as every donation enables us to keep fighting for change.