Bao Buns with Sticky Tofu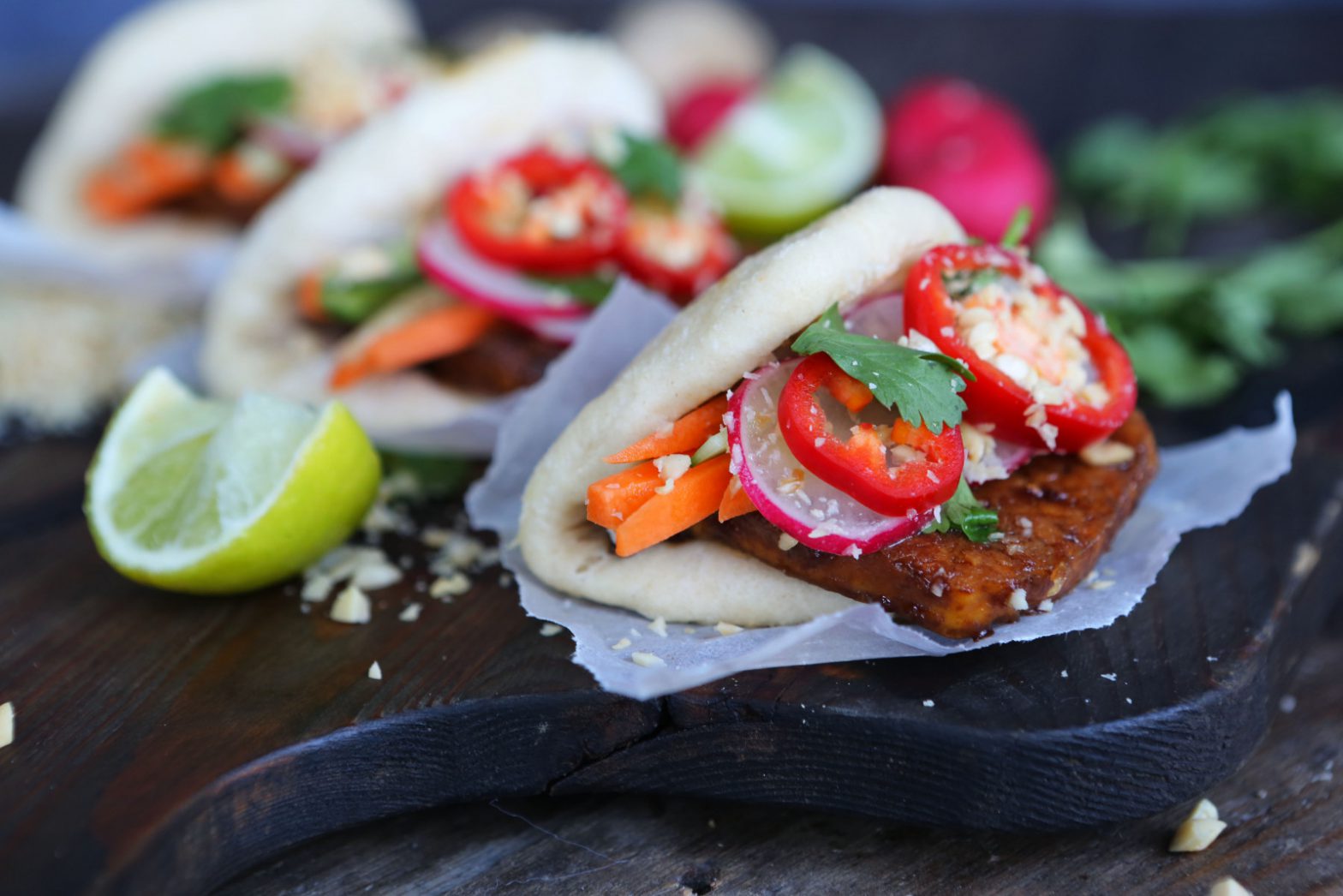 This dish needs little introduction… light fluffy Chinese bao buns packed full of crunchy veg and sticky tofu! Perfect as a starter or eat as a main. You can also cheat with this dish and buy the bao buns ready-made… not as much fun though!

Not too tricky

Ingredients
Bao buns
(follow this recipe or buy frozen from Asian supermarkets… check they're vegan)
350g/2½ cups plain flour
Pinch of salt
3 tbsp sugar
1½ tsp dried active yeast
50ml/¼ cup soya milk
2 tbsp vegetable oil
200ml/¾ cup warm water
1½ tsp baking powder
Sticky tofu
800g firm tofu, drained and patted dry
2 onions, finely diced
3 fresh red chilli, finely sliced
3 cloves garlic, finely chopped
3 tbsp ginger, peeled and grated
100ml/½ cup soya sauce
2 tbsp sugar or vegan syrup (eg agave)
Juice of half lime
Optional decoration/filling: fresh coriander, fresh chilli, finely sliced raddish, chopped peanuts, slices of cucumber and carrot, red cabbage, sweet chilli sauce
Instructions
Bao Buns
In a large mixing bowl add the flour and salt (don't add the baking powder at this stage as this comes later on in the method).
In a jug, mix the oil, water, yeast, soya milk and sugar and set aside for a couple of minutes.
Pour the liquids in the jug into the flour and mix together. Scoop everything together with your hands and then form into a ball.
On a floured surface knead for around 10 minutes until you have a smooth, soft dough. You might need to add a little more flour or water depending on how sticky or dry your dough is.
Put the dough back in the bowl, cover with a tea towel and leave to rise until it has doubled in size (between 1-2 hours).
When risen, tip it onto a flowered surface, flatten it out and then sprinkle over the baking powder. Knead it in until fully incorporated.
Divide the dough into around 12 small balls and then roll into ovals around 0.5cm thick (you can use a pastry cutter if they're really wonky).
Fold each dough circle in half over a chopstick or wooden skewer and then remove the stick.
Cut out a piece of baking parchment to fit each bun. Place two circles at a time into a steamer basket (or two on each layer if you have a multi-layer steamer) and steam for around 8 minutes.
Repeat until all the buns are steamed.
Sticky Tofu
Cut the tofu into 12 slices (around 0.5cm thick) and then fry in oil until golden on both sides and has a thin crust. Set aside until later.
Fry the onion, ginger and chilli until soft and golden. Add the garlic and cook for a further couple of minutes.
Add the soya sauce, sugar and lime juice and stir through.
Add the tofu back to the pan and thoroughly cover in the sauce.
Assembly
Put a slice of sticky tofu into each bun and then fill with other optional extras.
Serve with sweet chilli sauce and enjoy.
Did you know that Vegan Recipe Club is run by a charity?
We create vital resources to help educate everyone – vegan veterans, novices and the v-curious alike – about vegan food, health and nutrition; as well as the plight of farmed animals and the devastating environmental impact of farming.
Through this work we have helped thousands of people discover veganism; but we want to reach millions more! We rely entirely on donations as we don't get any government funding. If you already support us, thank you from the bottom of our hearts, you are really making a difference! Please share our details with your friends and loved ones too, as every donation enables us to keep fighting for change.