Avocado & Smoked Tofu Salad with Mustard Vinaigrette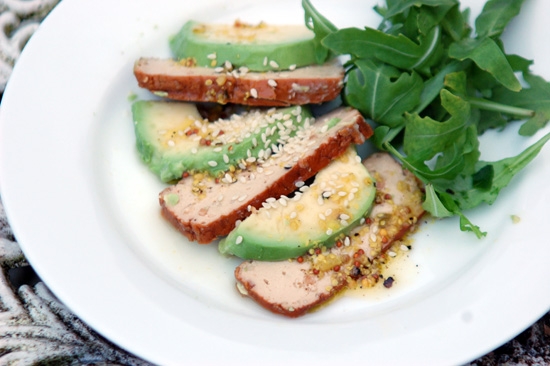 A great way to use tofu if you aren't too familiar with it. One of our perennial favourites – it always wins converts at our cookery demos!
It's particularly nice with Taifun smoked tofu – available from good health food shops or large branches of Waitrose.

Easy

Meal
soups-starters
sides-light-meals-and-salads
Ingredients
2 large, ripe avocados
1 packet smoked tofu available from large supermarkets or health food stores. Taifun is the firmest in texture. Other brands such as Dragonfly are good but are softer, so we advise frying the slices for a minute or two first and adding a splash of soya sauce at the end
4 tsp sesame seeds
Salt and black pepper
Mustard vinaigrette
175ml/6fl oz extra virgin olive oil
75ml/3fl oz white wine vinegar
2 tsp French or Dijon mustard
A little salt
Lots of freshly ground black pepper
Instructions
1. In a pan, dry roast the sesame seeds over a high heat until starting to pop and brown. Keep stirring with a wooden spatula so they don't burn.
2. Allow to cool.
3. Meanwhile, make the vinaigrette: mix the oil, white wine vinegar, mustard, salt and black pepper in a jar – use a fork to dissolve mustard then put lid on jar and give it a good shake.
4. Divide the avocados into halves, lengthways. Remove the stone and skin.
5. Place each half on an individual serving plate and cut into 6 slices.
6. Cut the smoked tofu into thin slices and insert in between avocado cuts – fry first if using a brand that's not very firm (see ingredients).
7. Season with a little salt.
8. Pour the vinaigrette round then sprinkle seeds artistically over top of everything.
9. Sprinkle black pepper over the salad and serve.
10. The vinaigrette recipe makes quite a lot, but will keep for ages in a screw-top jar in the fridge. Alternatively, half or even quarter the quantities!
Did you know that Vegan Recipe Club is run by a charity?
We create vital resources to help educate everyone – vegan veterans, novices and the v-curious alike – about vegan food, health and nutrition; as well as the plight of farmed animals and the devastating environmental impact of farming.
Through this work we have helped thousands of people discover veganism; but we want to reach millions more! We rely entirely on donations as we don't get any government funding. If you already support us, thank you from the bottom of our hearts, you are really making a difference! Please share our details with your friends and loved ones too, as every donation enables us to keep fighting for change.