African Sweet Potato Stew with Red Beans and Peanut Sauce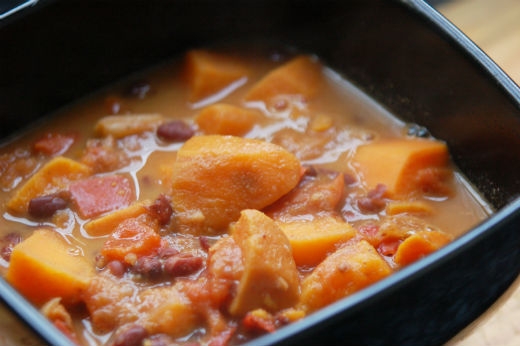 A simple,  hearty stew that is full of rich flavour Рand with three possible cooking methods! Like all stews, it is even nicer the next day.
Good with brown or white rice; quinoa; bulghur; warm flatbread
 

Not too tricky

Ingredients
Oil spray, about 3 squirts
1 large red onion, chopped
4 garlic cloves, minced
1-3 tbsp water if onions start to catch
680g/1 1/2 lbs or 3 large sweet potatoes, peeled and roughly chopped into smallish pieces
1 tin aduki beans OR 240g home-cooked adukis. If you can't get them, use kidney beans
300ml rich stock – made from vegan bouillon like Marigold red tub, Green Oxo or other vegan ready-mades
1 red pepper, finely chopped
680g/1 1/2 lbs fresh tomatoes, cored, seeded, and diced. Alternatively, use 3 tins whole plum tomatoes
1 tbsp grated peeled fresh ginger
1 1/2  tsp ground cumin
¼ tsp chilli powder, or to taste
3 tbsp good quality peanut butter, smooth or crunchy
3 tbsp roughly chopped peanuts
6 lime wedges
Salt and fresh ground black pepper to taste
Hot pepper sauce to serve if liked
Instructions
1. Sauté onion and garlic in the oil spray for a minute. Cover and¬†cook 5 minutes or until tender, adding a little water if it starts to stick.
2. Place onion mixture in the cooking pan of your choice (slow cooker/pressure cooker/ordinary saucepan). Add the rest of ingredients Рup to the chilli powder. Slow cooker: cook on low for 8 hours; pressure cooker: cook for 15-20 minutes on low; saucepan, bring to the boil then cook for 30-40 minutes or until tender. 
3. Spoon a ladleful of the cooking liquid into a small bowl. Add the peanut butter and mix well with a whisk or fork until smooth. Add this to the stew.
4. Season with salt and pepper to taste. Top with chopped peanuts and serve with lime wedges -and hot pepper sauce on the side if desired.
Optional extras / notes
20 minutes preparation then… overnight in a slow cooker, lowest setting OR 15-20 minutes on lowest setting of a pressure cooker OR 30-40 minutes on top of the stove
Did you know that Vegan Recipe Club is run by a charity?
We create vital resources to help educate everyone – vegan veterans, novices and the v-curious alike – about vegan food, health and nutrition; as well as the plight of farmed animals and the devastating environmental impact of farming.
Through this work we have helped thousands of people discover veganism; but we want to reach millions more! We rely entirely on donations as we don't get any government funding. If you already support us, thank you from the bottom of our hearts, you are really making a difference! Please share our details with your friends and loved ones too, as every donation enables us to keep fighting for change.