VRC Team
Post published at March 25, 2019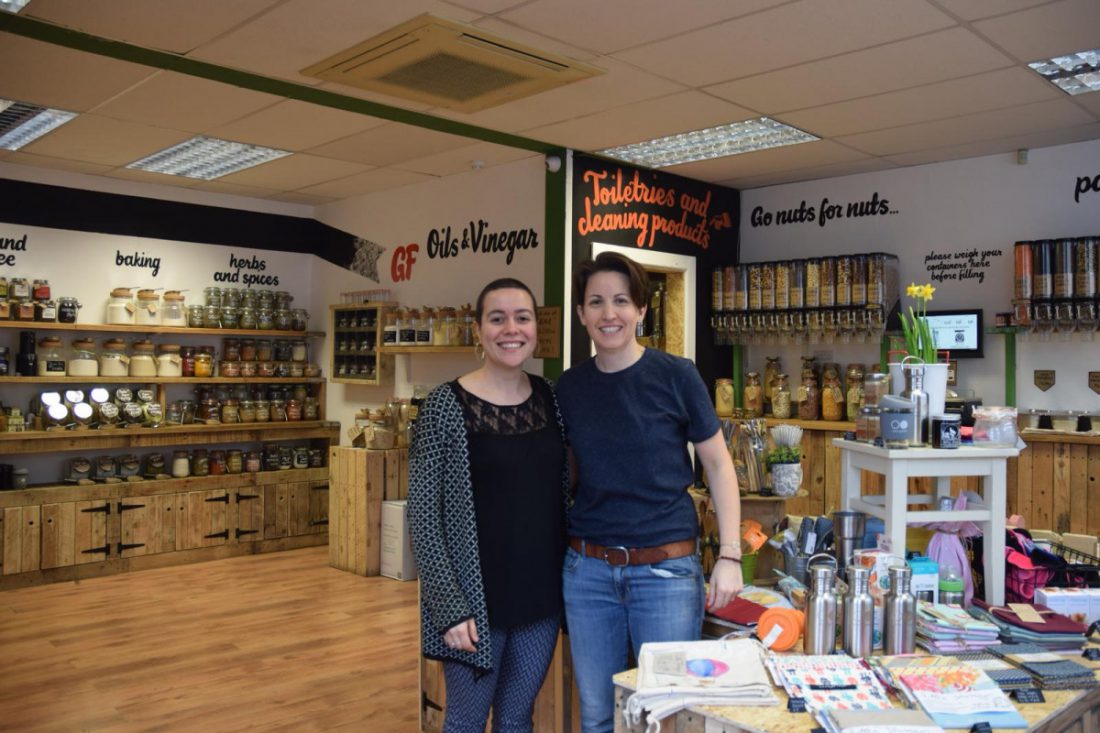 I've been vegan for eighteen years and it has never been easier than it is right now. Plastic-free and vegan on the other hand, still presents a significant challenge.
I went vegan in 2000, back when it was still fairly tricky to find good quality and affordable intentionally vegan products. Even for the basics you had to go to a specialist wholefood shop; there was nothing as exotic as soya milk in the supermarkets, that's for sure.
These days, we have Waitrose rolling out its own vegan aisle in some stores. We've come a long way (baby), in terms of vegan provisions, but sadly most of them still come wrapped in plastic. This is evolving as we become increasingly aware of the impact plastic overproduction is having on our planet. Ultimately this awareness will trigger legislative changes which companies will be forced to comply with, resulting in far more plastic-free produce. In fact, just last year the government pledged to eliminate the UK's plastic waste by 2042. This may seem a long way off but they are under pressure to reduce this timescale as environmental groups believe this target lacks urgency and doesn't reflect the scale of the climate crisis we're facing. In the meantime, however, read on to discover my top plastic-free tips.
I first became aware of plastic-free living, when a close friend announced her 2016 New Year's resolution to give up buying any new plastic for a year. I was curious about why she was going to put so much effort into avoiding it; as a member of the Gen Y cohort I've grown up surrounded by plastic, and never been particularly discouraged from using it. Food packaging, toiletries, cosmetics, cleaning products, it's ubiquitous. I did some research and watched some inspirational Ted Talks and decided to follow suit and avoid buying plastic as much as possible. For the record, I am not claiming to live 100% plastic-free; at this stage it is almost impossible to avoid entirely.
What is Plastic-Free?
So what do we mean when we talk about plastic-free? It doesn't mean renouncing every plastic-containing item we currently own (in fact it encourages us to get as much use as we can out of everything we already own before eventually recycling it). It generally means avoiding buying new plastic items wherever possible, especially avoiding using Single-Use Plastic items such as disposable coffee cups, plastic straws, plastic cutlery etc. Zero Waste is often used synonymously with plastic-free but it's not quite the same thing. A Zero Waste lifestyle is when people attempt to create no waste at all, sending as close to zero to landfill as they possibly can. Using no plastic is of course just one element of this. Another commonly-used approach is PALL – Plastic A Lot Less (www.being-pall.com  is a fab resource) which is what is says on the tin really; reducing our plastic use as much as possible. This is, let's face it, a much more achievable goal for your average vegan.
Top Tips
My number one tip is: Be Prepared. It might not be the sexiest motto but it really is the best weapon in our arsenal to ensure we don't get caught out and have to resort to grabbing something convenient; aka wrapped in plastic. Try to have at least one reusable bag on you at all times (I hide them in pockets of various coats and handbags so I know I'm always likely to find one on me somewhere), plus a food container (there are lots of stainless-steel/bamboo/glass options out there), a cloth napkin, a set of cutlery (camping cutlery is very compact, you don't need to spend a fortune on handcrafted bamboo ones in a fabric wrap) and a reusable drinks bottle/coffee cup. It's no longer just the holy trinity of keys-phone-bankcard we have to worry about when leaving the house; if we're to avoid using plastic in the day ahead, we know we will need food and drink and plastic-free ways of consuming them.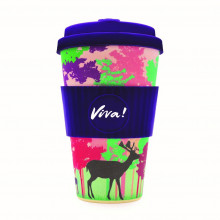 Having plastic-free snacks within easy reach is vital in avoiding sugar-crashes, and reaching for the plastic-coated convenience options. Fresh or dried fruit is a great plastic-free snack option, as is having homemade energy bars/balls (recipes on www.veganrecipeclub.org.uk), popcorn, nuts, or that vegan classic staple of homemade hummus and crudité.  You might feel a little self-conscious at first, handing your food container to the market vendor for you lunch, or your reusable coffee cup to the barista, but that will soon evolve into smug satisfaction, knowing your preparedness is singlehandedly – more or less- saving the planet. You may even get a discount on your food and drink at some places, as you're saving them money on packaging costs.
Another really important factor is having a really good refillable grocery shop nearby. I appreciate this is a bit of a postcode lottery but there are more of these little gems popping up all the time which is making it increasingly accessible. These amazing little oases buy foods and toiletries in bulk, allowing you to bring your own containers and stuff them full of delicious produce. They also usually have plastic-free household items and toiletries; two other major areas of plastic reduction.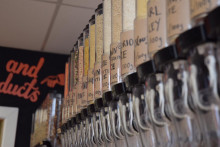 Easy Swaps
Some things have actually been a lot easier than expected.
Sourdough bread, for example. I was given a "starter" for free from a friend (most bakeries will give you a sourdough starter for free if you ask) and I haven't bought any bread for almost two years now. I make two loaves at a time, slice them and freeze them and then just defrost (or toast) as needed.  It's really rewarding and empowering knowing that as long as you have access to flour and water (and an oven) you can provide bread for your household. It also means you can swag around the kitchen, rap your knuckles on the worktop and tell your partner/housemate/anyone who will listen "Don't forget that it's me who puts the bread on the table"; cue eye-roll and sigh from weary partner. (I may have overdone this particular line.)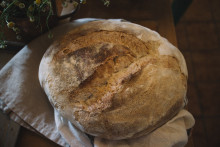 Hummus (and its varied offspring; sundried tomato, pesto, caramelised onion, harissa etc.) is laughably simple and takes less than five minutes to make. Never again do you have to buy those irritating little plastic tubs that are a bit too flimsy to reuse for any length of time.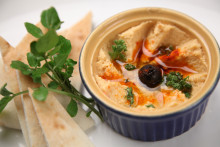 Making your own nut butter is incredibly straightforward too: just roast some nuts and blend them. Really, that's it! If you want you can add a little sugar/salt/oil but it's delicious just as it is. Having said that, if you're lucky enough to have a refillable grocery shop with a peanut butter making machine in it, where you just pop your jar under the nozzle and watch the peanuts being ground into delicious doughy dollops, it willbring you untold joy.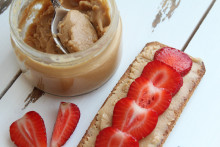 Fruit and veg is getting easier to find without the plastic packaging, most greengrocers' produce comes without plastic packaging and supermarkets are making determined efforts to reduce it. My recommendation is to make your own veg box by taking one of the sturdy cardboard fruit and veg boxes from the supermarket shelves (with permission of course) and fill it up as you go with as much loose fruit and veg as you need, tip it all onto the conveyer belt and then repack it into the box once it's all been weighed (then reuse your veg box each visit). Oddly, there are usually paper bags for loose mushrooms so if your fruit/veg does need to be contained in some way, I use the mushroom paper bags. Supermarkets really are starting to listen now. Morrisons swapped their plastic bags to paper for fruit and veg last June, last month M&S launched a three month trial for plastic-free fruit and veg at one of their London stores and Iceland have just announced they're launching a similar trial at one of their Food Warehouse stores in Liverpool with 35 loose fruit and veg items and 27 lines in plastic-free packaging i.e. compostable punnets, paper bags and cellulose netting.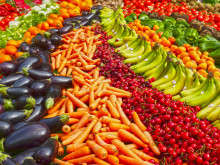 In terms of non-food easy swaps, menstrual cups and shampoo bars have been total game changers for me, as have refillable household cleaners (washing liquid, fabric softener, washing up liquid etc). Lush is a great plastic-free toiletries and cosmetics one-stop-shop (in fact they've just opened their first entirely plastic-free shop in Manchester) but local producers or making your own may be cheaper.
Knowing your local authority recycling scheme is important.  Every local authority has its own specific rules governing recycling, and each has its own quirks. It's crucial to remember though, recycling isn't the answer to our plastic pollution problem, it is a last resort once something has outlived all possible reuse. Far better to not buy (and therefore create ongoing demand for) plastic produce in the first place than buy it and recycle it, as taking into account the initial production and transport of the item, then the cleaning, processing and repurposing of the plastic and the fact that it can usually only be recycled once before it is then unusable, it still has a big impact on our environment.
Trickier items
The hardest things I've found to source plastic-free have been tofu (available plastic-free if you bring your own container in some Chinese supermarkets), soya milk, dairy-free cheese, kale/spinach/salad leaves (some greengrocers and market stalls sell these loose), frozen peas, loo roll, toothpaste, razor (safety razors are effective but can be a bit tricky to master, I have had a few nasty cuts in the process), mascara/make up and deodorant. All of these are possible and I have found all of them at various points but they are challenging to source consistently.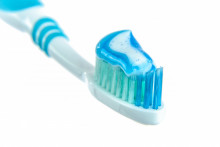 In conclusion…
In the journey to plastic-free and vegan, there are definitely some easy wins to be had -and some stubbornly difficult ones that are then sosatisfying once you eventually nail it- but there's no denying it's still blummin' challenging to avoid entirely. My advice would be; don't give up, replace different items gradually as you use up your existing products, rather than trying to change everything at once and seek support and advice online and from friends/family/staff at plastic-free shops. Ultimately, do what you can, don't beat yourself up where it's unavoidable and take heart from the knowledge that it's going to get easier and easier as it becomes increasingly mainstream; just like veganism.
Article by Jessica Nunn (Viva!'s wonderfully multi-talented volunteer)
Photograph: The amazing Zero Green shop in Bristol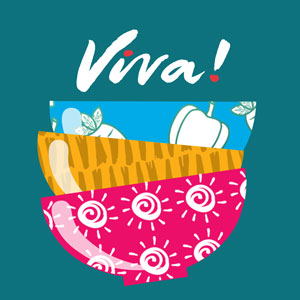 The author
This post was written by VRC Team
Vegan Recipe Club is part of the UK's leading vegan charity, Viva!. We have hundreds of delicious vegan recipes; from easy weeknight dinners to showstopper desserts, and everything in-between! Keep your eyes peeled for new recipes each month developed by our expert team of foodies and from guest chefs too.