Pia Werzinger
Post published at December 6, 2021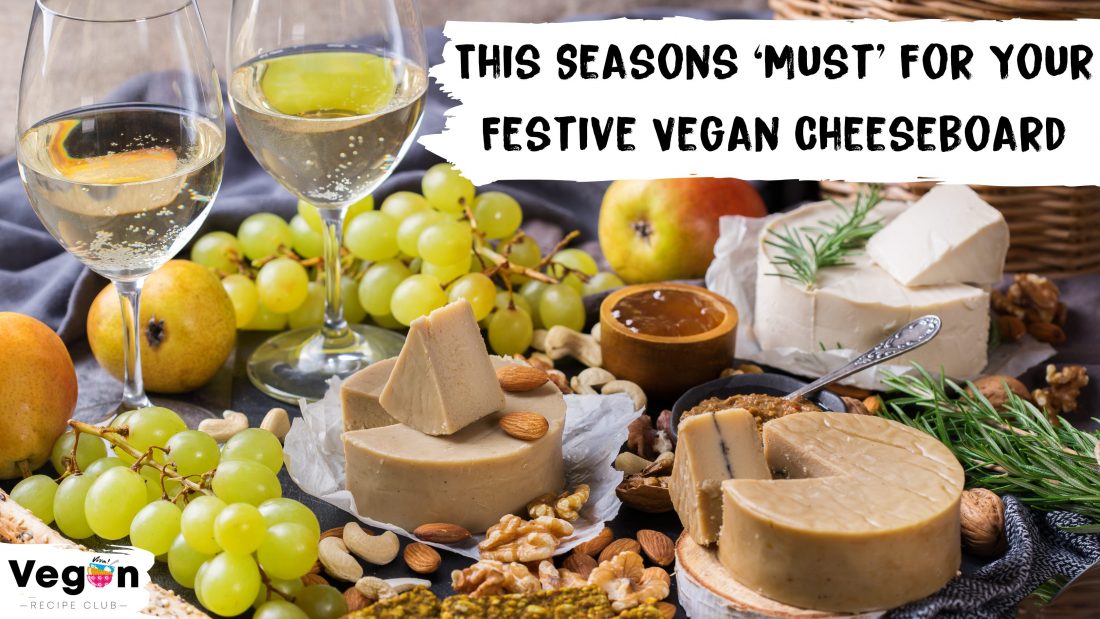 Get vegan cheeseboard ready with our roundup of vegan artisan cheeses for those cosy winter evenings – think wine, chutney, seasonal fruits and crackers!
There are many vegan cheeses out there these days and some excellent independent artisan creations to indulge in. Here's our rundown of this year's top cheeseboard contenders.
The Kinda.co
Founded in October 2017, Ellie has always been extremely fond of cheese and made it her mission to create dairy-free cheeses that will continue people's love affair with all things cheesy and good – but without the cruelty! They currently make 12 varieties which are available through their online shop, as well as selected independents across the UK.
Offering various block bundles including 'jar cheeses', dips, crackers and chutneys, Kinda.co also offer online cheese masterclasses for the ultimate plant-based cheese lovers out there.
The Middle Christmas Cheeseboard
Perfectly sized to treat 2 to 4 people, Kinda.co's Middle Christmas Cheeseboard features 6 block cheeses, including their limited edition Rosemary, Garlic & Black Pepper cheese, as well as a jar of their Christmas-perfect creamy Faux Lox + Dill Spread. Available from £39.50 at https://thekindaco.com/christmas
Tyne Chease Ltd
Tyne Chease Ltd has made themselves a name by using traditional cheesemaking methods for their cultured and aged plant-based cheases. It's been over 7 years now since their founder Ami started creating the first artisan nut-based chease in her 2 bed flat in Newcastle – there's no stopping them!
Tyne Chease Ltd chease selections, crackers, chutneys and sweets are available online and throughout the UK at independent retailers.
Winter Favourites Trio
Tyne Chease Ltd's Winter Favourites Trio makes a luxury festive addition to any vegan cheeseboard with their sage, rosemary and cranberry flavours. Currently reduced from £23.85 to £20.00 at https://www.tynechease.com/shop
I AM NUT OK
Produced in Hackney, London, Angela and Nivi share a passion to produce mouth-watering vegan cheese alternatives by hand, in small batches. In their own words, their fermentation and aging process makes I AM NUT OK cheeses: "Addictive like cheese, but even better. I AM NUT OK is more daring than dairy".
I AM NUT OK's offerings include plant-based block cheeses, along with spreadable soft cheese, dips and even vegan butter, all available as singles or as a monthly subscription box.
Gourmet Vegan Cheese Hamper
Currently only available for pre-order, I AM NUT OK's Gourmet Vegan Cheese Hampers will be delivered from December 13th. These luxury hampers contain a full vegan cheeseboard including butter, pate, chutney and caramelised nuts! The board serves approximately 4 people and is available for £40 at https://www.iamnutok.com/shop
La Fauxmagerie
The UK's first plant-based cheesemonger, La Fauxmagerie, offers a wide range of decadent and inspired vegan cheeses fit for the finest cheese board. Their shop is set in London's Cheshire Street (just off Brick Lane) and just like their online shop, it holds cheeses perfect for melting, grating, spreading, relishing and devouring.
La Fauxmagerie also offer a range of plant-based chutneys, preserves, breads and even vegan meat and seafood alternatives – perfect accompaniments to your festive cheeseboard, 100% free of animal products.
The La Fauxmagerie Bundle
Crafted in La Fauxmagerie's very own vegan cheese aging facility, this bundle is the perfect treat for lovers of traditional cheeses. The bundle consists of a selection of 5 different cheeses, including a Brixton Blue and Truffle Camemvert. Available for £25 at https://lafauxmagerie.com/collections
Supermarket Options
If you can't get hold of one of our artisan favourites, it's a great year to pick up a vegan festive 'cheese' selection box at your local supermarket! Here are some top tasty picks:
Violife Vegan Festive Selection
Available in most major supermarkets, including Ocado. Violife's 100% vegan cheese selection includes their famous Epic Mature Cheddar Flavour, a Mozzarella Flavour with Cranberries, Smokey Cheddar Flavour and Crumbly Greek White. RRP £5.95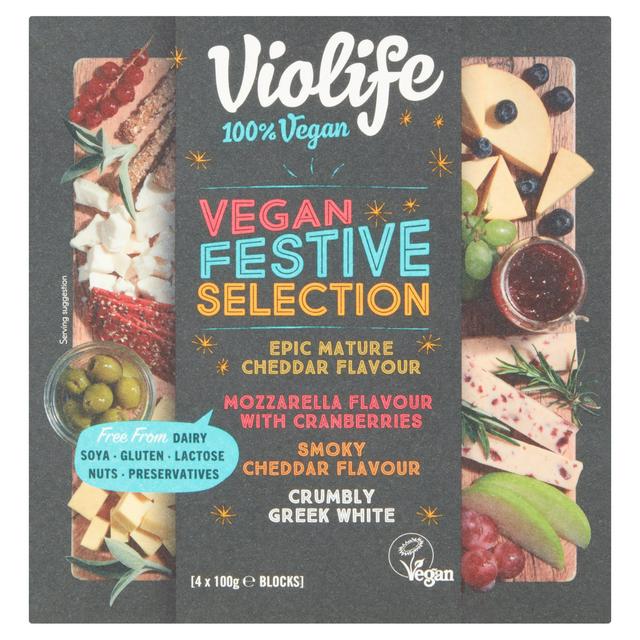 M&S Plant Kitchen Vegan Selection
Marks and Spencer's own brand Plant Kitchen Vegan Selection features a platter of mature, smoked, mixed cranberry and crumbly French style plant-based cheeses. RRP £6
Applewood – Festive Vegan Cheese Selection
The Ilchester® Vegan Festive Selection features their multi-award-winning Applewood Vegan along with three new flavours, including a Mexicana Vegan Spicy Cheese, Ilchester Melting Mature Cheddar Vegan and the new Ilchester Blue Vegan Cheese Alternative with a blue spirulina vein. RRP £5.99
Wine to pair with your cheeseboard
Still looking for that perfect vegan wine pairing to your plant-based cheese? Visit the wine and spirit section of Viva!'s Gifts for Life shop here.

Continue the conversation on social media and let us know which cheeseboard you will enjoy this season!
Facebook | Instagram | Twitter | Pinterest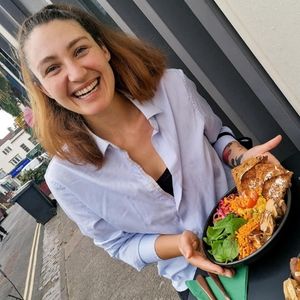 The author
This post was written by Pia Werzinger
As Viva!'s food and cookery media coordinator, Pia is keeping you up to date on the latest recipes and vegan food news on our Vegan Recipe Club socials.