Amy Pardoe
Post published at October 19, 2023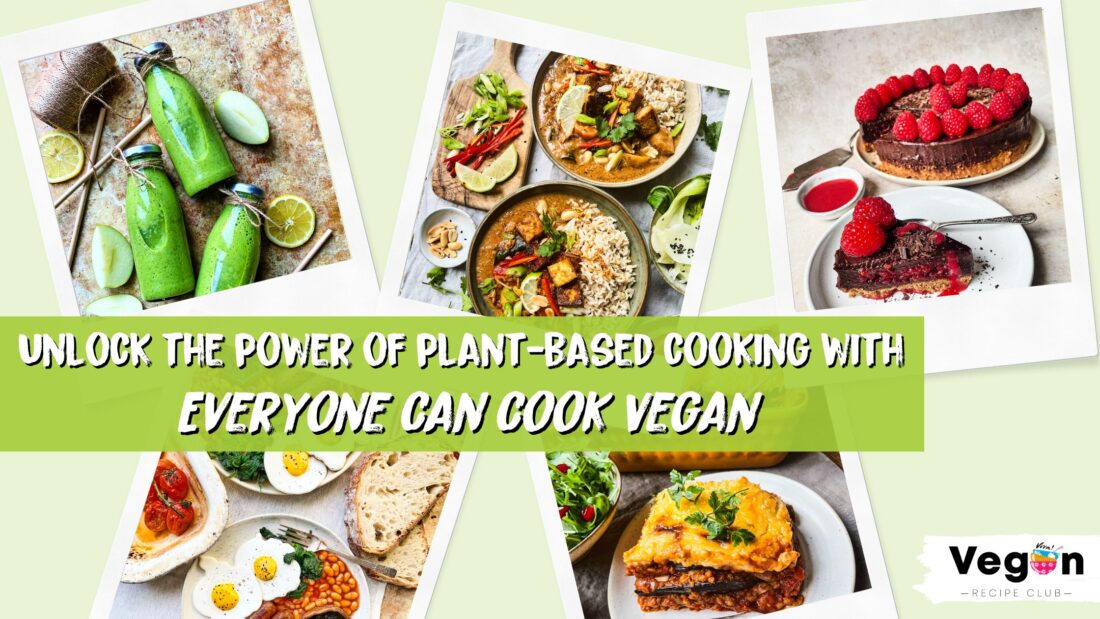 Crafted by Vegan Recipe Club's Maryanne Hall, a plant-based chef with a rich culinary background including experience in vegan restaurants, prestigious ski chalets, yoga retreats and a notable tenure at Demuths Cookery School, this publication showcases a diverse selection of gastronomic creations. From protein-rich dishes such as Spinach & Vegan Ricotta Cannelloni, Tofu Katsu Curry and Spicy Protein Burritos, to tried-and-tested classics such as Mac & Cheese, Moussaka, Broccoli & Tomato Quiche and Vegan Chicken Tikka Masala, each recipe has been meticulously crafted from the Viva! headquarters.  
As well as an abundance of dinnertime delights, the book also includes healthy and indulgent breakfast options like Vanilla & Almond Chia Pudding and a very unique Easy Vegan Fried Eggs recipe! You'll find secret specials such as Prosecco Fondue, Pan-Fried Broccoli with Almond Purée and Truffle Fries with Vegan Parmesan & Lime Dip.  
Dessert recipes are in bountiful supply, with Gooey Chocolate Fudge Cake, Strawberry and Cream Cupcakes, Sticky Toffee Pudding and White Chocolate & Raspberry Cheesecake all gracing the pages. 
Discover sauces, sides, snacks and indulgent desserts that challenge the misconception that vegan cooking is bland. The recipes are designed for everyone, encouraging people to get into the kitchen and start cooking. 
The book includes full colour photography throughout, allowing readers to 'eat with their eyes'. 
With the festive period approaching, Everyone Can Cook Vegan is the perfect gift for vegans, vegetarians, flexitarians or anyone looking to develop their plant-based culinary skills. 
Maryanne Hall said: "I wanted every recipe in this cookbook to be accessible, straightforward and delicious, using readily available ingredients, with clear instructions for both novice and experienced cooks alike. Drawing inspiration from my global travels, certain recipes exude an international flair, exemplified by dishes such as the Gambian Stew and Balinese Chickpea & Mango Curry. Of course, I've also included a generous selection of beloved classics. One recurring challenge I hear from those considering a vegan lifestyle is a lack of cooking ideas. Everyone Can Cook Vegan simplifies plant-based cuisine, offering inspiration, valuable tips and serving suggestions throughout. The creation of this cookbook was a true labour of love and I hope to inspire others to enjoy cooking and eating vegan food as much as I do." 
Everyone Can Cook Vegan (£12) is available for purchase from the Viva! Shop now. 
Note to Editors: To receive a copy for review of Everyone Can Cook Vegan, email Rachel Sone, PR Manager at rachel@viva.org.uk 
Continue the conversation
Looking for something homemade? You can find delicious vegan dishes from across the world in the recipe section of our Vegan Recipe Club web page. And while you're there, make sure to download our handy app for on-the-go!
Don't forget to share & say hi over on Facebook | Instagram | TikTok | YouTube | Twitter
The author
This post was written by Amy Pardoe